Immediately upbeat and loaded with high energy good vibes, Jaydii's Carnegie Hall starts off as it means to go on – introducing the artist and indeed kicking off 2021 with positivity and uplift.
Featuring a classic hip hop and pop set-up with colourful soundscapes and cleanly captured, mildly theatrical vocals, the project leads with smart bars and a clear sense of fun as the title-track pours through. A slight nineties vibe ensues, the song feeling hooky and mainstream as well as ready and waiting to fit well into the hip hop scene.
Elsewhere the eight-track collection welcomes more of the same laid-back, observational lyricism, creative sound-play that keeps things leaning back and forth between genres, as well as some slightly heavier, more conceptually revealing topics.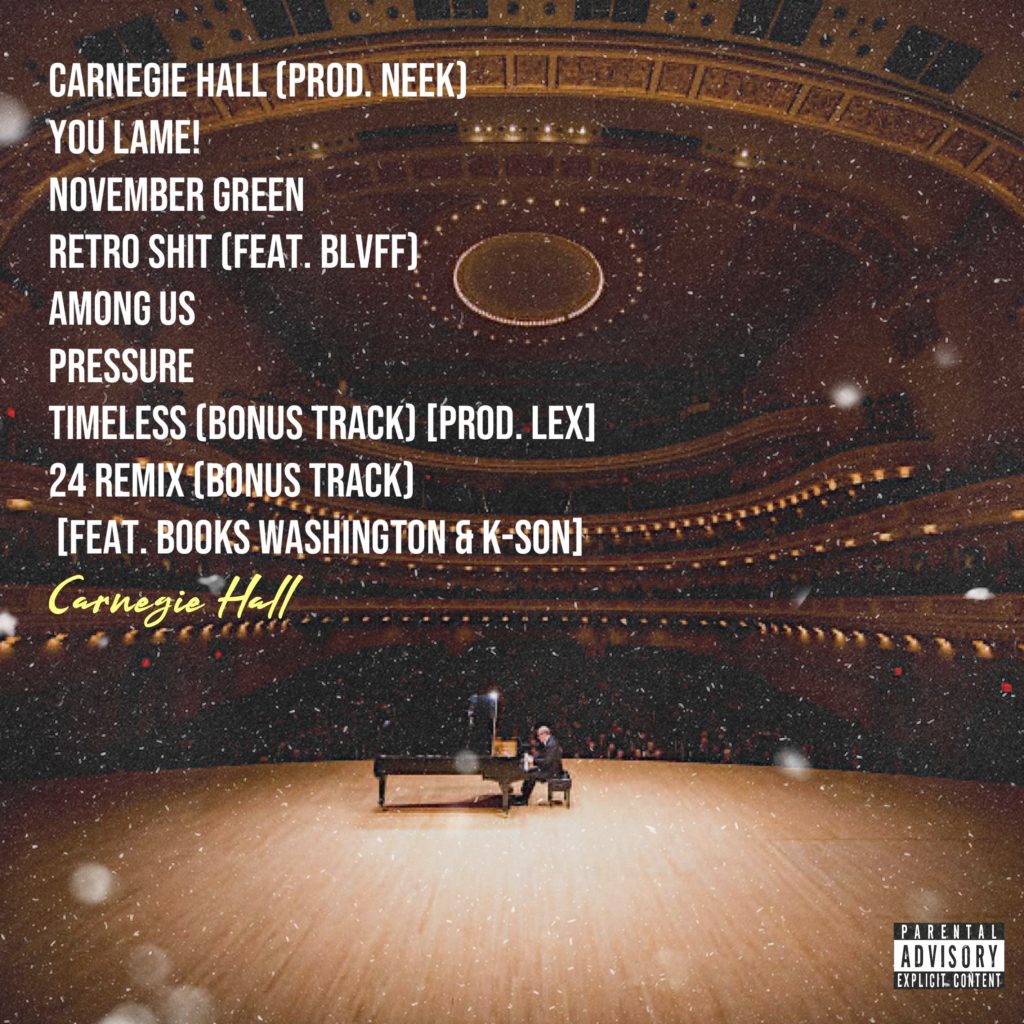 You Lame! follows the opener with a similar high-energy, carefree approach. Then there's the more melodic and memorable November Green, still chilled out, still focused on clever wordplay and an easy going performance style.
The one and only Blvff features on Retro Shit, a contemporary track with vocal sound-play and more of that summertime-ready colour and energy. An easy highlight for its simplicity and the sense of nostalgia and calm it delivers – not to mention some short yet impressive bars that linger in your mind.
Among Us is another that feels like a hit, with varied flows – some fast yet faultless – and a simple yet memorable set-up and fragments of vocal play. Then we get a chance to connect with Jaydii as Pressure delves into his story and feelings of weight and uncertainty – an emotive yet not overly intense track that breaks the lightness found elsewhere and offers a clear sense of realness.
Throw in an equally poetic and thoughtful bonus track (Timeless), and a remix to finish things up, and Carnegie Hall in full has the sort of energy and creative optimism as an uninhibited yet impressive early album from Mac Miller or any of the hip hop fusion artists who lit up the past decade. Brief yet engaging, feeling something like a greatest hits or a summertime playlist ready and waiting to be endlessly streamed. Enjoy.
Download or stream Carnegie Hall here. Check out Jaydii on Facebook, Twitter & Instagram.