Though it's been a couple of years since Jamie Alimorad's music first crossed our path, that light in the mention of his name still shines brightly, and this latest and long-awaited album is every bit as soulful and optimistic as you'd hope.
The beautifully colourful and heartfelt Brighter Days kicks off the new album, immediately reigniting the strength of Jamie's voice and his ability to craft a melody and story-line that balance poetry and emotional relevance to a stunning degree. The song is instantly uplifting, organic and powerful, energizing. It pours through with a pop-rock strength that's easily worthy of a broader audience. This song is also rightfully being used in a new campaign for the American Foundation for Suicide Prevention – a cause immensely close to the singer's heart.
As the album progresses, eclecticism roams free to a fitting level. Not Just Another Pretty Face emerges with a piano-led groove and a more breathy, intimate vocal-line. There's variation already, yet still the mix and the style suit this project and playlist perfectly well. And as the hook strikes – yet another well-designed to hit with impact – Jamie showcases mighty songwriting once again.
Things mellow out for Down On Golden Shores, a stunning performance that feels fit to grace the scenes of some brand new Disney or romance movie. Subtle flickers of instrumentation appear here and throughout the album, furthering that sense of freedom from genre and helping keep things interesting and refreshing at every step.
Acoustic guitar and a softly whispered vocal help make Not Ready To Say Goodbye a personal favourite from this album. There's a Santana vibe to the build up and the overall Spanish style of instrumentation, and as always, Jamie injects a superb hook to finish it all off beautifully. No surprise at all that this one was nominated for the Hollywood Music in Media Award for Best Vocal (Male).
Afterwards, the mellow ballad of I Am Home leads gorgeously into the quickly familiar tones and rhythms of Rock Me To Heaven.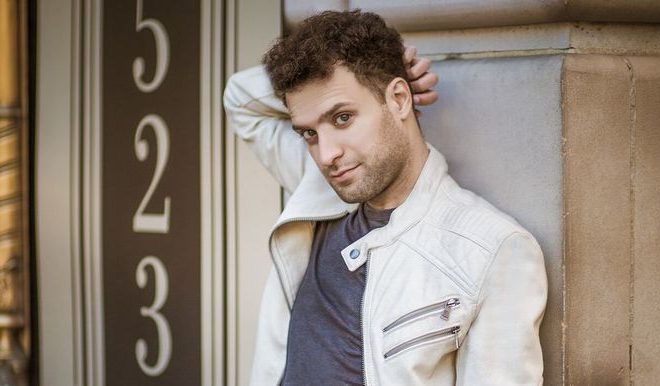 Lucky Me brings through a welcomed touch of funk – a spacious and groovy piece that again introduces another side to the artist and a refreshing moment of redirection. Brilliant hand-drum work and a gorgeously poetic bit of scene-setting help make this another highlight. Jamie's vocals sound gorgeous in this raw, folk-rock-like setting.
Towards the end, How Could I Love Again? adopts a vintage classical jazz vibe, a smooth vocal and a long-form melody add another moment of versatility and change. Then the piano-led purity and calm of A Moment Is All I Ask brings through that truthful, deeply personal writing style in a genuine and intimate manner. Magnificent vocals carry the weight of this rising melody and the vulnerability and openness of the lyrics in a captivating manner.
The album comes to a close with another hit of seductive rhythm – an Americana-like groove and a simple, sweeping wash of optimism. Jamie tells one final story, setting the scene and balancing visual details with emotional reflections. A wonderful, shoulder-swaying moment of uplifting progression and resolve – a great way to finish; Jamie's voice follows the evolving energy of the soundscape in a flawless and compelling fashion.
Beautiful, a fine collection of songs – this feels like a best-of or a compilation project. Impressive as ever, and really well recorded.
Gino Vannelli produced eight of the songs on this project, and Ross Vannelli produced Brighter Days and Not Ready To Say Goodbye. Their influence on Jamie as a songwriter and performer had a huge effect on the ultimate sound and style of the album. You can catch a live performance from both Jamie and Gino at the Saban Theatre in Beverly Hills, on October 12th. Grab the album as of September 27th.
Find & follow Jamie Alimorad on Facebook, Twitter, Soundcloud & Instagram or visit his Website.