Following the release of his single The Lost Ones earlier this year, singer and songwriter Jameel Farruk is back with a full-length album – and it's one that beautifully compliments and even exceeds the impressive, poetic entrance of the single.
Beginning with the cleverly intriguing tin-can intro of In Search, a song which quickly finds its feet with a contrasting drop into organic folk-rock clarity, softly raspy vocals, and a blissfully detailed, hopeful soundscape, the project offers everything from finely crafted songwriting, through gorgeous performances, to blissfully calming, seductive ambiances.
Knowing when to step back vocally, when to lead with a solo or a riff, and utilizing only the most artistically relevant details – from the lyrics and imagery to the sounds – Jameel Farruk showcases absolute artistic strength on this album. It feels like a classic from yesteryear, but there's also a refreshing clarity and newness to all of the songs.
Flows warms the heart with short lines and a sense of observation and calm, appreciating the natural order of things – the music and the lyrics united help listeners achieve a temporary level of peace; followed by a brilliantly satisfying level of energy as the hook drops in – an anthemic moment, can you feel it.
On occasion I'm reminded of Goo Goo Dolls, other times there's a hint of Counting Crows to the poetic reflections, the story-telling and the use of instrumental contrast, and at other times there are hints of singer-songwriter prowess as commented on the last time around. Jameel Farruk drives with authenticity, honesty, and a clear love for and talent about the creative process.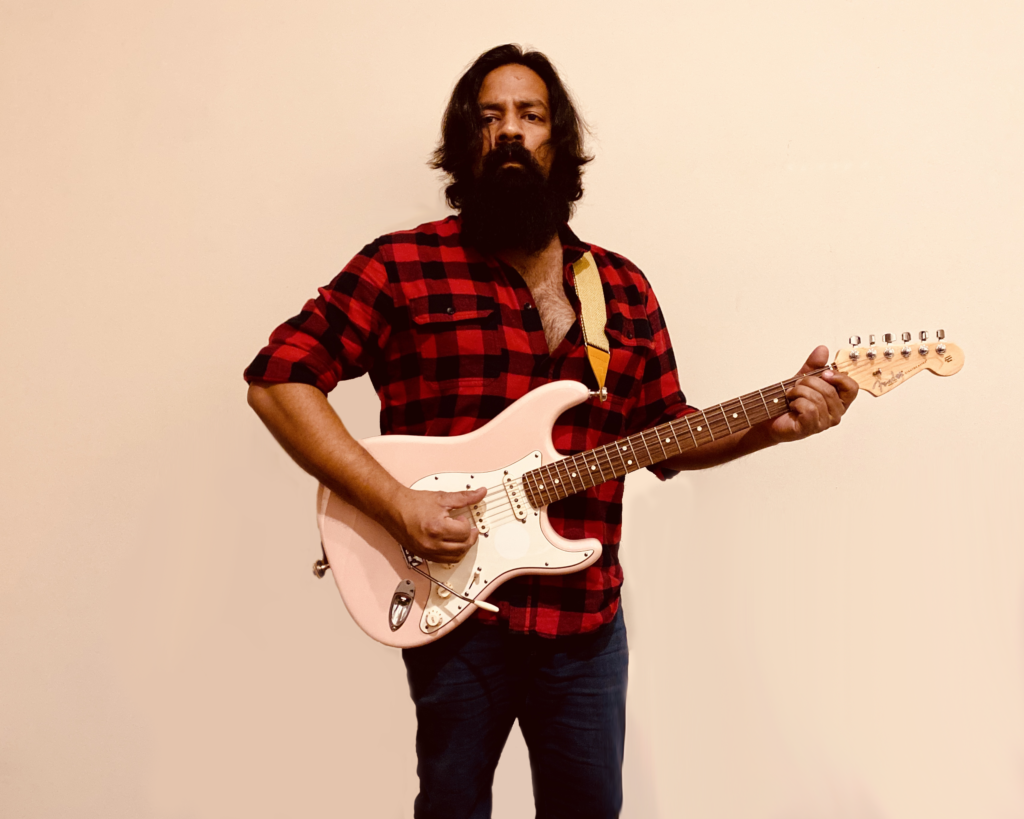 The album's title comes to mind now and then, not least of all as the delicate acoustic finger-picking and the sound of the ocean washes through for Island Tripping. The sudden space and acoustic delicacy here works really well after the vibrancy and rhythm from before. Again, the details work wonders – breakaway moments for vocal tunes free of lyrics are met by a wood-wind-led melody, unexpected yet strangely perfect. Then the whole thing proceeds to rise up and envelop the listener in this cinematic, jazz-kissed explosion of instrumental weight and warmth. A powerful journey to embark upon.
There's something about you – keeps me hanging on…
Farruk's vocals shine brightly on the near a-Capella intro to A Ghost. A fascinating song that holds your attention throughout, offering another addictive groove and a series of ultimately revealing, insightful and easy to connect with lyrics. A call and response vocal mid-section adds further dynamic and subtle eclecticism to an all-round endlessly impressive, angsty yet accepting playlist of deeply human songs.
Fields kicks in with a quickly memorable riff and a blues-rock vibe that brings the energy higher. A faster pace and a bold vocal delivery help reignite a shoe-gaze-like level of escapism that's all about the overall feel and fire of the performance.
Views follows with a touch of synth-pop/shoe-gaze again, a dreamy, reverb-soaked and slightly retro soundscape, a meandering riff, a sense of quiet contemplation. The piece progresses with power though, building up its layers and intricacies to ultimately envelop listeners in a hugely contemplative moment of hypnotic appreciation. A track that grows more immersive and enjoyable with each re-visit.
Embracing the power of contrast once again are the gorgeous beach-side vibes of an acoustically rooted H K. All of the riffs and melodies on this album, and indeed many of the lyrics, reach out in a softly catchy manner, proving easily recognisable when you return to them. This is again an instrumentally strong soundscape that's a total dream to relax into. Paired vocals softly add a touch of Simon and Garfunkel or even Beach Boys-inspired delicacy and dreaming. The later sections actually bring in a hint of the surfer-life, and the set-up continues to evolve – the beginning of any of these songs is notably different from the latter half. Farruk takes full advantage of the time-frame and the creative process to express the underlying sentiments as wholly as possible.
Then you get the immediately warming and familiar folk tones of The Lost Ones to bring things to a wonderfully anthem-like finish. Short lines and clear-cut scenes captivate amidst a softly mesmerizing musicality. Superb. And then we head back to the start again.
A stunning collection, humble yet brilliant – precisely the kind of artist we should all be celebrating.
Download or stream the album here. Find & follow Jameel Farruk on Instagram.