From the creative duo that brought us People at Parties, the brand new album Solace + Light builds further upon that atmospheric and poetic depth, with a superb collection of immersive, thought-provoking and hypnotic songs.
Beginning with the trip-hop energy and meandering melody of Solace, the project is quick to draw focus to the artistic sound-design and contemplative writing of I Want Poetry.
Things rise up slowly but surely, from ambient and breathy whispers of ideas, through the intense evolution of rhythm, bass and fullness. Those longer-form verses pave the way beautifully towards the simple, anthemic and euphoric resolve of the hook, blending distortion and delicacy to a gripping degree.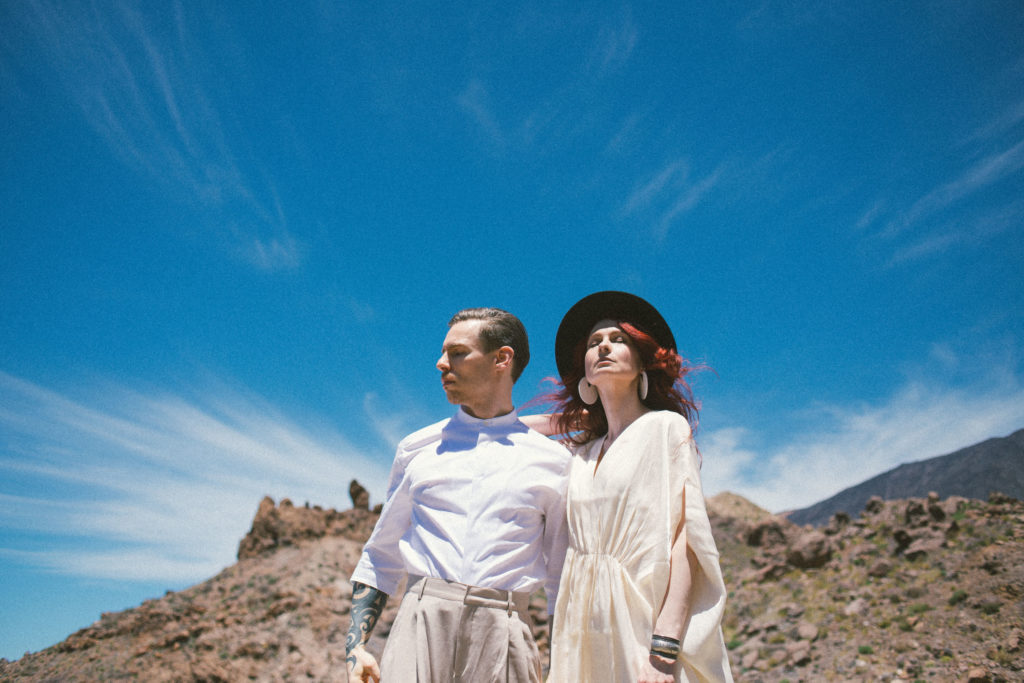 Blessed with both evocative vocals and limitless creative skill, I Want Poetry tick an impressive number of boxes with this album. The opener alone is sensational, a mighty and uplifting hit that begs for you to linger at this track-1 stop-light for as long as possible.
Fortunately, the album continues to further that connection – promising an extensive and expressive hour of escapism that's both nostalgically purposeful and refreshingly crisp. All the while, our leading singer proves an anchor or thread of personality, as the music gathers its own sense of momentum and style time and time again.
Tongue brightens the mood, a touch of retro synths taking the listener back, aptly poetic musings again urging you to listen more than once to paint a unique picture for yourself. Then Souvenirs gets personal and powerful in equal parts, leaning towards the more contemporary vocal tones and depths of London Grammar School, before bursting into life with a colourful electro-pop and dance-kissed latter half. Another worthy addition to the mix.
Superman furthers that fine balancing of joyful production and compelling revelation and vulnerability. Perhaps one of the album's more catchy or memorable works, followed by another in the form of the familiar riffs and insightful, interesting sentiments of the wonderfully honest song Mother.
Things switch gears a little for the cinematic and suddenly haunting Syllabus – another fine example of the professional sound-design of I Want Poetry. A brief recapturing of attention before the upcoming single Light offers rhythm, bass and short mainstream lines of melody for a well-placed hit of upbeat energy and warmth.
Ocean will be another and indeed the next single to emerge, April 21st, and delivers a far more ambient, dreamy embrace, with higher-toned vocals and a dedicated, loving concept at its core.
The unmistakable People at Parties makes an appearance towards the end, before Polaroids rains down with intricate details, stunningly eloquent, emotive vocals, and an unexpectedly serendipitous melody and chord progression.
Things come to a finish with a song called Golden Hour, easy keys initiating a recognizable pattern of comfort, with soft and intimate vocals again relaying imagery and feelings in line with the growing anticipation of the soundscape. For close to five minutes the track evolves and blossoms, wrapping up the journey in a similarly passionate manner to that in which it began.
Magnetic and deeply moving, Solace + Light meets beautifully with the implications of both its title and the band's own name. An addictive and intentional, thoughtfully engaging album, within which each and every song proves vastly rewarding.
Album out May 26th. Find I Want Poetry on Facebook, YouTube & Instagram.