Solopsi Radio is the brand new album release by New Jersey artist Herman Martinez. Martinez is an experienced musician and song writer – a self taught multi-instrumentalist, with an impressive background in rock and experimental music. Here's what we thought of the new release.
The album opens with Phonic Chronicles; a great start, as it instantly gives you the feeling you're involved in a big sounding grunge, rock project – brilliant guitar action, and a distorted, heavy warmth that fills your headphones throughout. It's a song of epic proportions, over six minutes of power, with consistently good melodies, vocal choruses and riffs.
Fictional Realism is fantastic – a brilliant melody, and a really clever combination of darkness and optimism, musically. A somewhat worldly sound throughout the verses is followed by an excellent and even strangely uplifting chorus section. It's a little like you're listening to someone melodically chant the secrets of the world. I was actually reminded of Alanis Morissette at one point, which was brilliantly unexpected, and is not at all meant as in insult – Jagged Little Pill was a fairly landmark piece of music in my opinion. This reminder was categorically not a solid sign of what would follow, however, as every single song on this album was a complete surprise, and it really, really worked – immensely enjoyable from start to finish.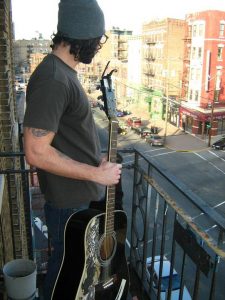 Immediately after Fictional Realism we get to Spoonbender, a track which stood out again as something fresh and unexpected, and one that felt great to listen to. The vocal bending is atmospheric and intriguing, adding a slight hint of an Incubus vibe to the project, but again, only very briefly. By this point the sound of the artist has made it's mark, and regardless of the vibe or genre that he may take on next, you know it will fit – and you know it will have his unmistakable sound signed right across it.
Lyrically in particular, I found myself hanging on every word, not wanting to miss a line or misinterpret anything. Every Letter I've Ever Sent has some amazing, powerfully reflective lyrics, and some really beautiful, dream like riffs, peacefully filling the space behind them.
"Waiting for the world to sing along to our disorganized thoughts,
Changing old worlds, patterns undone,
Hiding old words under my tongue,
As I find every letter I've ever sent.."
Dogon With The Wind is another great song with compelling lyrics, and of which there is also a raw and unplugged version available on Youtube. Worth checking out actually – when you step away from the recordings and hear Herman Martinez live and acoustic, you can really hear the superb qualities in his voice, plus you get to witness the real brilliance of his skill as a guitarist – clearly experienced, amazingly creative, and with immensely impressive technique and style.
The album closes with the beautiful tones, instrumentation and concept, of Her Eyes an Event. With cascading guitar riffs and spiraling vocals, which cross and collide and connect; it's a beautiful way to end the project. Quite amazing the level of creativity and inspiration expressed in just a single album. The tracks build and drop in all the best places, and the songwriting is sublime – without the repetitive strain of being predictable or safe. Everything about it screams skill, variety, and dedication. Really impressive work.
In all honesty this was, in many ways, like nothing I've heard before. Great music, from start to finish, a confident and effective fusion of what you might call World Music, with classic rock, grunge, metal, and even that solo songwriter vibe at times. Without doubt, an incredibly creative and talented musician and writer, and Solopsi Radio is, in my opinion, a brilliant album. One that needs to be listened to several times, in several different settings. I look forward to a long car journey with it this very weekend.
Stay connected on Facebook, and grab your copy of Solopsi Radio over at Bandcamp. It's a fantastic album, all the music is performed by Herman Martinez himself, and the whole project was brilliantly produced, engineered, and mixed, by his close friend Ahmed Mahmoud – without whom none of it would have been possible. Get involved.