Producer Groove has crafted this album of originals from a position of experience and genuine emotion, fusing the best of his abilities in sound design, with a clear connection to creativity, and a heartfelt look at life.
Where's The Groove? brings together a collection of tracks, each featuring a different, hand-picked artist who rides the moment effectively in every case.
From the opening intention and mild urgency of One Day, through the high energy and confidence of On Demand, then into the smooth and mellow calm that is Sweater, the project quickly showcases itself as professionally built, eclectic in mood, and fairly consistently rooted in an arena of motivation and inspiring ideas and moods. The variety of vocal styles blends well in every case with the creative angle from which Groove approaches each piece. While the tracks are fairly short for the most part, they leave a mark quickly, and these smooth RnB auras meet with a subtle edge of hip hop to present something new and subtly catchy every time.
Bless makes for an upbeat and fairly bold interlude, a performance and composition that hits hard thanks to a striking and purposeful delivery, and a clear-cut beat and recognizable riff to match. Then you get a fine use of contrast as Mamasita! brings through yet another side to the producer – leading with a dance-hall vibe, subtle again and cleverly fusing the bounce of the genre with a series of notably melancholic chords that weave around you something surprisingly emotive.
Gathering and building upon your skills as a musician or producer is one thing, finding a reason to push hard and get what you've created out into the world is something else entirely – and having the self-belief and dedication to follow through; a whole other issue again. Groove is no stranger to production and music creation, far from it, but it took a recent trip to LA, to be around those considered the big wigs in the game, for him to really see his own potential and that the dream is truly within reach. From the other side of the spectrum, personal loss has also played a part in this album coming together – the producer and audio engineer sadly lost his mother in recent years, another aspect of his drive and perhaps a testament to the shock factor and the inevitabilities of life that can and should ultimately give us all reasons to get things done.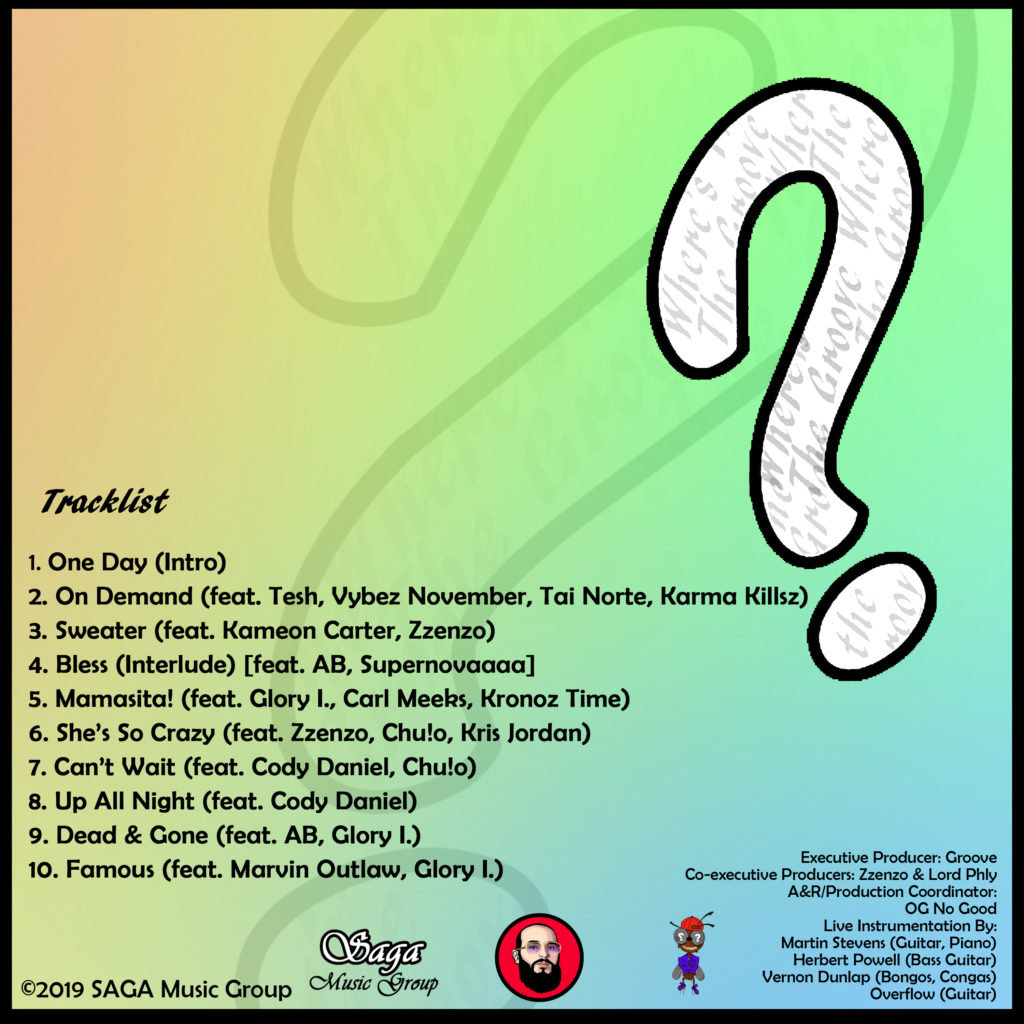 During the latter half of the album, She's So Crazy is easily the most anthem-like track – the live-style recording helps further the song's inherent sense of togetherness to create a genuine, in the room energy level that's a total pleasure to turn up loud. Can't Wait follows and injects a hit of organic folk-pop into the mix that's brilliantly well-received at this point – another absolute highlight, with stunning vocals and gentle, authentic soul to entire set-up. That eclecticism grows stronger and stronger, the latter half of the album really finding its flow and showcasing an artist and producer with a deep-running passion for music in all of its forms.
Keeping things light and summer-time ready, Up All Night makes for another easily memorable hit that pours through with a crisp and calming beat, and a string of vocals that feel well-connected to the contemporary mainstream right now. The second half brings through a brilliant rap performance, compelling story-telling, and a few flickers of impressive production detail that again light up even more corners of of Groove's creative reach.
Dead And Gone is a beautiful song, seductively organic guitar picking accompanies a heartfelt outpouring of personal turmoil and vulnerability. The track builds up well, highlighting two contrasting vocal styles that help maintain a sense of dynamic – a hypnotic back and forth that's superbly well presented and holds tight to your interest right the way through. A decidedly creative and refreshing soundscape is met by a pair of performances that hit hard; all of which helps offer something particularly addictive, and absolutely worthy of a broader audience's attention.
Where's the Groove? in full is a fascinating project, impressive from the offset for that professional and clean presentation, but increasingly appealing for its varied levels of soul and intention and skill. Famous is a powerful and striking track that brings the album to a finish with a mighty and magnetic bang, effectively sealing the deal, and reminding you one last time that the producer Groove has not only a stylish and effective hand at composition, but a brilliant ear for talent in the singers and artists he chooses to work with. This final performance is stunning, minimalist and standing tall on the strength of its own concept and delivery. A fantastic way to finish up what is an increasingly engaging and memorable album of originals. Absolutely worth the time it takes to listen in full.
Download or stream the project here. Find & follow Groove on Twitter & Instagram.