Superb vocals guide us into the sound of Farhad and Tubby in a way that quickly draws focus towards the purpose of the music above all else.
As an introduction to their sound, Love Will Find A Way is beautiful – Farhad's bold and rock-raspy vocals introduce the track and video with absolute passion, emotion and skill – a nostalgic driving-ballad energy stands tall throughout their songwriting and production.
Featuring the combined creativity and professionalism of Farhad K. Wadia and Indrajit Sharma Tubby, the music is classic in tone but no doubt distinctive in its placement amidst today's landscape.
Elevating things into more gritty rock realms is the track We're All The Same. At its core, the subject matter rings true to the band's intentions – unity, positivity, a brighter tomorrow. Stylistically though, we get a tumbling rhythm, a dreamy arrangement, and the literal listing of turmoil on the route towards optimism.
The song is still recognisable as the act's sound, particularly in the writing style, but it showcases versatility at the very same time. The drop to the hook is especially bright, a rightfully huge moment that celebrates oneness and humanity.
To seal the deal, things get deeply mellow and reflective as the piano-led callout Everybody Needs a Friend pours through.
Black and white visuals reinforce the melancholic contemplation of the song, and the melody is sublime – there's also an immediately poignant, topically relevant presence to the lyrics. The effects of the pandemic and all of the turmoil of 2020 brings the topic of isolation and loneliness about in a completely unprecedented way.
The classic writing, piano and strings, the passion of the voice and the accessible vagueness of the hook works well to connect – as do often shocking clips alongside the performance, depicting the initial devastation and subsequent possibility that the song so honestly attempts to portray.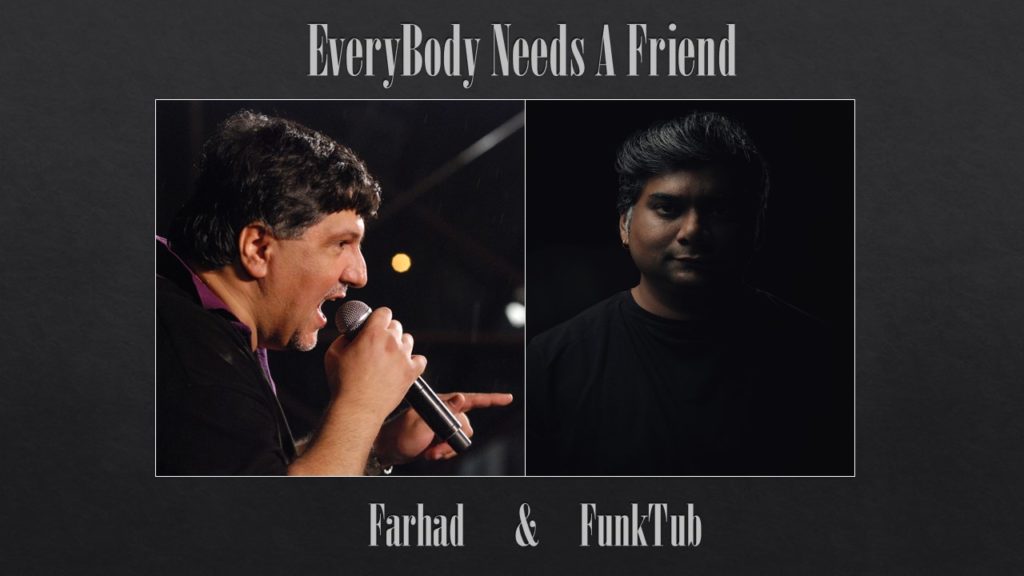 With over 65 originals, covers and live performances now available on Farhad's YouTube Channel, devotion and talent speak for themselves. The songwriter takes on the issues of our time with a classic pop-rock set-up and faultless musicianship.
Somewhat vintage by nature but contemporary in subject and clarity, committed as a band and focused as artists on the need for understanding and connection as humans – Farhad & Tubby give their music the heart and soul it needs, every time.
Check out Farhad on Facebook & Instagram.