Eyal Erlich's music is the sort that manages to be minimalist and extremely unique at the very same time. His recent releases appear as acoustic guitar led, passionate performances, with a light layer of reverb adding a distant touch of further intensity. Beginning with 5am, his songwriting explores deeply personal experiences, and his lyrics approach this in a fairly distinct way. His melodies meander somewhat unpredictably, taking inspiration from the creative freedom of jazz, though appearing as much more of a dramatic, theatrical-rock style of expression.
Already In is a notably different experience to 5am, this is in fact a work of art, lightly supported by certain snippets of additional vocals and audio enhancing moments. The thread reminds, the Eyal Erlich sound is unmistakable, in this case though the story-line pours out in a manner that is all at once delicately vulnerable and hypnotically passionate. The verses lead chaotically up towards what is an immediately soothing hook section, a simple melody here makes for a satisfying resolve, and in between all of this the artist's fresh chord progressions appear before you as if right there in the room. Already In is a stunning song, well crafted so as to make it addictively detailed and calming in the same instance. It screams out for you when you need it to, and subsequently settles you back down.
Following this, Pain is a song that represents its title and concept astonishingly well. You can hear the pain or struggle in the leading vocal performance, the simplistic presentation of the song once again lays bare those core emotions in a way that is impossible to ignore. The performance style has a touch of Asaf Avidan at this point, in my opinion – very few modern artists get so swept away or lost in their performances, at least not so authentically. It showcases the weight and power of true soul, and it gives you something incredibly striking to experience as a listener.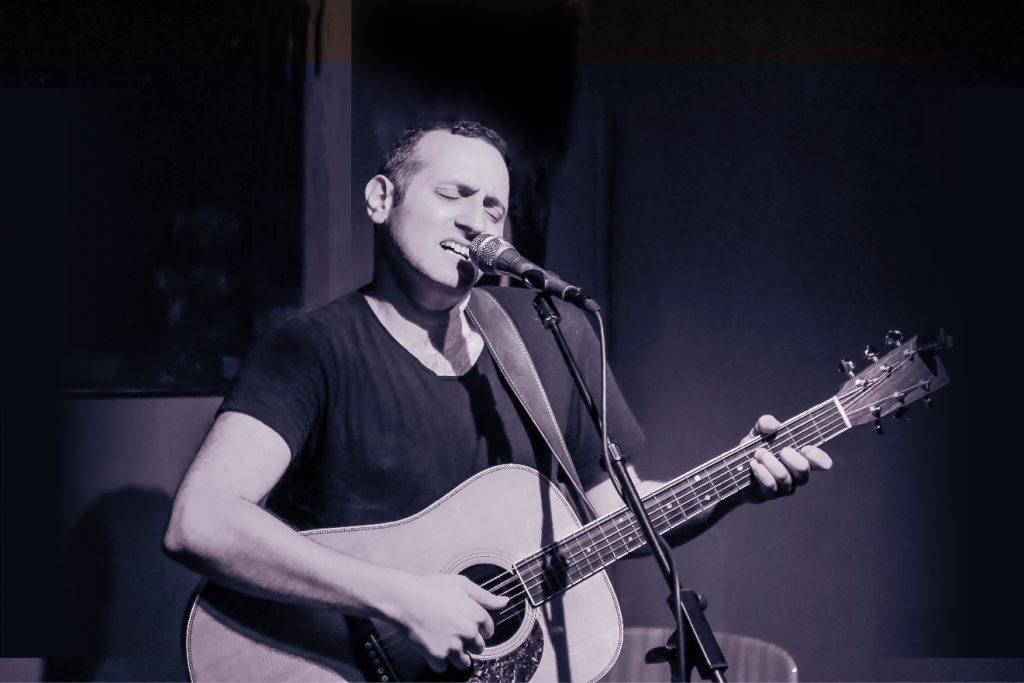 All In All lightens the mood a little, an easy-going, descending guitar riff lays the ambiance, the opening lyrics set the scene – a similarly short yet frequent array of melodic moments add to this moment, giving off an aura that is mellow yet slightly on edge or eagerly anticipating something. There's a lot of longing in these songs, a lot of moments of what appears as an unquenchable need to connect, something which in turn reaches out to connect with all who understand the feeling as they listen to the music. There's a very classic, even vintage feel to the songs as they play out. It's a rare ability to capture such intensity in a minimal setting, and without coming through too loudly. Eyal Erlich has that ability in endless supply – a live show would be likely be mesmerising.
Offering up a further touch of eclecticism, though still standing strong with just an acoustic guitar and an unlimited level of passion – It Don't Seem Right brings about a soulful, blues-like rhythm and melody, with a similarly expressive and personal set of lyrics directed at oneself or a significant other, the story line is heavy, the emotions described, the effects on the body, it captivates you, conceptually and again in that sheer emotion. You could sit and listen to this by candle light and be equally swept away in the depth and intricate thinking of it all.
I Wish I Knew offers a slightly more hopeful musicality, though it's contrasted in a striking way with the difficulty embedded in the lyricism and the artist's voice. The story-telling holds nothing back in these songs, it's almost as if you're a witness to something that was never intended to have a wider audience. As stated, you don't stumble upon this level of realness and honesty all too often in music anymore. It's refreshing, and provocative, and quite calming in that it releases those inner demons on your behalf, it understands you a little and relieves you of your stresses. It's powerful, a sublime discovery.
Find & follow Eyal Erlich on Facebook, Twitter & Instagram. Listen to all of these songs on Soundcloud.
https://soundcloud.com/eyal-erlich-638848530/already-in