Long-time favourite and equally one of the hardest-working indie artists of our time, Estella Dawn has gone from strength to strength since embarking upon a fiercely-devoted solo journey, and currently notes hundreds of thousands of streams across dozens of original releases.
Not merely bringing a sensational voice to the front-lines, but also the writing, production, performance and all-round-entrepreneurial brilliance of an outright creative powerhouse – Estella has backed up her single launches with a host of duets, live clips, production insights and plenty more over on social media.
Her climb has appeared to be quick, exponential at this point, but in truth there's a level of commitment and consistency of talent and work-ethic combined that has led to this – a point at which nothing falls below par, no step misses the mark, and in fact each new release somehow repeatedly betters the last.
Hearing the music impress in this way, and watching her presence evolve and expand online, it almost seemed as if Estella had already left no stone unturned in the music world. However, with the release of recent songs like Winners and Follow, hints of a more deeply-personal thread began to re-emerge – not for the first time, with soulful tracks dating back to 2018, but at-least for the first time in a while. And now, with this latest single, an entirely new realm of integrity and depth has poured through.
Not A Problem transcends the impressive aspects of Estella's work, and effectively reinforces the strength of her name and indeed her audience's connection in a profound and powerful way.
"Let's say I'm the lucky one, turning chaos into art – well if my life's gasoline I'll entertain you with a spark."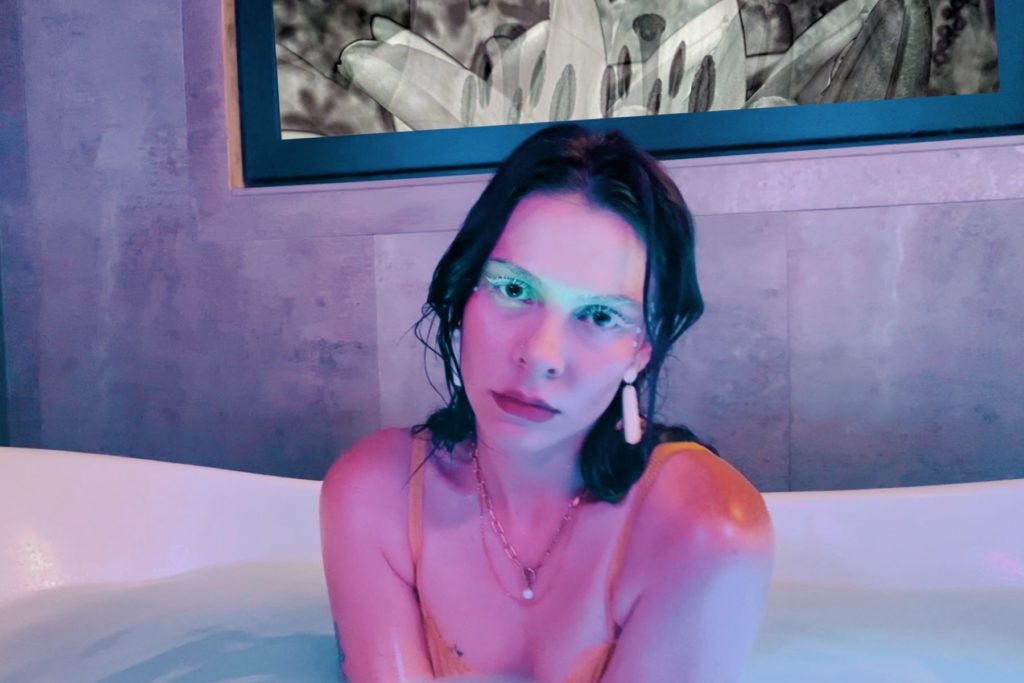 Having heard a snippet of Not A Problem some time before its release, certain lyrics, the melody, and the distinctly vulnerable delivery, proved intensely moving. To then hear the song in full was to appreciate those nuances all the more strongly, and to find a truly addictive anthem within – one that screamed out with delicacy and self-scorn intertwined, on behalf of every ounce of doubt and disdain that we hold against ourselves.
Openly balancing honesty and denial in a manner that grips, the deeply thoughtful Not A Problem highlights a finely-honed lyrical ability, loading up on wordplay and personal revelation in equal parts. The track slowly but surely envelops its listener, as the increasingly passionate arrangement gathers unignorable momentum.
The whole thing is believably personal, but it's also engagingly heavy on the imagery and metaphors – those professional calling-cards that make even the most uniquely intimate song feel like it's the listener's own.
"You shake my shoulders, say if I tried I could rewrite the darkness that came through my family line, but the truth is I find comfort with the shadows in the room, and the monster in the corner ain't as scary when it's you…"
There's a certain ethereal chaos to the sound once the hook drops in – the production unites meandering piano with that smooth, soulful vocal inflection and a plethora of other subtle yet crucial details, promising a sort of artistic representation of precisely the self-doubt and scornful voices that overpower us when we're reflecting too deeply on things that can't be controlled.
It's simple yet so powerful, a familiar pop hit on the one hand, a complex and cutting ode to the passions and struggles that pile up within us on the other – those that ultimately seek to either elevate or drown us, depending on the day.
Maybe that's just me, but given the response to the single already, I'm guessing the rest of the fans we're just as ready for this kind of gritty, relatable and fearlessly honest reality – particularly when united with such a stylish edge of carefree confidence that is the Estella Dawn sound.
Brilliant, beautiful, heartbreaking. Play it often, play it loud.
Download or stream Not A Problem here. Check out all things Estella Dawn via Spotify, YouTube, Facebook, TikTok, Instagram, Twitter, Soundcloud & her Website.