It's a dozen different situations, and you're putting on the album 'Ten', and you know Eddie will deliver the right words, in the right way, to remind you just how futile your worries have been. It's the real world put in the right perspective. There's beauty when he sings; an unfiltered honesty that steals your attention and seems to stop the world from spinning for a moment.
This is not so much a music review as an honoring. I'll say it with conviction – every album he's ever been a part of is more than worthy of an hours car journey to nowhere, just to play it loud; just to let it take over you. From the rebellious, charismatic impact of Pearl Jam, through the unbearable reality and beauty of Into The Wild, to the poetic, uninhibited touch of Ukulele Songs. Every single one of his adventures is something I have to be a part of.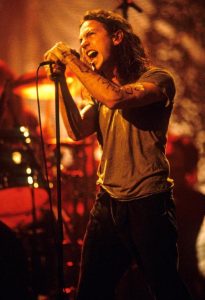 I search day and night for artists with the same sort of passion that Eddie lives with, that he sings with, writes with, speaks with. When I find them – I listen on repeat, I write about them, I obsess, and I clear my head of all my anxieties. For a little while at least.
Music like this will never grow old. Great songwriting isn't just rhyming a bunch of words that vaguely relate to relationships – enough so that you can bag a big hit and retire at 25. Great songwriting is an expression of something ethereal. It's an insight from an open mind. It empathizes with you, or if you need it to; it allows you to escape entirely from what you thought you were going through. Time is nothing but counting. There is always today, and today could be the best day of all.
"What happens when a lot of people start thinking you can change their lives, or save their lives, or whatever, and create these fuckin' expectations, that in the end just start tearing you apart."
A humble and genuine character, a phenomenal singer, performer, and songwriter, with a respectable aversion to the whole idea of Celebrity. These are just some of the reasons why Eddie Vedder is the best singer in the world. It's a subjective phrase, and it's nothing more than opinion, really, but thus is the whole concept of society. No more certainty now than there has ever been, just lots more ways to live out the moments, and lots more moments within which to live. The world keeps spinning. We carry on counting.