Formally known as Divide the Poet, Diveyede has had a colourful and impressive background in music so far, and this EP release marks yet another huge step forwards for the artist.
midnight thoughts on alki starts the project off and fills the room with a comfortingly nostalgic beat, a calming ambiance and a leading vocal performance that fits the mood beautifully. Diveyede's almost whispered outpouring surrounds you with poetic reflection and emotional honesty, both of which connect profoundly and make for a thoughtful, fully immersive experience. It's refreshing when considered among the bulk of hip hop releases over the past couple of years, it's unique and thrives on its own identity and truth, while setting a smooth vibe around  you.
The pace and intensity pick up significantly for i lost my mind in seattle (feat. son the rhemic). There's a definite darkness now, a manic energy in both the soundscape and the relentless rap flow. So many ideas rain down on you that a single listen doesn't allow you to catch or fully appreciate every lyric. The story-telling is superb, the ideas are provocative, the hook sample has a haunting familiarity, and the whole thing just hits with weight and power. A total early highlight that showcases another side to the artist, production-wise and lyrically. The featured verse adds a fresh dynamic and fits the mood brilliantly.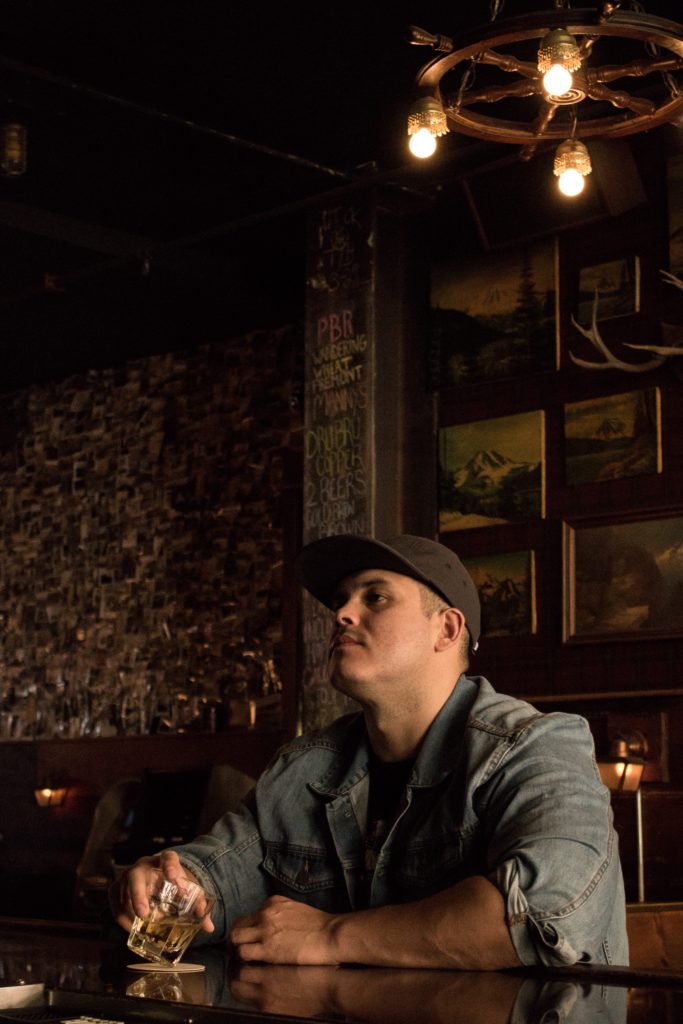 There seem to be an endless number of impressive bars on this project, far too many to list but I can highly recommend the whole collection. The unique nature of the music combined with the wordplay creates something undeniably original – a real breath of fresh air.
confessional mellows things out again but from the offset presents intense truthfulness – nothing is held back, nothing at all. The artist fits his role well in speaking on those things so many of us can't seem to do. As stated, the writing connects, and the music backs up the feelings associated with it in a huge way.
I just wanna talk, you don't have to listen..
I grin just to exercise my face.. 
pheonix down follows with further poignancy and heart-breaking openness. The music is stunning here, simple and dreamlike but hugely effective in holding tight to your attention and your mood. catacombs afterwards redirects things a little, there's weight and heavy rhythm again, attitude, highly strung angst and confidence combined. Something of a Tyler, the Creator mood emerges.
blvck winter (feat. cage) finishes things up. Whether intentional or not, the sample relevantly seems taken from the infamous Home Alone movies. The intensity stands tall again, Diveyede's performance is harsh and energetic, his lyricism is on point for one last grasp at winning you over. You're already long-since won over at this point though. The professionalism, creativity, and passionate honesty combined on this whole project is compelling and leaves it floating freely in the ether as its own thing. Again, the feature here is well chosen – the change in vocal tone and character helps keep things interesting but also fits the mood pretty flawlessly.
As far as hip hop goes, this EP brings through every element of darkness and consideration, those deep human thoughts and feelings, those demons and revelations that make art so interesting. Musically as well, there are certain threads throughout, but every track manages to offer something fresh. A must-have for fans who've tired of the repetitive, unchanging ideas presented in much of mainstream rap.
Find & follow Diveyede on Facebook & Twitter. Visit his Website for more info.