The first I heard of them was a straight up introduction to a live show at The Troubadour, London. They were as brilliant then as they are in studio form. 'Wake in Fright' sounds the same live as it is below, except for one important detail; at the live show, you get to witness the relentless raw energy and talent of the band up close and personal. Absolutely unmissable. Go see them play. Just go.
https://soundcloud.com/desertplanes/wake-in-fright
Desert Planes: Without doubt, one of the best live bands out there. Superb musicianship, a committed and memorable front man, doing exactly what they should be – absolutely smashing it on stage. There's no fake showmanship, no need for jokes and filler to make you remember them – these guys are lost in the music, and that's exactly where you will be too.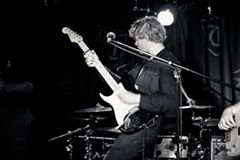 Comparisons aren't necessary; the songwriting is there, the riffs are there, the vocal is strong and suitably raspy, the bass and the beat surround you like a beautifully loud cloak of escapism. Don't listen to this music with the volume turned down. It's an insult to artistry. Turn it up loud.
Follow the guys on Facebook and Twitter, and get yourself down to a live show – they play regularly around London. Don't sleep on it – they are bound for bigger and better venues. Visit their Website for a stunning acoustic performance of 'Help Me'.