Introducing an explosive return for Perth's Derek Lee Goodreid, the album The Love kicks into gear with the classic tumble and roar of nostalgic, fast-paced rock and roll that quickly lights up the room.
Storming through with fast riffs and gritty, warbling, high-octane vocals, the crash of live drums and the pedal-play of a stage show that naturally lures you in, The Shakes provides the perfect opening act for an album that forever keeps its audience engaged.
Far from predictable, the project keeps things blues-rock and energising but goes on to weave in cinematic details, compelling story-lines, and an impressive array of melodic anthems that linger after listening.
Consider the sultry pace and vocal depth of a rising and falling Devil's Due, addictive in its film-ready presence and familiarity combined; not to mention the satisfying resolve to the title at the end of each line. Classic writing with a contemporary edge of in-the-moment expression from Goodreid.
Featuring a plethora of faultless guitar solos to break up the rhythm and stomp of elsewhere, The Love is a guitar-heavy album that urges you to pick up your own six-string and kick back with some riffs and freestyles.
From the yesteryear progression of Road of Bones through the absolute distortion and grunge-worthy groan of an overwhelmingly hypnotic Needles & Sin, the style is well-rooted yet free from the confines of expectation. The arena-ready fullness of the latter track strangely takes command of your headspace in a way that begs for you to play it more than once.
In stark contrast, the sudden Gospel acoustic stomp and melody of Sinner's Prayer hits with soulful impact afterwards – arrangement working its magic.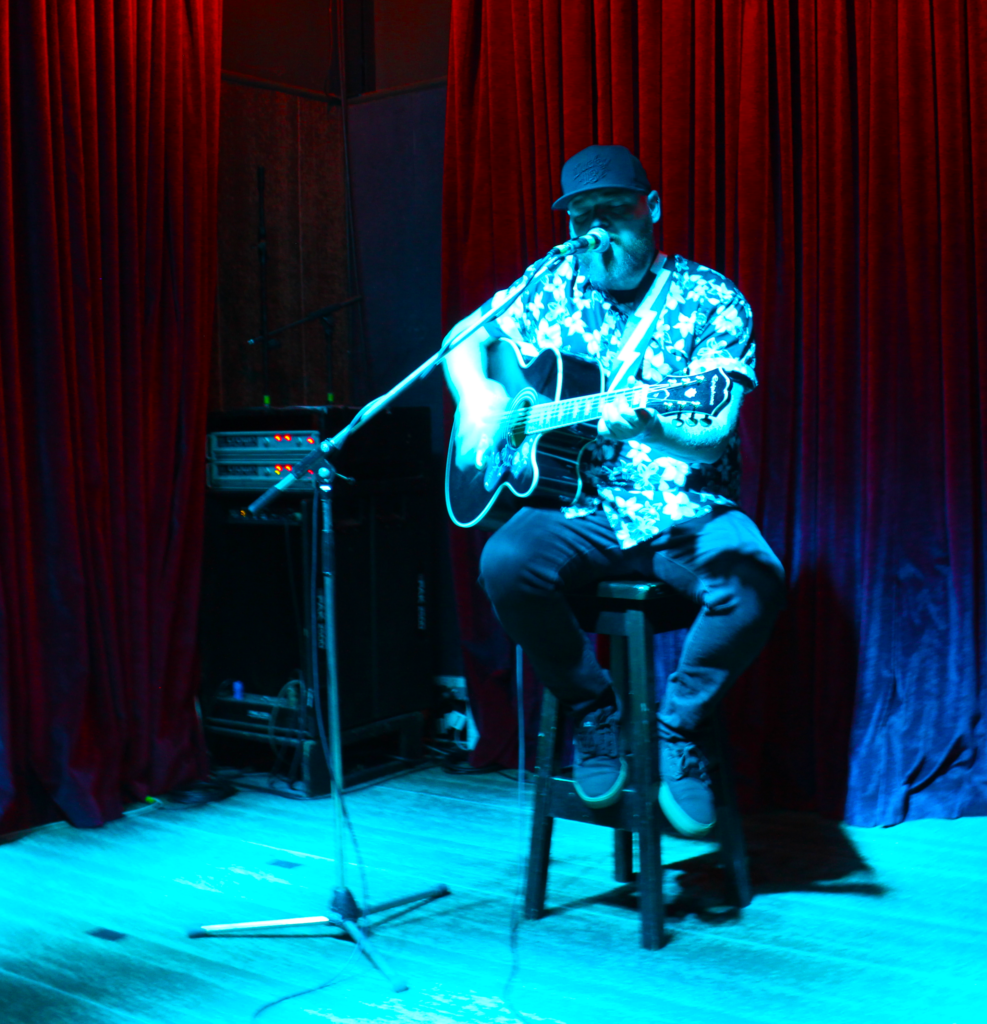 Other highlights include the imagery and higher tones of Sticking Around – catchy as ever – the deeply contemplative, surf-rock colour and sway of the title-track The Love, and the unforgettably confident, fiercely passionate Big Bad Wolf.
The sudden intimacy and longing of Howl at the Moon also makes for a surprisingly loving, poetic and melodic closing track – another unforeseen instance of creative freedom that shines new light on the artist behind the music.
Emerging complete with a couple of unexpected skits of subtle yet repeat-worthy comedic value, The Love raises the roof consistently with Goodreid's clear commitment to the genre, the concept, and the creative space.
A devoted and bold album of originals, with a distinct thread of identity throughout.
Download the album via Bandcamp. Check out our interview, follow Derek Lee Goodreid on Facebook & Instagram or visit his Website.