Even just reading about this collaborative project gets you feeling intrigued and quite excited to delve into it. DEKALOG, Fien Desmet and Amazumi all offer slightly different creative approaches to one-another, so the potential for eclecticism is highly likely. What you actually discover within though is something incredibly well rooted in concept and musicality – eclecticism is prominent for sure, but the sound is beautifully crisp to the point that it feels like a natural band with a shared intention.
Denial as an opener is perfect, an addictively interesting song with a great groove and some superb underlying ideas – an easy one to listen through more than a couple of times before progressing.
As you continue, Whites Of Their Eyes keeps the familiar tone alive but sees the mood mellow out and a smoother, quieter approach to expression emerge. The contrast between the melodic and the rapped vocals is striking, the back and forth dynamic works flawlessly in captivating the listener. Meanwhile the soundscape is subtle and allows you to stay focused on these words and on the rhythm and delicate intensity with which they're delivered.
Omen drives with a sudden darkness – a rap flow and string of lyrics that are immediately compelling. To let each song evolve in its natural and artistic manner is precisely what the producer has done here, the underlying sentiment is considered in every respect, so whatever the moment requires – that's what it gets. The whole thing feels well balanced and manages to entertain and fascinate all at once, as well as satisfy from a melodic and musical perspective. Amazumi is phenomenal here, the intensity rises with the growing passion of her performance and the poetically reflective outpouring of lyricism. A definite highlight for its power and progression.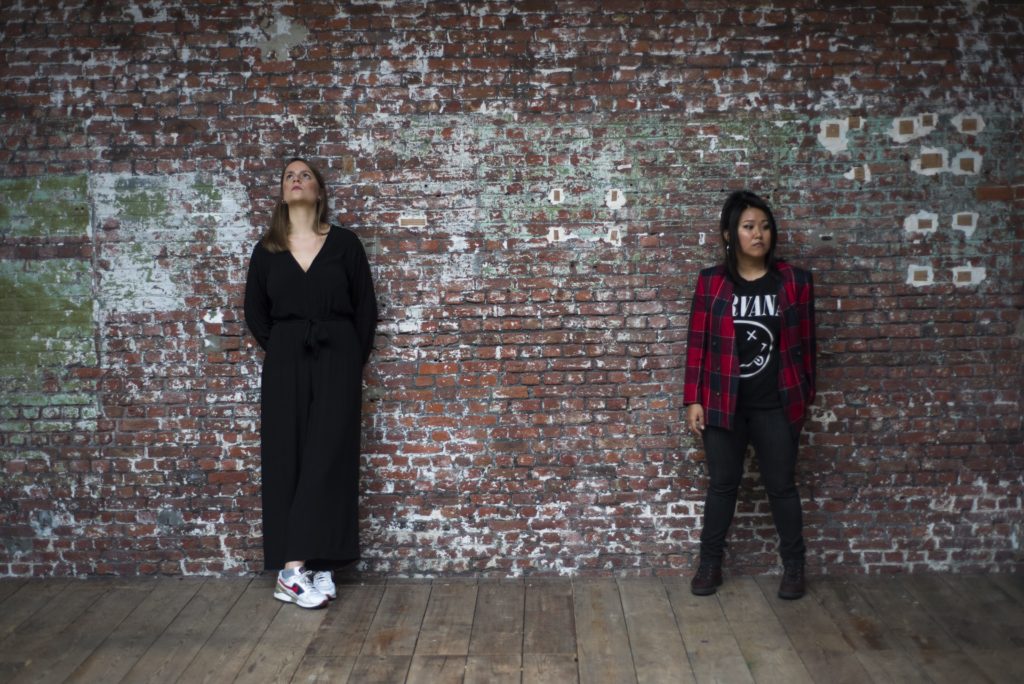 Fien Desmet & Amazumi.
Adding further layers of unexpected colour and style, Ash Tray smooths out the mood again and sees Desmet drive with a gently trip hop but slightly Americana-soaked melody and a notably personal story-line – think Morcheeba, Zero 7, Portishead. A calming aura makes this a fitting follow-up for what came before – the contrast is mighty and works well to hold tight to your affection. There are also more than a few flickers of world-music influence, reinforcing the distance between collaborators and the open-minded nature of the entire project.
As far as albums go, this feels like a best-of playlist – never does your attention wander or your mind tire of the songs. Exiled1138 takes on a funk-vibe with a hint of attitude and another metaphorically full rap performance that fits beautifully within this upbeat, energizing setting. Flowers afterwards offers a creative rock twang and suggests, not for the first time, that a live show from the entire collective would make for a totally unmissable evening. Fien Desmet shines brightly here with a soulful, seductively jazz-like vocal. Contrast again hits hard, a gentle hook is skillfully juxtaposed by a quicker and more intense verse from Amazumi.
Gold picks up the energy and feels like the accompaniment for some dark new action movie. A thick bass-line and a series of haunting vocal moments make this really stand out. Then Chien Noir brings through softly entrancing melodies and a deeply thoughtful story-line that appeals to the observers and deep thinkers out there. A lightly manic backdrop pushes the gentle aura of the vocal forwards in an unexpectedly Radiohead-like manner.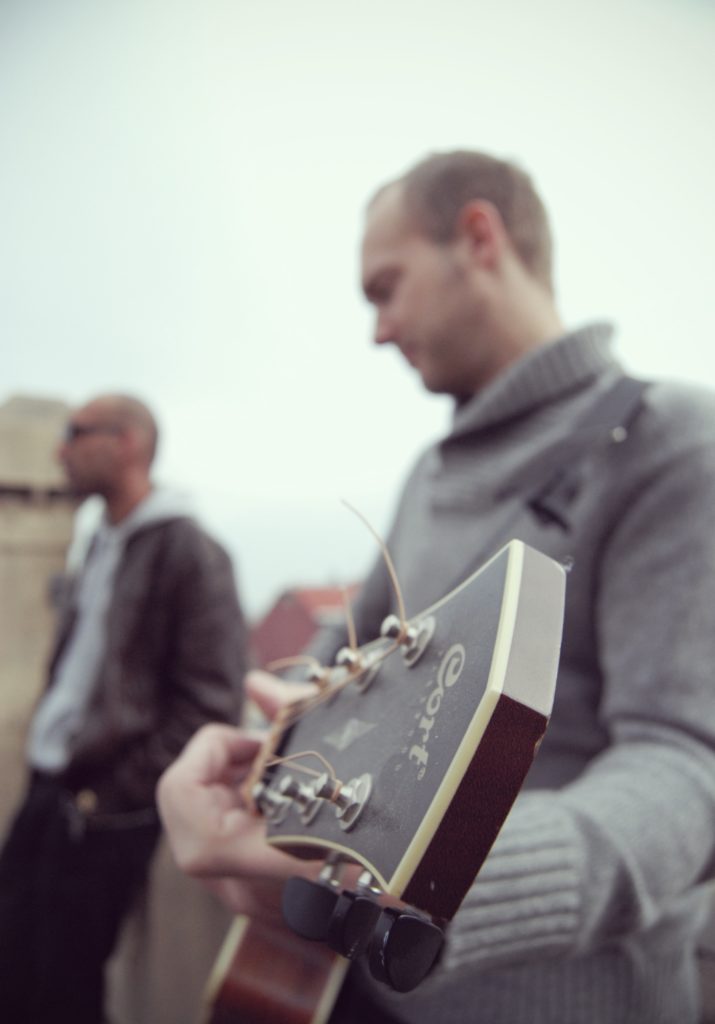 DEKALOG – AKA, Producer Sonny Dhanowa & Songwriter Dan Roberts.
At the penultimate moment, Hush makes for another personal favourite. The influx of ideas following the instructional leave is mesmerising, and as the music slowly builds the whole thing begins to envelop you and drown out the noise of the world in a mighty way. The rap breakaway is a welcomed pause from the hypnotic opening section, then a new build-up kicks into gear; that sense of rising anticipation. A simple but stunning song that leaves its melody and lyrics lingering in your mind long after listening.
Weight On My Shoulders brings the project to a close. A jazz-pop offering that again tips its hat to some of the great producer-singer collabs from the early noughties. It feels like a calm finish, but in true Een fashion – intensity bursts through later on. Amazumi and Fien Desmet both reach an emotional and energetic high, pouring their last gasps of passion into the process.
To choose just one song from this collection would be like using only one colour from the pallette to create your latest painting. The playlist in full is where the real experience comes from – an absolute pleasure to stumble upon and well worth journeying into. Download the album via Bandcamp. Find & follow Blue Ghost on Facebook & Instagram.
https://soundcloud.com/blueghost-be/sets/dekalog-with-fien-desmet-amazumi-een