Classic country rock and roll pours through from one track to the next as Alberta songwriter and artist Daniel Besuijen offers up his brand new album of unpredictable, interesting stories and songs.
The aptly titled No West For The Wicked kicks into gear with an immediately vintage set-up and style, organically crafted, with vocals born to perform in this way. For I Wanna Be Your Dog (But I Won't Roll Over No More), Daniel's story-telling holds close to the imagery-loaded, heavily metaphorical and somewhat comedic energy of the genre, and meanwhile the shuffle and stomp of the soundscape creates an easily lovable live sound that's been greatly missed from a social distanced 2020.
New Year, Old Me follows and mellows things out with a reflective, shoulder swaying Americana core – beautiful melodies, a sense of longing and uncertainty, plenty of space, and more of that bright and natural organic musicality.
Things slow-down all the more-so for an Elvis-esque, quiet and intimate yet gradually intensifying Oh My. A powerful build-up allows this one to really connect for its rising anticipation and wholly immersive hook.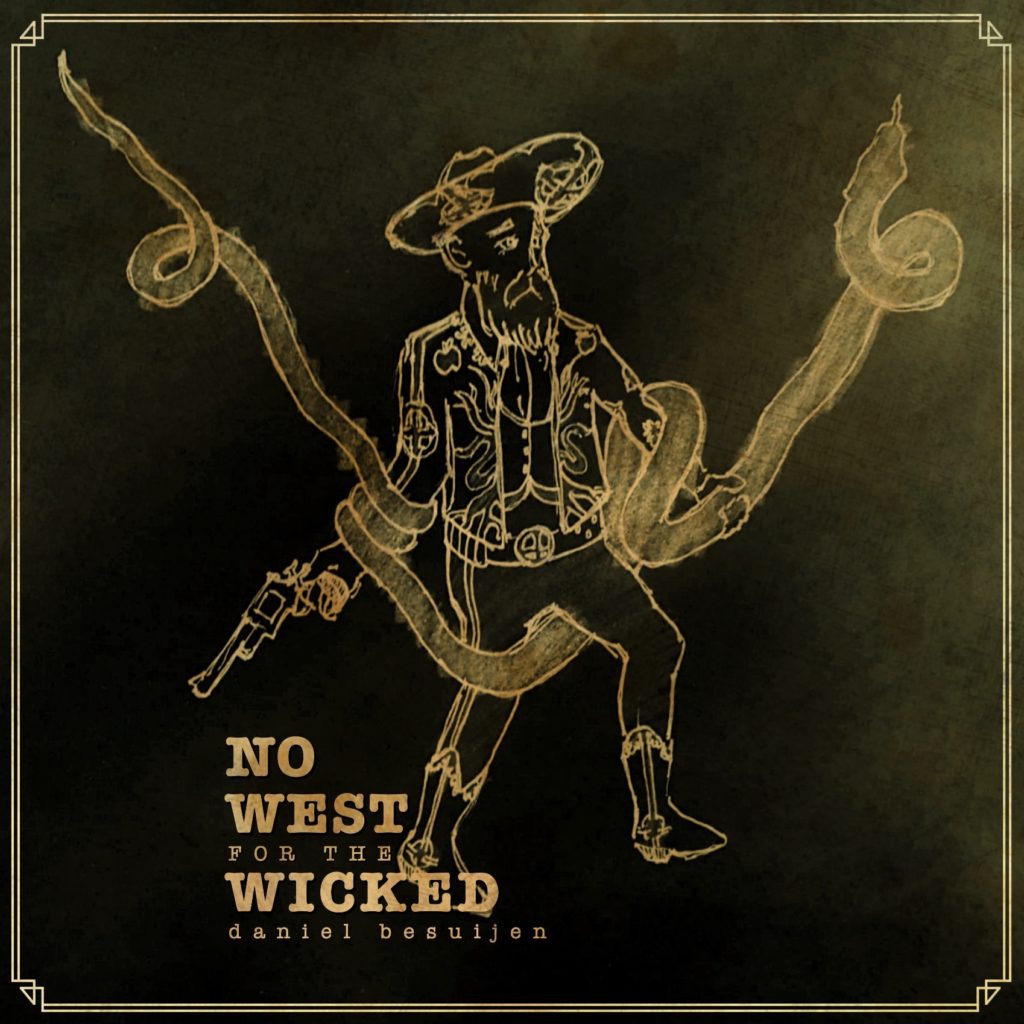 Arrangement is important on any longer project, and this album has it down. Odessa picks up the pace a little, leading with short lines and a certain meeting between darkness and swagger. A stylish track, intriguing and indicative of driving energy – the soundtrack to your commute, or to the surprise new season of Sons of Anarchy.
Great guitar-work follows for a knees-up-ready, honest and thoughtful I Don't Know – an anthem ready and waiting, and an easy track to love. A personal favourite, with some brilliantly subtle yet satisfying solos.
The influence of The King returns for another seemingly romantic and heartfelt, poetic Nothing Compares – with a welcomed comedic twist that helps elevate the whole thing to much more memorable plains. An unorthodox love song that many will likely appreciate this season.
I'm Going Away strips things right back to the bare essentials. Angst and resentment, an air of tiredness, drive this reverb-soaked, expressive single through its mellow, seductive groove.
Then to finish things up, the increasing pace and brightness of Country First makes for a boldly topical, conceptually poignant yet fun take on contemporary life. The song offers an interesting structure, a back and forth between characters, different sides of the story – different perspectives. Some Hip hop artists have ventured down this path of late, but less of it is seen in the more acoustic folk and rock realms. A great way to go out, ultimately celebrating oneness, sameness, and music.
"Well my friends, I've a few things to say
Both your sides are different but ultimately the same
Anger on one, rage on the other
It's the age old tale of brother against brother…"
A story-teller through and through, with a fine ear for melody and a voice that feels perfectly well connected to the songs at hand – Daniel Besuijen showcases the best of his abilities as a songwriter and musician throughout this EP.
Something of a subtle chameleon within the genre, Besuijen is a freely expressive songwriter, reminding me personally of the traveling country artist Abe Partridge. Well worth looking out for as and when the live scenes begin to return.
Download the album via Bandcamp. Check out Daniel Besuijen on Instagram.