The Ouija Board is probably one of the most entertaining albums I've come across in recent months. Every part of every song has something about it that surprises you and keeps you interested. There's a wonderful fusion of the electronic sound, with the live, almost big band kind of presentation. There's often a very sudden pause for a completely unexpected instrumental flick, whether it's glockenspiel, distorted synthesizer, deep bass, or even just what appears to be a dial tone, or a flat line – at the end of the title track. There's a whole lot going on within just a six song collection, but it's entirely unique sounding, and really well performed. Definitely worth checking out.
The whole project is bursting with creativity, the title track is intriguing, fascinating even, and by the time The African Giraffe kicks in – you have a real sense of Caramel Snow as an artist.
"If you want to find your happy place, but they say you're a complete disgrace.."
Great lyrics. I'm also slightly moved at this point by hints of a very classic David Bowie-like influence; melodically, the vocal tone and style in itself, and the experimental no-holds-barred nature of the music on the whole. The songs gets right inside your mind; they take hold of you, and you want to escape to the song writing, but you're too engrossed in the music that you don't want to phase out and miss anything. A really compelling album, on the whole.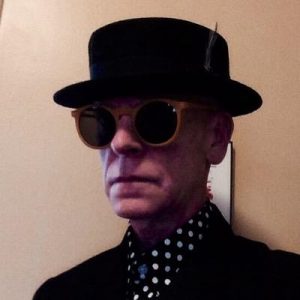 Bad at Sports was perfectly placed within the collection – the vibe switches up a notch and things seem a little simpler for a while. But even here, the artist doesn't get complacent, and doesn't allow you to get so, either. The chorus section is completely unexpected, and yet it fits, and it works, and it's absolutely everything the art of music was meant to be – free, honest, expressive, swimming in creativity.
The penultimate track Lush and Loveless breaks out the distorted free-running guitar with a rock and roll mind of it's own. Again, as with most of the songs on The Ouija Board, the chord progressions and melodic direction is impossible to predict. As mentioned earlier, there are some slight hints of influence, but the song writer has done his job superbly – taking a blank canvas and creating whatever it was that needed to be made. The chorus of this one gets caught in your mind, but the guitar solo work is actually quite haunting – a clever touch, really; a wonderful juxtaposition next to the idea of all things lush. A real artist, with plenty of character.
You Could Feel Better was a personal favourite, and a sublime way to finish up the project. The opening bass line had me hooked from the start, then the delicate chords are sent out, and the vocal melody is so joyful sounding, yet with an air of things building up towards the final come down. It's a great song, one I've played on repeat for most of the morning. Never boring, and wonderfully optimistic – you leave the album feeling like you've learned something about yourself. Energetic and inspiring, and although the majority of the album features some unusual concepts, clever use of language and lyrical themes, there is a moment of purity and clarity at the end – to make it all feel like a real experience has been had..
"Wishing you the best, now get some rest.. We could feel better after all.."
As described by the artist himself, The Ouija Board is a collection of "Lighthearted songs of surrealism, inadequacy, depression, nostalgia, and cryogenics". A pretty accurate representation, by all accounts, not to mention that on top of everything else; every bit of the project was written and performed by Caramel Snow. It's not like anything else you'll have heard recently, but if you love music for the art that it is, you will greatly enjoy listening. Don't just take our word for it.
Get involved. Head over to Bandcamp to grab your copy of The Ouija Board. You can also find Caramel Snow on Soundcloud, Twitter, Youtube, and if you head over to his Blogspot you can learn a little more about him. In the meantime – this is the opening track of the album. It starts within a sort of tin-can environment, then swiftly shifts into action to highlight the experimental yet fully thought out and brilliantly produced work that is to follow. This is Mindsweeping..