Built On Principle is a hip hop act like no other right now. The collective kicks off this eight track EP with a striking beat and an intense outpouring of lyricism, and throughout the rest of the project the caliber never falls below excellent.
Musically this release is incredibly unique, (Duh) Feat Myka 9 showcases an industrial beat, spacious and organically heavy, brilliantly creative. On top of this the artists each take turns pouring absolute intelligence and depth of thought into the process with unwavering rap flows. The quality is immense, the sound is unmistakable, and the bars are so consistently impressive that a single listen is far from enough to catch it all. Fans of original, genuine and smart hip hop will find this EP a pure joy to get lost within.
Smooth Unison (Feat. Vast Aire) changes the musical mood in a huge way, but still you're mesmerised – and in this case, a little more emotionally engaged thanks to some well-placed moments of melody and varied rhythm. This track is superb, a personal favourite for its musicality and the passion and power of each section. There's a mellow or more chilled out pace to the song that lets the story-line weave its details around you in a compelling and hypnotic fashion. Meanwhile the soundscape embraces and calms. A beautifully addictive track.
Devolution (Feat Qwazaar) (Cuts by Scratch Johnsonic) brings back that industrial vibe, doubled vocals create a new dynamic though – a particularly retro or nostalgic aura comes through as the bars gather momentum. The music gets more and more soulful and interesting as it progresses.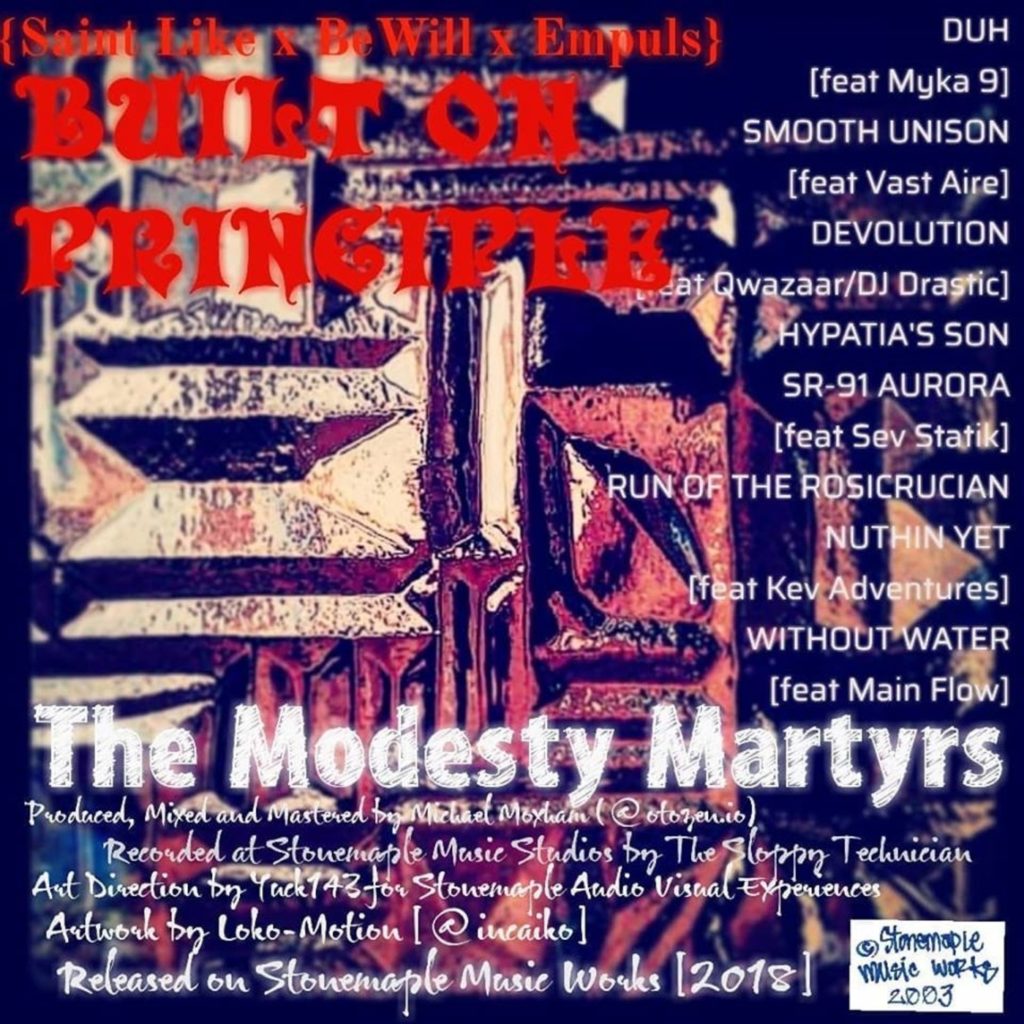 Hypatia's Son offers up a moment of inescapable intensity – a high octane, energizing track with quick character changes and a general sense of being on the verge of something huge. SR-91 AURORA (Feat. Sev Statik) follows and reminds you of the importance of effective arrangement – this mellow delivery contrasts with the tripped up, stop-start jazz-cafe soundscape, and the album now feels rightfully eclectic. Things seem big still, hopeful and driven, meaningful and dedicated to greater things.
The sheer quantity of impressive, striking bars on this project is stunning – expect to be skipping back through tracks several times over as a clever or quirky line or idea catches your attention out of the blue.
Run of the Rosicrucian drives with a totally vintage, big-band ambiance and a clear concept that lays its foundation from the offset. The deeply reflective story-line holds tight to your attention. You start to feel a little more eloquent and articulate by association at this point. This is the sort of hip hop you listen to when you want to feel like you know something most don't. Run of the Rosicrucian offers up a brilliant hook, one of the best – and a really enjoyable musicality. A definite highlight. There's a comforting familiarity to the voices by now, and subsequently – a level of trust.
Nuthin Yet (Feat. Kev Adventures) sees the pace hit unthinkable peaks as an absolute outpouring of determination fills the room. The Built On Principle sound and identity has more than made itself known. Without Water (Feat. Main Flow) follows and brings the EP to a softly cinematic yet mighty finish. That sultry calm returns, a smooth sort of darkness emerges, plus a mellow delivery to make certain the story grabs you. A fascinating track and a really effective way to finish. Always leave your audience in awe and wanting more. Job done in this case. I look forward to hearing what the future brings.
Download or stream the EP here. Find & follow the collective on Instagram: @supawillydynamite_, @otozen.io, @liveat5_empuls, @stonemapleapparel & on Twitter: @BeWill10, @Empuls, @moxvolsound.