Driving with heartfelt, wholesome intentions and a clear love for music in all of its forms, this new EP from Bat Gang Beats offers engaging melodies, calming soundscapes, and lyrical optimism through and through.
Happy Birthday (Ft. Andy Land) kicks things off, introducing a fairly retro, spacious and keys-led manner of production, with smooth vocals from the leading singer, and a calming set of good vibes overall that set the mood with ease.
Bringing together contemporary rap tones and subtly catchy melodies, the songwriting tips its hat to the modern landscape, whereas the production takes more of a creatively free approach – combining organic layers of jazz with a mildly vintage series of synths and industrial beats.
Run Away follows and adopts a similarly unique set-up. The songwriting also continues to traverse an inspiring, optimistic pathway – the songs focus on the bright side of life, whilst touching on difficulty and realism in a relatable fashion. The brightness of the music reinforces this sense of possibility and personal strength.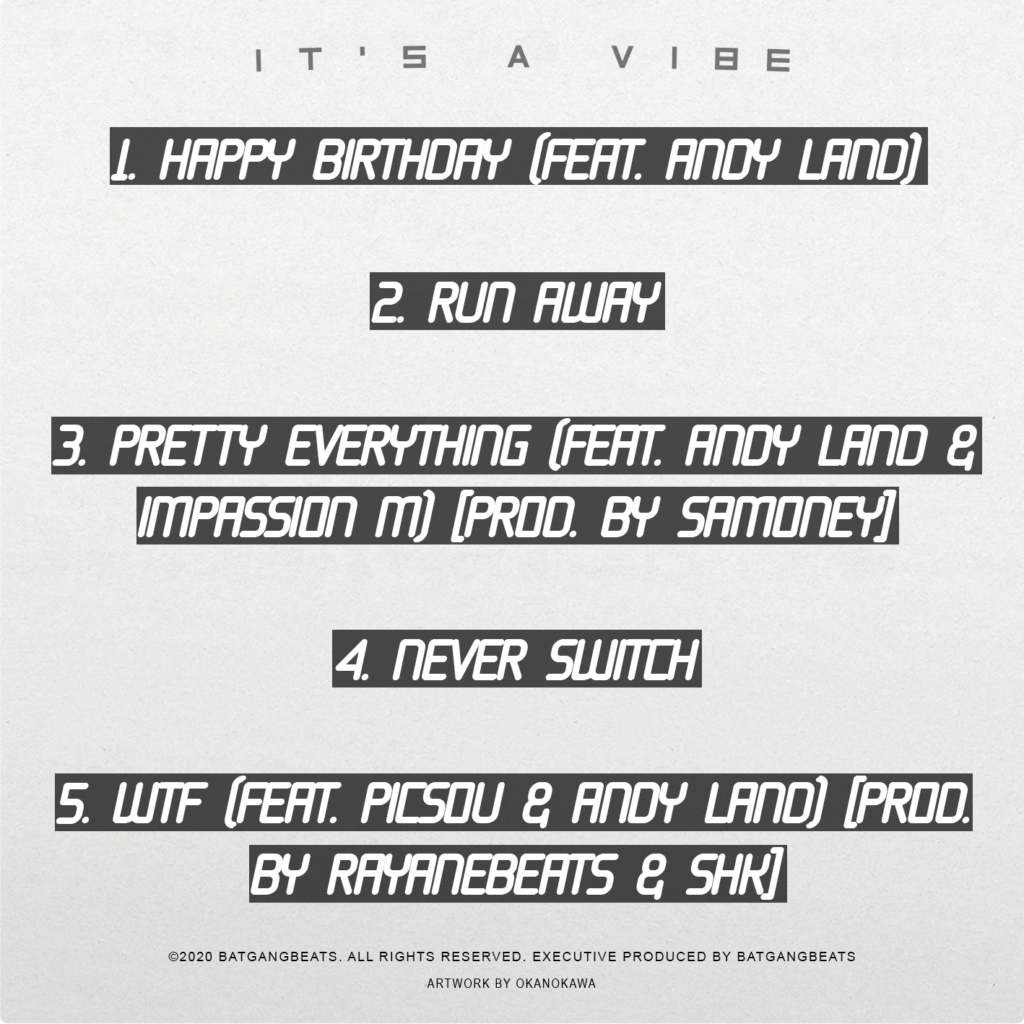 Pretty Everything welcomes in a soulful dash of stylish guitar work – a hip hop-fusion track with a calming vibe and a beautifully loving energy and sentiment. A pop classic with a timeless air of honest expression and simple yet satisfying production alike.
Then we get a song called Never Switch, and the guitar sound is suddenly more raw, mildly distorted and live-performance-like in this setting. Bring in the trap-style beat and the again modern hip hop vocal progression, and the fusion of elements helps create something fresh.
Injecting an unexpected hit of darkness and swagger at the final hurdle, WTF features a heavier set-up, a haunting vocal backdrop, an alternative to the English language, and a generally more striking, unsettling vibe on the whole. It adds further versatility to the Bat Gang Beats repertoire, and finishes off the EP with something a little different and gritty.
A strong collection of tracks, with a few clear threads of identity throughout thanks to the creative calling cards of Bat Gang Beats.
Pre-save It's a Vibe here or download via Apple. Check out Bat Gang Beats on Facebook, Twitter & Instagram or visit his Website.