Immediately hypnotic guitars create an enchanting echo space as the melodic and colourful Avec Muscles EP slowly rises to greet the room.
ATMIG – After The Money Is Gone – introduce this project with the delicate and poetic Ride, utilising space and intimacy for an ultimately bright and beautiful moment of calm and infectious possibility.
Fragmented lyrics in short lines intrigue throughout, and up until the strings fall into play, there's a sense of uncertainty conceptually. After this point, the story and the significant other appear with more clarity, and from here it's natural to want to instantly listen again when the song ends.
Weave in the second vocal, and the questioning, the longing, the subtle acoustic strums, and the completed arrangement proves authentically original, thought provoking, and a strong pathway into the rest of the EP.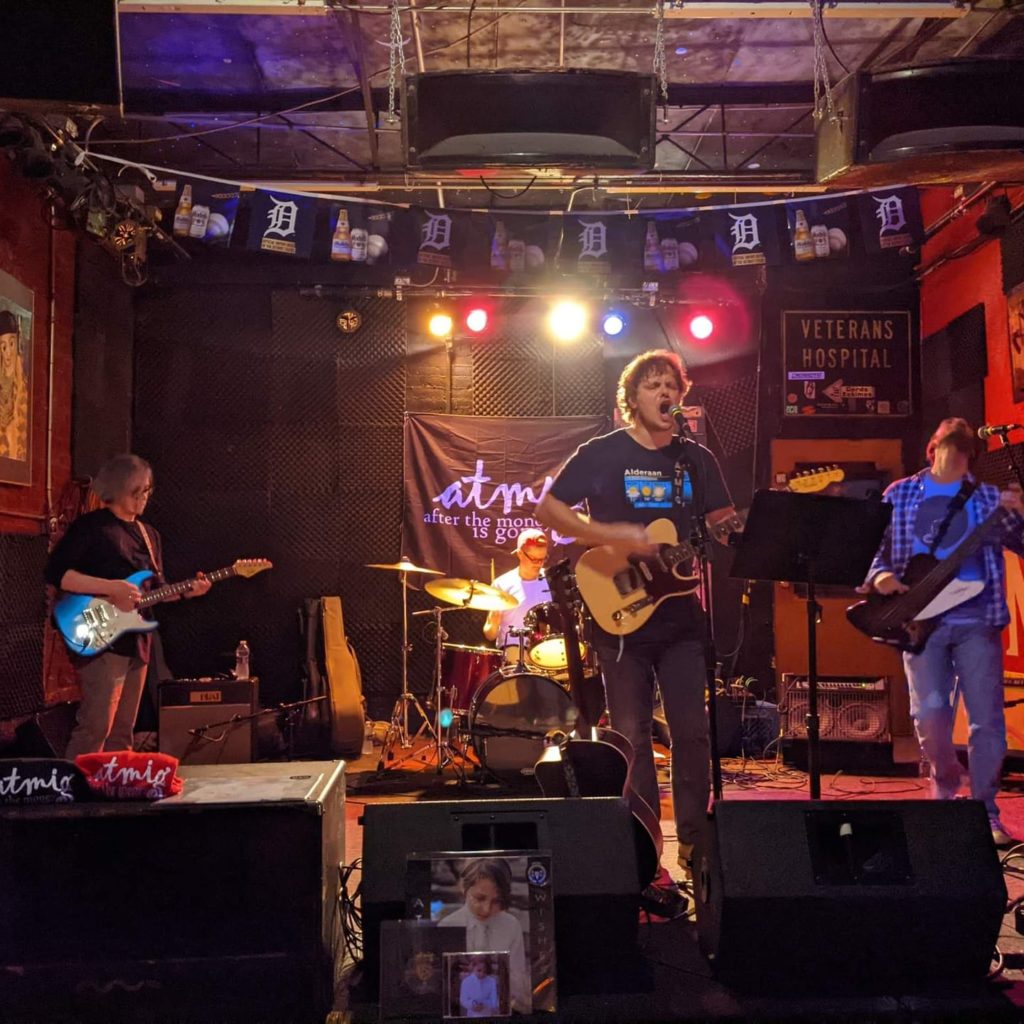 The title-track Avec Muscles follows, gentle acoustic picking delivering another riff for identity, plenty of space for expression and the purposeful development of mood.
Suddenly the voice is less rhythmic, more tired, uncertain and raw, yet wonderfully vulnerable and human in being this. The rise up continues in true ATMIG fashion, the drums injecting pace, presence, the later addition of anthemic voices and bass, fullness, energy, all elevating this to arena rock levels.
'I'm not as strong when there's nothing wrong.'
The bass, guitar and drum teamwork of Refuge makes it quickly a highlight. Great production allows the organic recording to really capture affection. Then we get the gentle vocal longing, that intimacy again, even with the pace and weight of the instrumental. There's a touch of Bowie here, particularly during the vocal call and response or echo of later, and the mild theatrics and passion of the delivery.
During the latter half, Fine Days provides a welcomed moment of simple reflection, before its explosive final quarter of soaring guitar solos and fearless vocal integrity.
Then there's the simple folk calm and colour of Ah Hah, immediately familiar in melody and lyric – a catchy number that's well-placed to welcome a whole other audience into the Avec Muscles space. That alternative edge remains though, the later sections taking things down unpredictable pathways, for an alt-folk listen that's nostalgic yet exciting to get to know.
"Your generosity
Is just a bill of goods
Clear cutting all that's good
And as you step on me
I'm stepping on the ones
Deserving of this song"
Subtle indie rock and distortion meet with delicate harmonies for the closing contemplations of By Now. Another mighty bass-line adds character, contrasting the softness of the voice and the purity of the story. This one is perhaps a slow-burner but ultimately keeps you coming back, not unlike the opener. A personal favourite and a great way to end the Avec Muscles journey. I greatly look forward to catching ATMIG at a live show some day.
Grab the project Avec Muscles here. Check out ATMIG on Facebook, Instagram & their Website.