Florida's Anechoic Birds aim high and hit the mark with this eclectic and hard-hitting, conceptually provocative new hip hop album.
Simple scene-setting and a heavy beat meet with plenty of space to accompany a series of intense vocals, clean-cut and refreshingly up front, to guide you through the confidence and grit of Your Music Is Trash. Things start off on a high, the simple darkness of the beat and the carefree swagger of the lyrics and the delivery showcasing an intention to raise the bar and refuse to adhere to expectations; which is precisely what the rest of the album continues to present.
Bad Little Thang follows on with a similar set-up – a brief cinematic intro, a heavy beat and bass-line, those clean-cut, genuine vocals. Here though, the pace is immediately quicker, the energy higher.
Fragments of melody meet with relentless outpourings of bars, creating a hypnotic chaos of rhythm and story-telling. The production is superb, the very structure of the track being toyed with to further underline the changing ideas from the vocals. And that hook is as unavoidably infectious as they get.
The dynamic between features and band members throughout this album works perfectly in creating an engaging dynamic and a consistently interesting sense of dialogue and movement.
Leave Me Alone heads further down the anthem-like pathway with a simple, cutting hook and a soundscape riff that's equally easy to pinpoint. Vocal sound-play lets a few different flows and tones build a level of theatrical performance that reinforces the concept really well.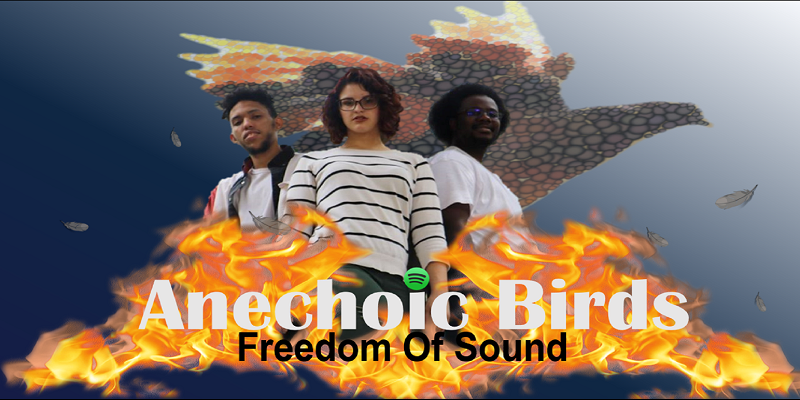 Seeing things switch gears in a noteworthy way is the sudden softness and vulnerability of Darkness. Gentle RnB melodies meet with poetic reflections on intimacy and love. The track is easy to listen to, offering a calming yet mildly melancholic vibe that listeners will connect with in an instant.
These moments of personal truth and emotional honesty allow audiences to really bridge that gap between themselves and the artists, and this is what ultimately helps work towards longevity in the music industry. There's still an element of fun to some moments, that Anechoic Birds confidence still echoing in the distance, but overall the song adds a welcomed touch of mellow energy to the project.
Afterwards, Sway injects a classic jazz and RnB groove with the help from vocalist JaySway. A timeless hit, with a fine use of contrast between the brightness of the hook and the smooth, immersive rhythm of the rap. Another refreshing moment that highlights further versatility from the band.
Sadly the loving optimism falls away – real life crashes through with the heavy beat and intricate soundscape and melodic rhythm of It's Over. A great track, loaded with character, rising intensity, passion. The whole thing consistently changes and evolves, holding tight to your attention throughout numerous flows and sections.
Throwing in one further infectious, unforgettable hook, Switchin' Lanez takes a contemporary, emo-rap style mood and blends it with a smartly familiar concept and a superb soundscape. The vocals are effected now, more electronically distant, but the change in direction works well at this penultimate moment. Still that increasing passion is clear in the delivery, keeping you captivated.
Bringing things to a stunning finish is the finely crafted beauty that is Ride. Guitar picking, reverb, lightness, a sort of Old Town Road vocal rhythm and a similarly Americana-kissed vibe that subtly blends with the hip hop core in a powerful, addictive way. Another highlight for how satisfying the whole thing sounds – that hook resolve, the progression throughout, the comforting, organic ambiance. Brilliant.
If you haven't listened to Anechoic Birds before, but you're a fan of musicianship and rap united – hip hop with a notably melody and mood-conscious aura – Blessed is fine choice to make.
Find & follow Anechoic Birds on Facebook & Instagram.