The real pleasure and power of acoustic music shines superbly through the simplistic beauty of the six tracks on this release. If you haven't listened to Andrew James' music before, the title track Shoreline is a breathtakingly stunning place to begin. Lyrically expressive in a complex and poetic manner, thoughts outside of the box, expressed with the genuine depth and emotion of someone who has quite clearly been through what it is that he sings about.
The song is stunning, and it's strength is that of a rare nature. In the same sort of way that certain songs from Damien Rice do; it reaches right into your chest and takes hold of your heart. And yet, technically speaking, there's nothing but the voices and the instruments – you can tell that to witness this music live would be a similar and probably even more emotive and captivating experience.
The Shoreline EP opens up with Always, a heartfelt expression of love and devotion, with the addition of a light and uplifting rhythm section – bringing the project forward a few steps, away from the quiet corners of acoustic folk. The track offers a build up, a show, if you will, a variety of sounds and feelings that immediately make you want to witness the artist performing live.
As the song grows, the vocal performance moves in an unexpected direction. For all the subtlety and softness of folk music, on occasion there is a slight gap where grit and passion could have been, in my opinion, but this song breaks down those barriers and crosses over into the world of volume, passion, emotional realness – this comes from the sound of the voice, not just the lyrics. The sort of singing that pushes itself almost until breaking point. It's beautiful to listen to, and it adds so very much to the depth and value of the song as it's performed.
Memphis has a familiar sort of vibe to it, noticeably different in substance to the previous track, but building further on that uplifting element, greatly in fact. This track builds up and up to the point of being a feel good, motivational piece of music, with a heartwarming melody, and a reflective narrative that really lets you drift off into your own little happy place. This one would make a great anthem for long journeys; turn it up loud and just drive and drive. It's also another of those songs whereby you can appreciate the rarity, the hidden treasure you've stumbled upon, at the same time as clearly seeing the possibility for it to be played on radios far and wide. It feels like a hit – if such a thing can be detected in sound alone anymore.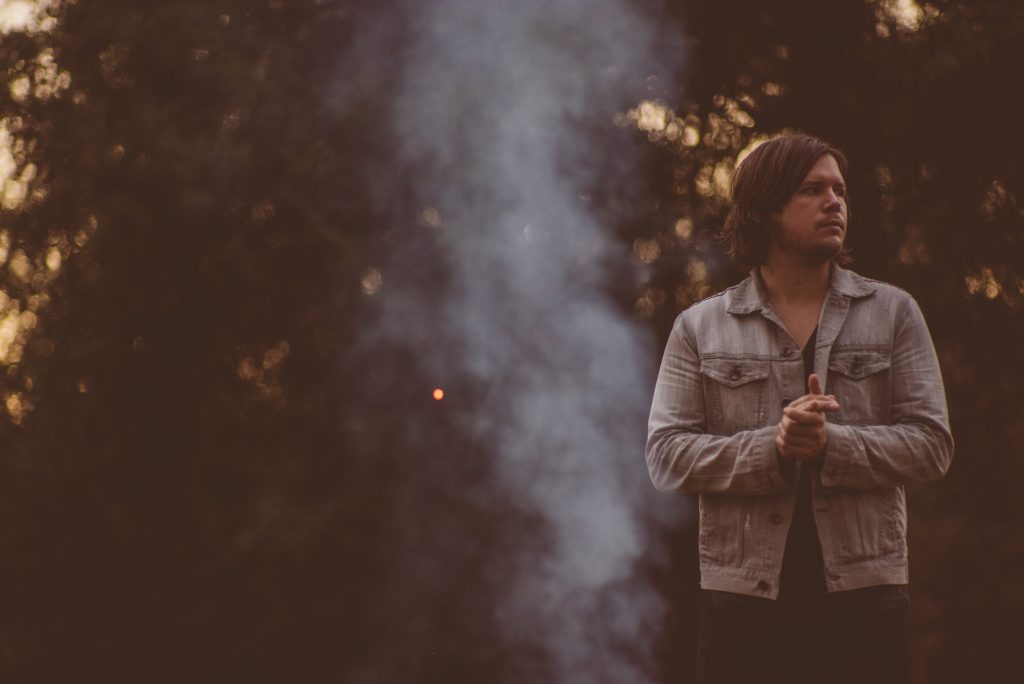 Something's Going On is a beautiful moment of action within the EP. The vibe given off by this particular arrangement of chords and sounds, the occasional flicker of a distorted guitar slide, the tap and crash of a live sounding beat. There's an almost Celtic feeling to this at times, it seems to fuse the essence of folk rock with that of orchestral vastness. So much happens in such a short time, it's a brilliantly written piece of music, with an uncommon yet powerful structure to the whole thing, and as always – a stunning performance from the artist.
God Help Me is a song that cries out for you to listen through headphones – it sounds as if the artist is right there with you. The subtle inflections of his voice, the tone, the guitar work, and the utterly honest nature of the lyrics, make the whole thing feel like a genuine confession of inner emotion. It's so powerful in it's realness. There's nothing needed beyond what is available. This track has moments of loudness that contrast beautifully with the otherwise gentle and almost whispered style of performance. It's artistic, and wonderful to witness.
The purity that is illuminated in the title track to this EP is present in full force with the delicately soulful acoustic tones of I Can't Keep From Loving You. This is everything we first loved about acoustic music – the simplistic expression of real feelings, the inescapable honesty, backed only by the gentle and perfectly appropriate picking of an acoustic guitar, and brought to life with the soul quenching, satisfying hit of Andrew James' singing voice. This song also takes an unexpected turn, suddenly building up towards this immense mountain of sound and feeling. The echo of a solo guitar twang repeats and builds with the beat and the rising of that vocal. It's a huge moment, fairly unpredictable, but flawlessly placed and designed effectively so as to really give you shivers when you listen. The good kind of shivers.
If ever an EP was to leave you craving more, this is the one. It's a pretty sad moment when the collection comes to an end. You'll want it to be longer, but in actual fact – the tracks that have been chosen seem to feed off of each other in many ways; sometimes it's better to quit while you're onto something meaningful, not to keep adding more and more. Quality over quantity speaks much greater volumes. Shoreline is addictive, consistently reflective, and often heart-breakingly gorgeous to hear. Take the time to really listen.
The Shoreline EP is available to listen to over on Spotify – fortunately, there are a fair few additional tracks from Andrew James over there to quench your thirst. His music is much more than just a bunch of good songs, it's rewarding to listen to – it's something that's likely to affect you, in a very real way, and that's rare. Don't miss out on it.
Find and follow Andrew James online – Facebook, Twitter, Youtube. Visit his Website to find out more about him.