7th Order Ent are a hip hop collective with impressive skills and a sense of confidence and classic rap beats throughout the group's reach. Kickinin is the first in a series of mix-tapes featuring their latest artist Flashy, though for those who are new to The Order in general – it's a huge place to start your journey.
Fast-paced, hard hitting hip hop with a Southern twist, this mixtape's title track from Cheeto and Loc is insane – the darkness of the beat, the simplicity of the ambiance letting the sheer strength of the lyricism and wordplay and performances stand tall as it should; this is the heart of the genre. Listen at least two or three times to catch every bar. Cheeze's GA Turnpike follows and reminds you of the realness, the difficulty and drive that led to all of this. The rap scene just got a lot more intense and heavy.
If you can think back to the days when mixtapes were exactly what they promised to be, this is the kind of raw and real outpouring you would hope for. Every artist on this project puts something immense into the work, and at every step the music backs up and supports the strength of the flow and the creative and professional arrangement of ideas.
Flashy's debut is an absolute highlight, Flashy Individual brings thick levels of character, a stop and start style beat with pauses adding to the drama. The story telling is superb, and the ongoing soul and delicacy behind it works beautifully. This track in itself has an addictive, incredibly impressive quality. Easy to have play on repeat.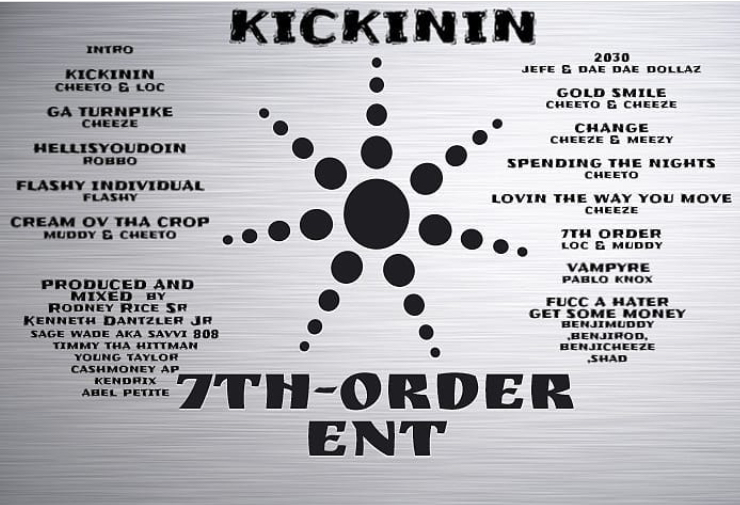 Elsewhere on the project, Cream ov tha Crop is a melodic and jazz like piece that shines brightly for its hook and its quirky lyrics. There's an ambient feel to the whole thing that works really well among its peers. Despite the various artists involved in this set-up, it works. There's a natural eclecticism to keep things interesting, but it never veers off too irrelevantly – there's always a sense of unity, a shared understanding and a desire to create something of worth; you can hear it on every single track. This particular one grows even more captivating as it moves along.
Gold Smile is another highlight, the Tarantino style backdrop offers a vintage crackle and loop that contrasts awesomely with the high energy and relentless pace of the vocal deliveries from Cheeto and Cheeze. They mix things up, too – never getting complacent, utilising the space and the beat, always showcasing a clear and genuine passion for the genre and the art of skillful, intelligent rap.
Cheeto's Spending The Nights is an important track, there's something deeply personal and emotional about it – the atmospheric ambiance and the mellow, heartfelt delivery and story-telling are absolutely compelling and really well placed within the collection. By the end of the first verse you're left a little shell shocked, the space and the soul of the music lets this really kick in, and you're listening even more intently afterwards. The second half brings a higher level of passion that carries the story's development perfectly well. Love is just a beautiful trigger… 
Towards the end of the mix tape, Loc and Muddy's 7th Order makes for a huge moment, intense and rhythmically hypnotic in both the vocal outpouring and the haunting weight of the soundscape. Vampyre from Pablo Knox A.K.A Mr. 25-8 brings a familiar or rather iconic sci-fi backdrop and shoots further intensity and hype into the process. Then things come to a cleverly stylish finish with Fuck a Hater Get Some Money – a track that reaches out with specific intention and drive, motivating, keeping things real and making no apologies for doing so. A great way to go out, a last blast of positive influence and an energizing aura that lingers in the way that effective hip hop ought to.
This project was created by Rodney Rice Senior and assistant Kenneth Dantzler Junior. Kickinin is merely the first of seven upcoming collections or tablets. Based on this alone, there's bound to be plenty of mind blowing bars and beats to come. Well worth tuning in for. Check Kickinin out below or via DatPiff.