What if you could have the power and flexibility of a digital audio workstation with the portability and convenience of a looper pedal?
* * *
With the rise of the loop pedal phenomena in recent years, there are generally a few brands and a select few options that come to mind for most. As a musician, we tend to choose the tech based on the setting – the DAW and home set-up to pre-record or loop straight into the system, or the amp and the Pedal to play live and on the go. Ideally, you'd fuse the two, but take out the middle man to keep things simple and easy to set-up. Enter LooperEYE.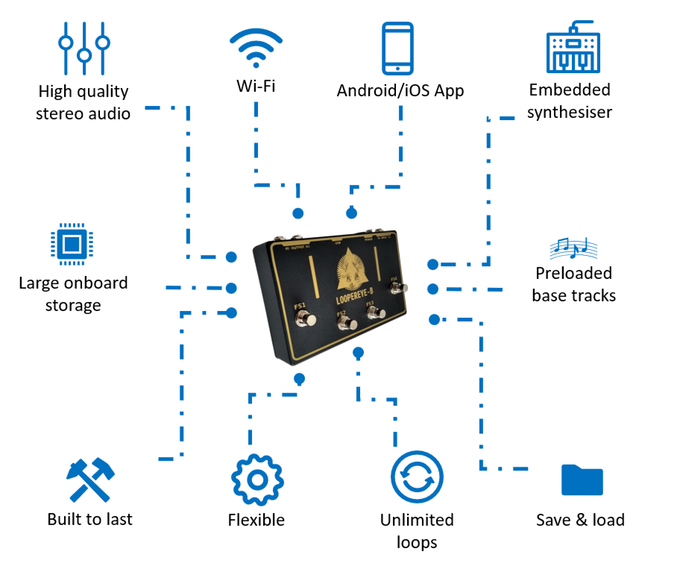 Focusing purely on the fun, the creative aspects, LooperEYE have simplified the process, designing a brand new product with multiple how-to and demo videos, at a reasonable price (currently under £200, with five days left to back the campaign.) No DAW necessary, fully portable – just connect your guitar, and away you go.
The concept of the eye is to be a button-free loop pedal – you control the LooperEYE via its integrated camera, pressing virtual buttons on the floor to access and activate the various functions (see video below).
Well worth checking out if you're looking for some new gear or want to support a new company with a passion for music, tech and creative pursuits.
For those who prefer the more classic loop pedal set-up, LooperEYE also offer the LOOPEREYE-B – all of the same functions as the LooperEYE, but with the traditional pedal functions as seen below.
"Through the embedded synthesiser included on looperEYE and LOOPEREYE-B, you can play dozens of instruments, controlling it with plug-play supported MIDI devices or MIDI over WiFi, through the app, or by mapping MIDI commands or keys to looperEYE's buttons."
Check out the campaign on Kickstarter. Visit the LooperEYE Website for more information. Find & follow them on Facebook, Twitter & Instagram.