Following the release of his latest album Twyst, we caught an interview with long-time artist and musician Wood, to find out more about the songs on the project, the impact of a difficult year, and his hopes for the future. Here's the conversation in full.
* * *
Hey – thanks for the chat, how are things where you are right now?
Things are going as well as they can. Working my desk job and creating music/videos at night. Taking care of my 2 kids keeps me busy, so finding time to create is hard, but worth it.
Congrats on the release of the new album. Two years in the making – how does this project differ from your previous releases, did you approach it in a new way?
Thank you. Yes, two years of grinding. With this album I tried to experiment with new styles while also letting the song lead the way. I could hear where the song wanted to go naturally, and I just assisted it to its best sound. Ex.
I'm not much of a metal guy, but I took BGPrincess83 there. I'm not much on the soft side, but I took I'll Be A-Okay there. I also felt that I grew as a producer and was able to make this album more dynamic in sound and quality.
What does the album title Twyst represent?
This comes up a lot actually. I've heard some people say it like TWIST… but it is TWHYst. I'm from the south and some people will say TWICE like TWYST. This is my inside joke where I say two with TWYST, on purpose. Humour for my friends and family.
As for the album, this is my second album, hence the name Twyst. And… It is easy to find in the music stores on Spotify and Apple Music by searching that album name haha.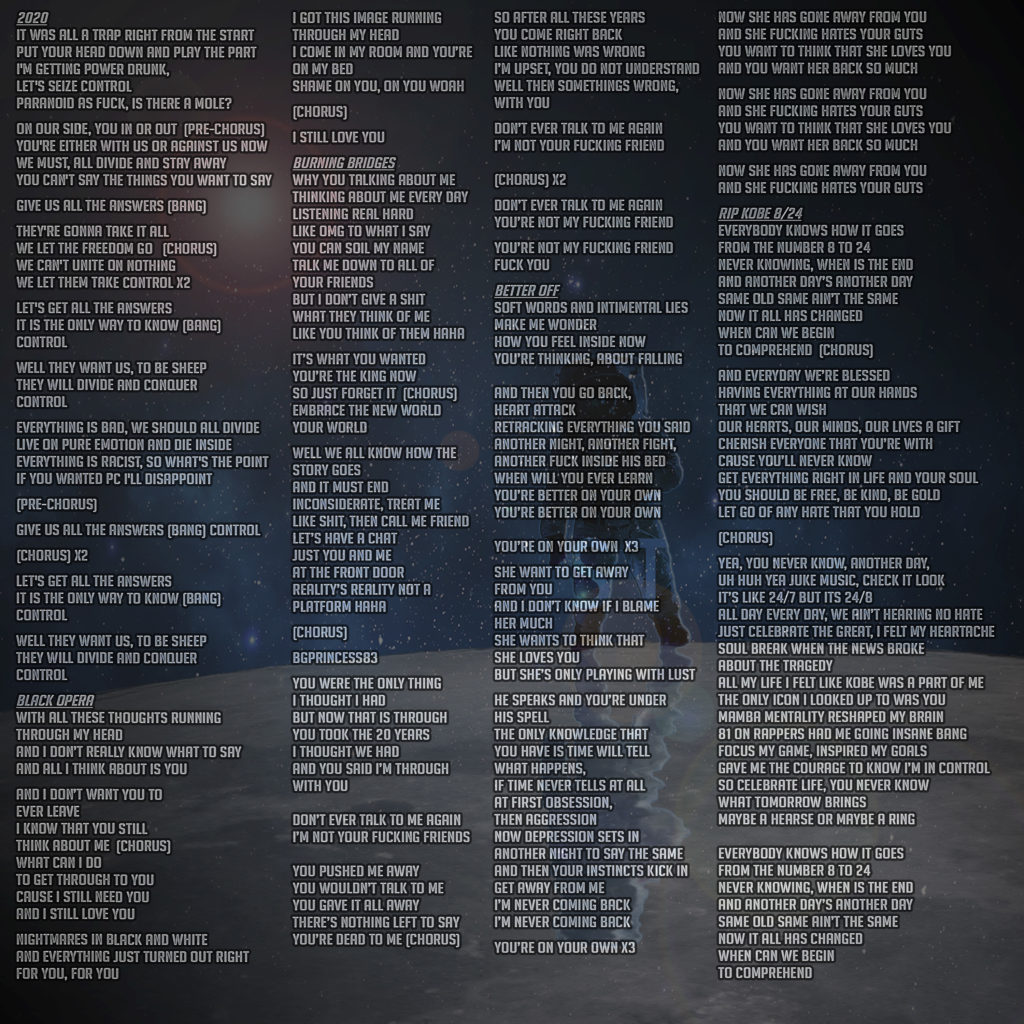 Your sound is uniquely interesting, fusing melodic synth soundscapes with punk-pop-like vocals and stories that captivate – Space Ex is all of this as an opener. Who or what has been your main influence creatively?
I think you encapsulated Space Ex perfectly there. I agree, that is what we were going for, Pink Floyd mixed with Blink182. I personally love the Pop Punk, Green Day, Blink 182, White Stripes, style bands and a mix of Angels and Airwaves, Pink Floyd, Beatles as well as my own flavour. Tom Delonge would have to be my biggest inspiration.
Elsewhere there's some impressive guitar work and a notably emotive tone to the lyrics – Living in the City, I'll Be A Okay – how do you decide what to write about and which direction to take the music in?
Living in the City was my father's creation. He made that song a long time ago and never made a quality recording of it. I wanted to surprise him with getting that song finished. He heard it two months before he died, and he loved it. He told me it made him cry. I played that song note for note like he did.
As for I'll Be A Okay, that song is about the passing of my father and reflecting on his influence in me. I let the emotion of the song dictate where it goes. It's a very sad song with sprinkles of happiness, the way grieving is after you lose someone. I usually just let the mood of the song drive me. Is the subject making me happy, sad, angry, silly, or whatever, I'll follow the ether of the audio.
Many artists refuse to respond, as the answer can vary from day to day, but at this particular time – which song on this album means the most to you personally, why, and which would you recommend to new listeners who only have time for one?
Today… lol, I'd say SpaceEx. That song is my totality as a performer and a producer. Everything that is me is in that song. If you had time for one check that song out.
As for the song that I like to listen to the most right now, that is Burning Bridges. That song is just fun to jam to. The riffs in that song get me going every time.
What's the live set-up like for the band?
Right now, I am minus a bass player and drummer. I think in about 2-3 years it will be possible to play out, but with my TWYST girls at this young of an age, it would be hard. At this time, I want to focus on getting the albums made so I have content to play when the time comes. If an amazing offer came out that let me quit my job, I'd dive in tomorrow, but that stuff doesn't happen every day.
My sincere condolences regarding the death of your father, I hope you're managing as best you can. You dedicated this album to him – were the songs already written at that point, and if so, has losing him impacted your reception of or connection to them?
Thank you. The songs were already written except 2 (twyst), I'll Be A Okay and Burning Bridges. I'll Be A Okay came to me while I was praying in my garage after my dad's funeral. That song was for him. Burning Bridges was an idea I came up with while trying to finish the album that I thought was too good to pass up.
The passing of my father has impacted me when listening to a lot of these songs. He created the bass for some of these songs, Living in the City is his song, and I cry all the time listening to them. A lot lol.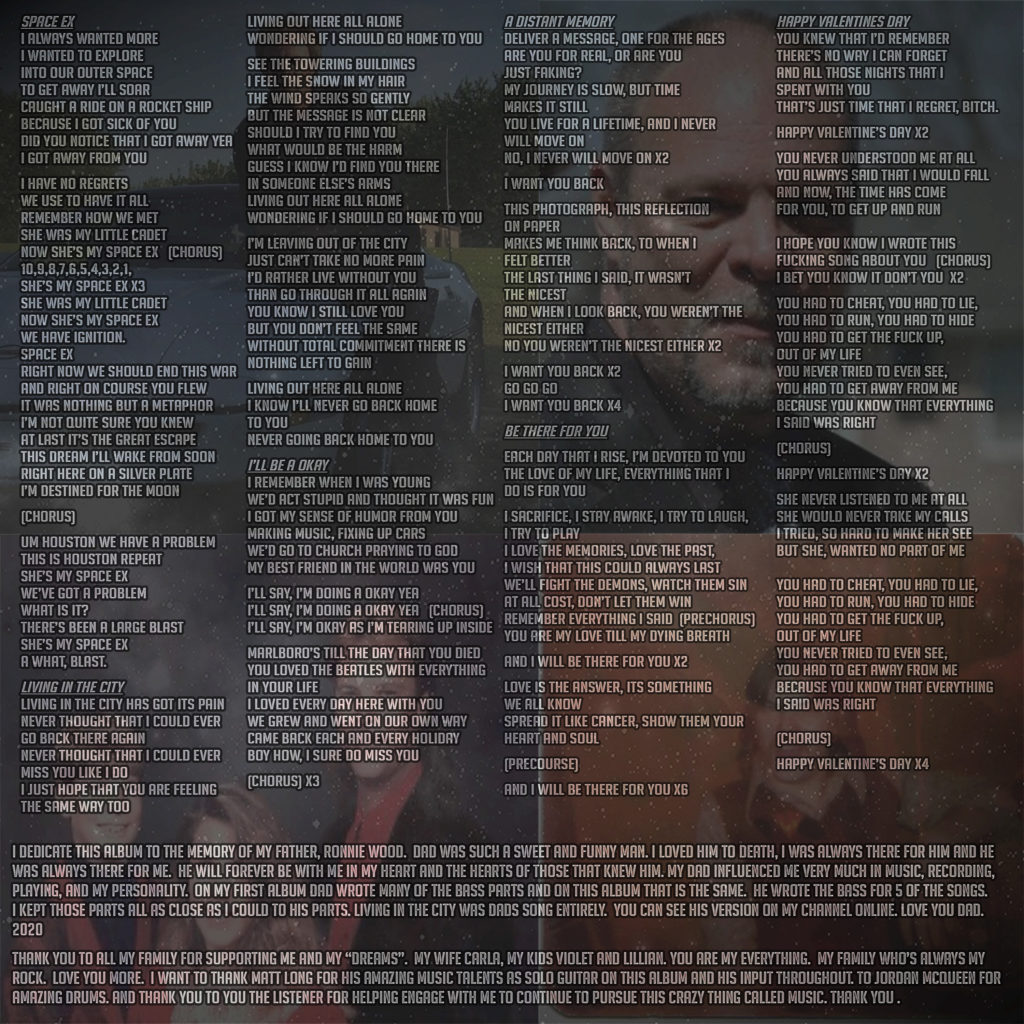 A Distant Memory is an infectious punk-rock offering that's decidedly memorable and anthem-like, a personal favourite. What does this song encapsulate for you?
I wrote this song over 15 years ago. The first true love of my life and I broke up. I was crushed. I had heavy depression, and always escaped into my music. I had the music already written, but the lyrics came from that relationship. A distant memory is a cry for love, and a cry for help. As for the song, Pop Punk at its finest in my opinion, channelling my Blink182 boys there.
What's your favourite lyric from the new project, and why?
That is hard to say, I love a lot of them. A few would be, "You are my love till my dying breath" – Be There for You. "Reality's reality not a platform" – Burning Bridges.
But the entirety of I'll Be A Okay is my favourite.
If you could sit down for lunch with anyone at all, past or present, who would you choose – and what would you ask them about?
I'd sit down with my father. I would just want to talk to him, nothing in particular, just to get to see him again. If not for someone personal, I'd choose a record label or person in charge that could listen to my album. That way I might have a chance at getting a deal.
How long have you been making music, and is there a big dream or ambition at play, or do you just create for the love of it and hope that things progress naturally?
I have been creating/producing/playing music for over 20 years. The dream is to make a living as a songwriter/producer/music artist. That is the dream. I create out of love for expression and the love of music. There is something about music that connects us, waves. Waves create sight and sound, our two biggest senses. I hope the waves of the universe get Space Ex and this album into the ears of people that can create dreams.
What are your thoughts on the mainstream music industry at present?
Mainstream music isn't focused on Pop Punk influences like they once were. Pop changes drastically and Rock-style music hasn't been a focus. I think it will come back in time once everyone is tired of fake people being created by a corporate machine to portray what they think the demographic wants. Until we get tired of meaningless lyrics with beats that make you go deaf, our genre won't be that popular. I have heard a few good bands recently, but this album could help make a splash.
What's the live scene like where you are for this kind of music (prior to Covid of course)?
We have a good live scene in Bowling Green pre-Covid. Nothing going on now, but before we had a few great places to go to like Tidballs. With Cage the Elephant being from Bowling Green (KY), we have been noticed more and have a theatre called the SkyPac that big bands can come play in as well.
What's your plan of action going forwards as an indie act?
I am going to make a third album. After the third album I'm going to see about getting a band put together. This could obviously change, but with a catalogue of songs to play and learn, that should make it easy for members to acclimate. It could come early (record label) or it could never happen.
I love creating music and can do it myself playing almost everything, but you get it heard by getting out there. The future can be anything, but I'll have to see where it goes.
Is there anything else we should know?
The album is easy to find by searching Twyst Wood. You can contact me on Twitter & Facebook. I also have signed copies of both albums on my website to purchase if you would like to show support. Thank you.
* * *
Download Twyst via iTunes.