To celebrate the launch of their wonderful new album Catacomb Songs, we caught up with classic songwriter outfit Winchester 7 & The Runners, to dig a little deeper into the music, the project overall, and their creative journey since we last spoke. Here's how it went.
* * *
Hi Win – great to catch up, congratulations on the wonderful new project! What's the album all about, how and why did you craft it?
Hey, Rebecca and team – how have you been? Thank you for having me. It's always a pleasure. You're very kind, thank you.
So, the easiest answer, I suppose, is that there never was really any doubt in our minds that we would record a follow-up to our 2020 release, Argos Holiday. However, the conditions within which we did that ended up somewhat adrift from what we first imagined.
When we finished up Argos, we were all set to tour to promote its release. But, it was a record that started before the thick of the pandemic, continued throughout lockdown, and was released in a period of uncertainty.
We thought that we would spend the early part of this year touring and doing press to promote it. But, 2021 has proven a year of ebb and flow in our fight as travel restrictions and further lockdown policies have remained impacting.
So, we set about working on Catacomb Songs, again largely using our home studios with tracking out of my own Sanctuary Studio; with an idea that much of its content would end up reflecting our shared experience. I think that, as a result, there's a bit of that turmoil lurking as a common thread throughout, amidst wistfulness and hope.
You open with Dead Celebrities and New Beginnings – a beautiful ukulele lead, as is your trademark – what does this song mean to the collection, and what inspired you to write it?
Well, thank you! I'm always excited when somebody appreciates that, but "trademark"? Awesome, thank you very much.
So, interestingly, that song was the last one we recorded with its mix only finishing up in early December as the cover art was being finalized.
Our writing process usually begins with my coming up with a chord progression or riff that I'll bring to the band to help work out an arrangement. Somewhere in there, things start to get a little complex and we swear that we'll write something simpler the next time round.
For us, that moment seems to happen when we know that we're working on what will be the last track for a pending release and have run out of opportunity and time to do so. The same thing happened to us with the recording of Dirty Laundry on Argos. Maybe it's a letter D thing…
Anyway, we were ever so happy to have arrived at an arrangement that was pleasingly simpler than much of the rest of what we recorded for Catacomb Songs. And, as is often the case, we still had no lyrics for it, at all.
We did have an idea though. We thought we'd focus on the fact that holographic entertainers are giving concerts to live audiences. If that sort of thing can experience modern success, well beyond the grave, you and I certainly should be worth some new beginnings.
In that way, it really proved the cornerstone to the album itself. It's some of that hope that we have for better days, really.
The album is equal parts infectious and topical. What comes to you first when writing, a concept or a catchy melody?
Thank you! I'd have to say that we work out the foundation for the song before anything else. It most always begins with a riff or chord progression before we settle on an arrangement.
We usually then arrive at a concept or phrase that comes to mind and it ends up being a jumping off point from which the rest of the lyrics are written. Once that is squared away, to me, it always seems as if the melody was right there from the start.
Has your style or your song writing mind-set changed at all since the last release?
I think so. We're always trying to grow as artists and introduce new sounds. On this album, we really benefited from realizing an opportunity to work with our new mix engineer, Jon Paz.
Jon brought some new sensibilities and an analog outboard mix into the process. That really helped us to lean into our analog groundings and draw out some elements which we haven't explored before.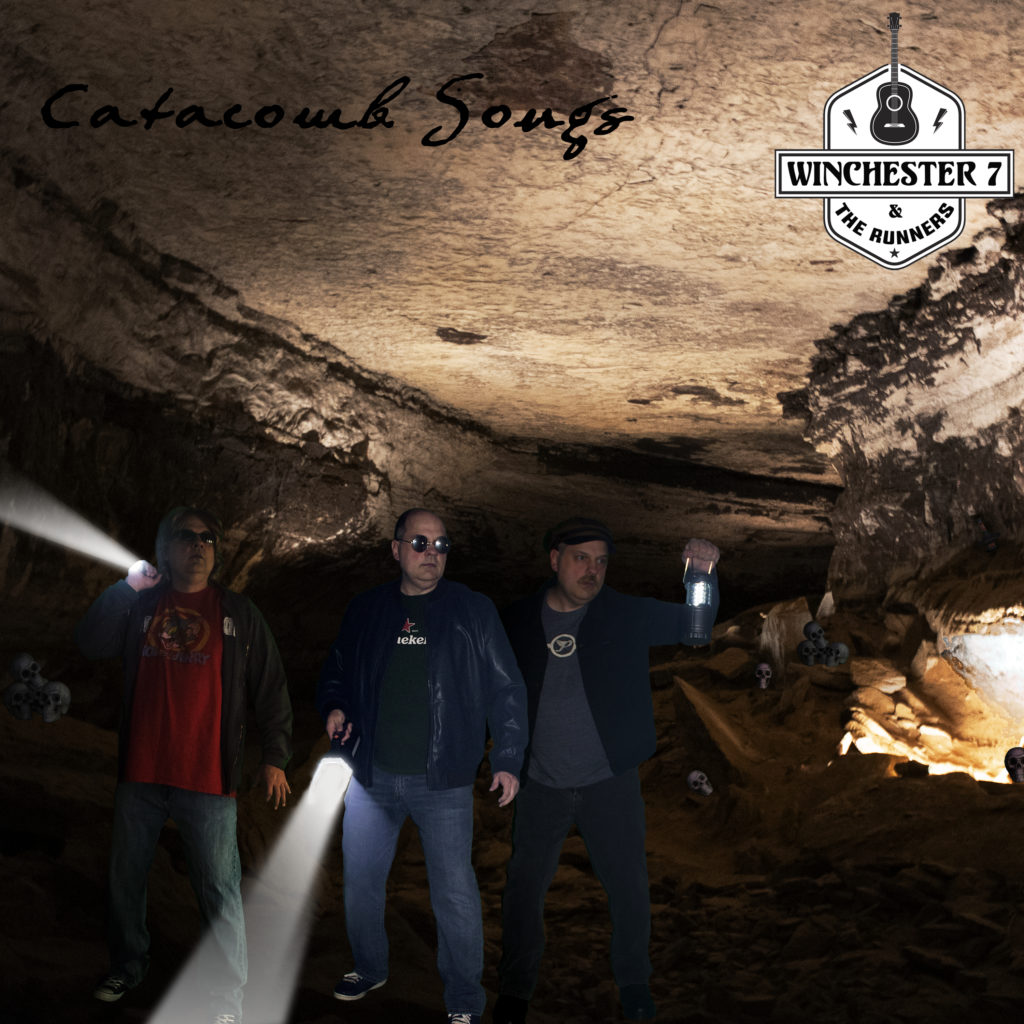 Last time we spoke, you said that your hope was to bring listeners a bit of fun, that they come away with a smile – is the goal the same with this new collection, or is there something else at work?
[laughs] Well, that certainly sounds like something I'd say. Sure. I think that we're always hoping for that, in a sense. We want the work to be enjoyable and have some energy to it.
But, you're also hitting on a good point there in that this album, definitely, has more melancholy to it in places and some of the themes are matured well beyond simple rockers.
How does it feel to listen back to a song like Riding High Again, as opposed to the feeling of first writing it?
Well, I think it ends up feeling sort of cathartic; whereas, when I was first writing it, it seemed more of a tribute song, in some ways.
It was written after I lost a good friend to alcoholism. I think that anybody who's been impacted by that knows it's a good deal more serious than the lovable lushes that are often depicted in popular culture.
For me though, I have a bit of heartache in that he never got the treatment he needed and we never again got to experience the more carefree days we enjoyed before he began drinking to excess. May he have found peace.
"No one ever said they got it right. And the ones that have were either lying about it or more than likely don't truly know how they did."
Ever Said is a personal favourite, what can you tell us about this one?
Oh, yeah? That's terrific! It was actually the first song that we wrote for this album.
My personal creative process is one where I'll be working on something with a lot of enthusiasm, stumble a bit and get a little frustrated, soldier through and end up in absolute love with my creation; before, promptly, arriving at a place where it is difficult for me to see beyond it's warts.
That's usually where I send it off to mix and begin work on a follow-up in hopes of doing better. Fortunately, for us and due in large part to the talents of our mix engineer; when it does come back, I get to fall in love all over again…albeit somewhat fleeting now that I'm onto the next.
It's a little fickle of a thing, I suppose.
What I find lovely though is the Japanese concept of wabi sabi, wherein imperfections are appreciated as a valuable contribution to the sum of the whole. I try to factor that into things as well; but, we're always our own worst critics, right?
We wrote Ever Said with a message to not be so hard on oneself. It was like our mantra throughout the recording process and it ends up being one that I need to frequently remind myself of.
No one ever said they got it right. And the ones that have were either lying about it or more than likely don't truly know how they did.
What made you decide to include a Jesus and Mary Chain cover on the album?
Yeah, that's a bonus track that we recorded, Head On.
When we're warming up or in between takes, we'll sometimes play a cover tune. We've always liked that song, as well as the Pixies' version of it, and have enjoyed playing it during those moments. So, I think that it just became our go-to while we were recording this release and someone thought to hit the record button.
I really like that we included it, as it's a different way to hear us and we get the benefit of covering two of our musical influences at the same time!
Are there video releases we can look forward to, and if so – can you give us some hints about what we'll see there?
Absolutely! For our first few releases, we would record the song and film the video for it while beginning writing the next. That came to feel a bit daunting and, given some personal events that took precedence, we decided to focus on the music first, this time out.
We're glad to have released an original video for Ever Said though before we arrived at that decision. We also released a stock video heavy one for The Song That You Sing, largely due to travel restrictions.
Lesson learned: we rely a lot on location footage. [laughs]
Anyway, we've got plans now to shoot videos for Dead Celebrities and New Beginnings, Beneath the Moon and the Stars, and Up On the 13th Floor. I'm not sure which we'll end up filming first, but I can offer that we've got wardrobe and props for a Ghostbusters themed one for Up On the 13th Floor.
"I'm rather accomplished in martial arts. I'd guess you wouldn't expect it, but I'm a black sash (belt) instructor of a style of Wing Chun kung fu, actually. I teach it to my daughter to help her be capable of defending herself."
Is there a tour in the making? In an ideal world, where would you love to perform?
We've got some thoughts in that direction, but are waiting to see how the travel restrictions do or don't work out for us. As we live abroad from one another, there's always a good bit of logistics that go into planning that kind of thing. I do hope so though! We'd love the opportunity to reconnect with our fans in-person again.
Where would I love to perform? I'd have to go with something like Red Rocks, Colorado for my first choice, supposing that Wembley or the Royal Albert Hall are off the table. If they aren't, well, who am I to refuse that kind of thing?
What's something about you that people might be surprised to hear?
Me, personally? Well, I'm rather accomplished in martial arts. I'd guess you wouldn't expect it, but I'm a black sash (belt) instructor of a style of Wing Chun kung fu, actually. I teach it to my daughter to help her be capable of defending herself.
Is there anything else you'd like to say?
Our new release, Catacomb Songs, is available as of December 17th for sale or streaming on all platforms near you. We hope that you'll give a listen!
Thank you.
* * *
Check out Winchester 7 & The Runners on Facebook, Soundcloud, Twitter & Instagram or visit their Website.