If you only check out one band this week, or read one interview, let this be the one…
I'm a long-time fan of Wille and the Bandits, ever since stumbling upon their single Mammon back in the day, and later watching a stunning set from the then trio at Green Man Festival. These vocals, this songwriting, and the band's utter and unwavering dedication to the process, make them one of the most passionate and captivating acts the UK has been graced with over the past decade.
Now that they're immersed in an extensive live tour, with a brand new line-up and a collection of superb new songs, it was an absolute dream to be able to interview them. Here's how it went.
* * *
Hey, thank you so much for the chat! How has 2020 been treating you so far?
It's been a great so far, it almost feels like a fresh start which is always refreshing. We've already done a tour of Holland and a tour of Spain with the new crew, and managed to get some surfing done in Spain, which was a real bonus on tour. The vibe has been great, and with two sold-out shows in four so far, the UK tour has been fantastic.
How much of this year is already planned out for you, and what are you looking forward to the most?
We have about 80% planned but in the music industry you never know what is quite around the corner and that always keeps it exciting. I'm really looking forward to the UK and Euro tours and also the festivals in the summer that may include quite a major one celebrating 50 years…
You have a brand new set-up, Andy and Matt sadly departed the band at the end of last year. What impact did this decision have, and was there ever a possibility of moving away from the Wille brand entirely, starting a new project?
It obviously was a decision the guys had to make and I completely understand, we spend a long time on the road and it's tough when you have children and families and I think they wanted to be at home more, which has happened. In terms of the impact, Wille and the Bandits has always had revolving members in the early days – it was whoever was free that night to jump up with me. Over the years the line up became more steady as the gigs got better and we needed to be more committed, but still has had its changes over the years. The main focus of the band past and present is the songs and they will live on and evolve with each personality bringing their take on the performance.
In what ways do you think the new arrangement will change the Wille and the Bandits sound, and indeed your role and vision for the band?
After making paths we knew that we needed another member. We used a lot of keys on the album and were trying to recreate that live with Matt Brooks playing keys samples with pedals and with Andy adding extra percussion, but it wasn't quite having the effect of an actual keys player or percussionist. Additionally, my writing was starting to incorporate keys lines and 3 way vocal harmonies, so either way I think we would have ended up with a fourth Bandit.
Having another melodic instrument in the band frees me up a lot on the guitar; I find I'm not having to have such a big aggressive sound and control all the melodic parts of the songs. Now I can sit back more, rather than driving the sound. With writing it gives me so many more possibilities as there is another melodic instrument to play off, which I think will only make the music more interesting moving forward.
How did you find the new band members, what was that process like?
The music scene in the UK is such that most people are connected in some way or another and you kind of know who is about, what level they play at, and if you could work together.
Harry Mackaill, was the first to be brought in on Bass to perform with WATB with Andy and I for the Kris Barras support, so he had the most intense audition. I knew him to be one of the top bass players in Cornwall and I have always been a fan of his. Harry is from Newquay and I often see him in the surf so its nice to finish a jam and then jump in the sea and share some waves.
We auditioned quite a few drummers, but when my sound engineer recommended Finn McAuley, from Croyde, North Devon, and we gave him a try he blew us away. From the moment he came in the room he had the Bandit vibe and after just 2 snare hits Harry and I looked at each other and just knew he was the one. The infectious groove, which the band is known for, but so much tighter, such energy; Finn is an exceptional drummer.
Now, you might notice that both Finn and Harry are west country boys, and this was no accident. I really wanted to keep the band local to ensure that we could rehearse easily and ensure the smooth running of the band, but when it came to finding a Keys player this proved far more of a challenge. Finding someone who could sit on the groove, not dominate, feel what was needed to enhance a song, and have good vocals, was a real challenge.
Now Matthew Gallagher, I had met in New York when we were touring over there and he was on his own solo tour of the USA. We hit it off right away and went for a few beers and he told me that he ran an analogue studio which sounded amazing with all these vintage Hammond organ and guitar amps etc. I knew the amount of different instruments Matthew could play and also what a great singer and songwriter he is, so if we were ever going to get a fourth member, even with the old line up it was gonna be him. The only issue, he lived in Preston, but for the Bandits gig he was willing to relocate, Geddon Boy! Matthew is currently playing Hammond organ, guitar and percussion in the band, but that list could get a lot longer.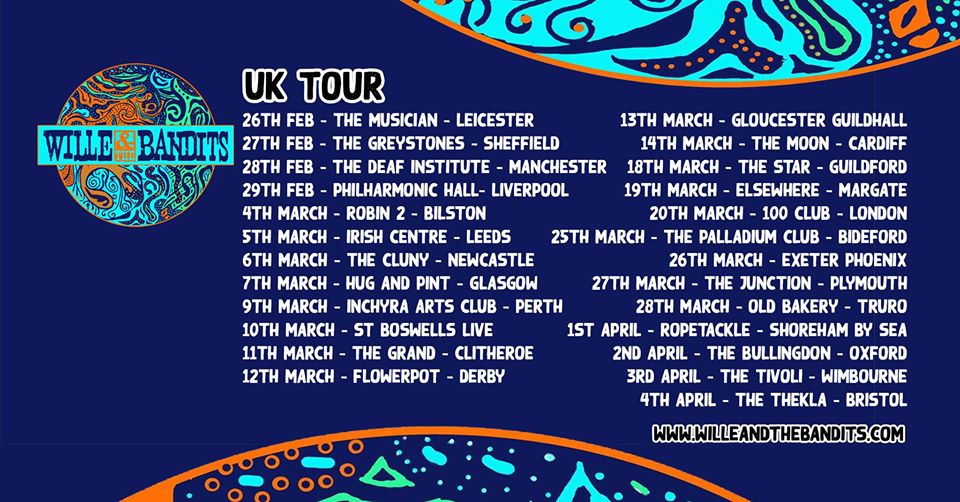 I'm a long-time fan, back to the Mammon days. This latest project has a notably different sound to those earlier ones, actually feeling a little Pearl jam-inspired to me (which I love in a whole other way!). Maybe your lyrics are a little more intimate or up front. What do you think has played the biggest role in prompting your creative direction to evolve in this way, and is it a conscious move or just something that came naturally?
I think our intention has always been to be as creative as possible and bring in new instruments and ideas that give you the chance to apply new textures to your music and soundscapes, which we have always been drawn to. We have never been one of these bands that have set out to sound like someone else or target a certain market. We do what interests us as musicians and I think our audiences pick up on that.
It appears to me that in the 60's and 70's bands were allowed to be experimental and that is were some of the best music comes from, when you are playing out of your comfort zone. Sometimes I feel that mainstream music is encouraged to conform to a pigeon hole, but with the internet it is also possible to have access to so much music from different periods and places, and it's easier to purchase unusual instruments, so we live in a world now where music should be at its most mature and knowledgeable, and that drives me everyday – the thought of the possibilities available to me that I haven't found yet. So our music will never stand still for me – if you regurgitate the same thing because it sells, that's not art.
What inspired the song Four Million Days?
Lyrically I often write from other people's perspectives and this song is no different, Four Million Days is actually inspired by a story I read of somebody looking for their real parents and almost making it their sole mission in life to meet their only blood. The words four million days is almost ironic as no one lives for four million days, but that's what it feels like to the person.
The guitar solo is inspired by David Gilmour's solo in High Hopes, as it weaves around the strings, it's a beautiful sound and one we have tried to recreate. High Hopes is one of the songs that got me into playing electric slide guitar, from more acoustic versions such as the Dobro.
Which song on the latest album means the most to you personally, and how does the live performance affect what a song means to you – once you hand it over to the audience, and see their responses; does this change the way you feel about something you've written?
I think Watch You Grow on the latest album, which I talk about below, means the most to me off the new record – when people sing back the chorus it does have a goosebump experience as there's something magical about the human interaction in song; it's something lost a bit in modern society and is a great way to connect.
You're easily one of the hardest working bands around, and have been consistently for many years now. What is it that drives you and keeps both work ethic and passion high?
I think our intention has always been to be as creative as possible and bring in new instruments and ideas that give you the chance to apply new textures to your music and soundscapes, which we have always been drawn to. We have never been one of these bands that have set out to sound like someone else or target a certain market. We do what interests us as musicians and I think our audiences pick up on that.
What effect does touring have on your view of the world and the music you make?
All of the Bandits are born for a life on the road. Touring is a great way to see a country and we are blessed to be able to travel and bring our music with us. We are lucky that we get to see so much of a place, which gives a clear view of how each region differs, and makes it easy to connect with people from all over a country. I think you also see the best in people and countries as a musician – you almost pass through not getting sucked in to the day-to-day politics and just see it for what it is, and that's normally its beauty.
In what ways has family life affected your writing or your attitude towards touring?
When you spend months away from your family it is hard, but normally when I'm home I'm home, and don't have to go to a 9-5 job. The summers are great as I'm away just at weekends and spend the rest of the time with the family on the beach or in the van cruising around Europe. For me, it's important that my children see me enjoying my job and life, and that they know it's possible to work outside the typical workplaces and be happy in what you do. If I come home happy, they will be more happy – and that is all that counts in the end.
Also I channel my love of my family into my music, with songs such as Watch You Grow, which is the oldest track on the album and was written when my first little girl was born, inspired by the overwhelming emotions that came with fatherhood.
If you could change one thing about the music industry, what would it be, and why?
I would invent a system that has to play 35% original, unsigned music on the radio – similar to what France does that way, the wealth of the industry is spread more evenly, not the majority in the major labels' offshore pockets. This would create many smaller independent bands who could make a living, and also more smaller businesses, and the government would make more tax. It's a no-brainier, but no one from the government has ever replied to me about it. Also I think this way we would have a more musically intelligent audience, as they're exposed to more different types of music and will make their own decisions on if they like something; rather than it being forced down their throat.
What's the best advice you were ever given as an artist?
Learn to live with nothing and prepare to live with nothing, and get out there and gig your ass off!
* * *
A massive thank you to Wille for his time & insight. Grab tour tickets here. Find & follow Wille and the Bandits on Facebook, Twitter, Spotify & Instagram.