Following the release of his inspiring and euphoric new single Learning To Let Go, we caught an interview with East Atlanta creative Tommy Oakley.
The multi-instrumentalist, songwriter and producer talks about his journey so far as an artist, his creative process, his first live performance, and his plans for the months and years ahead. Here's the conversation in full.
* * *
Hi Tommy – a real pleasure, thanks so much for the interview! To introduce things, where are you right now, and what have you been busy with this past week?
Thank you for having me! I am currently at my local Atlanta coffee shop Muchacho, drinking an iced Americano. This past week I've been working on finishing up producing songs for a few other people, and starting some new ideas of my own. Trying to stay inspired and gather new ideas.
You're a multi-instrumentalist, songwriter, and producer – which discipline first captured your affection, and how would you define your style or sound?
I started playing guitar at age 10 and grew up playing in bands until a few years ago when I decided to be a solo artist.
I really learned everything on my own just trying to figure out how to make my songs sound good! I'm kind of obsessed with every aspect of music and making a record so I wanted to learn everything I can about it.
I would describe my style as a mix of organic and electronic elements with pop melodies and hopeful undertones. I don't have a ton of music out yet so I'm really just experimenting with where I want to go sonically.
Learning To Let Go is beautiful, creatively unconfined, thoughtful and rightfully uplifting. Tell me bout the conception of this track – what inspired it, and how did the euphoric buildup connect with the concept for you?
Thank you!
"Creatively unconfined is a perfect way to describe the mindset I had going into this song and most of my music."
I have such wide variety of influences and I try not to limit myself to a specific genre when I'm creating.
I think a theme of a lot of my music is sad but hopeful and that really shows in this song. I really struggle with wanting to control every outcome in my life and have a hard time letting go of things. This song is about me realizing I can't control everything and the freedom that follows when I give it all up.
I think that's a lifelong process and I'm still learning that daily. I wanted the song to sonically represent this concept as well with the building tension and release.
Which songs come to mind as some of the most powerful in terms of helping you escape or let go over the years?
I don't know about specific songs but some artists that I keep coming back to are The 1975, Fred Again.., and The Japanese House. I want to give people the same feeling those artists give me. They've definitely shaped who I am as a musician.
Tell me about the single Bitter – how did the melody and lyrics come to you, and what do you hope people take away from this one?
This song is actually about the previous band I was in when it all kinda fell apart. It's basically a note to myself to not become bitter when things fall apart, but to pick yourself up and move forward with love. We're all still good friends today.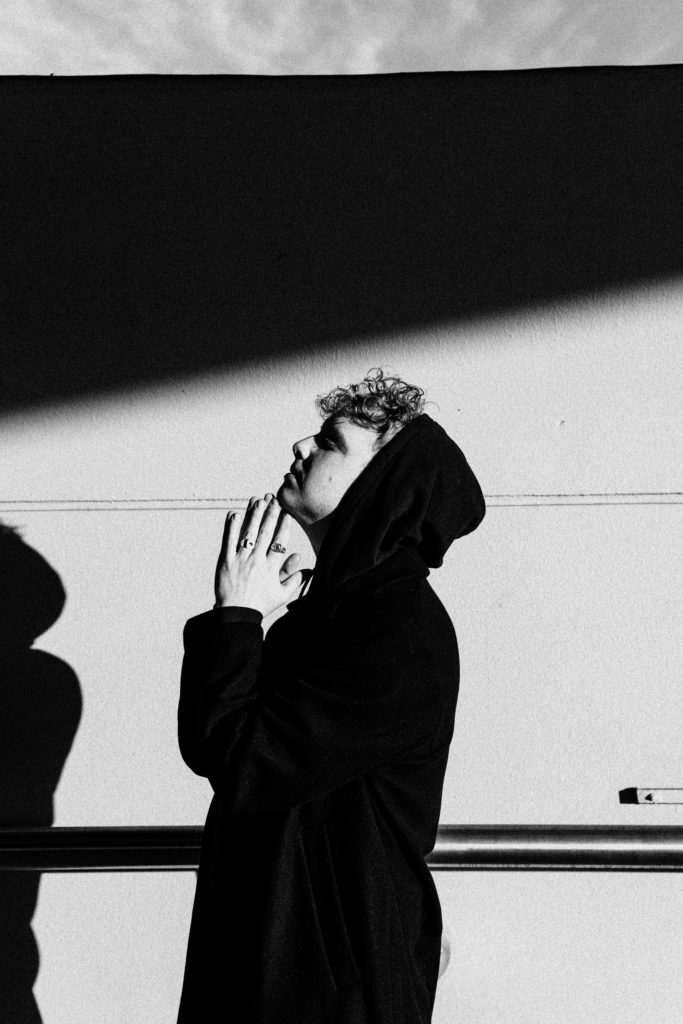 You uploaded a video about your first show earlier this year, how was that experience for you when compared to the isolated studio process, and do you plan to tour or perform more in the coming months?
That was some of the most fun I've had in a long time. I definitely want to get these songs in some venues and play more live shows! I'm working on my live show and am currently looking for other artists to play with.
What else are you working on at the moment?
New music and shows! I'm starting to be more consistent and taking my music career more seriously so I'm really excited to check back in in a few months to a year.
What would be your dream venue or event to grace the stage of, and why?
Probably Reading festival or Madison Square Garden, I'm dreaming but I'd love to play these songs to a massive crowd and feel that energy.
How important is image to you as an artist, and how easy or difficult is it to present content consistently in order to reach people – as opposed to simply letting the artistry and inspiration guide things?
Recently I've realized you can do both!
"I'm not going to pretend I don't want to be a big artist, but I don't think I have to sacrifice my art to do that."
I'm taking the business side more seriously and still keeping things authentic and true to my message.
What would you change about the music industry if you could?
That the value you bring as an artist is based on how many Spotify streams you have. That kinda sucks.
What's something about you that might surprise listeners?
That I don't really know what I'm doing at all and base most of my decisions on feeling.
What is it about music that draws such passion from you?
I think the way it can really transport you to a completely different place emotionally, and the real world impacts that can have on a person's life.
Is there anything else we should know?
That I'm really doing all this for the love of the art and connection with others. I'm gonna keep on creating and playing shows and build this positive community.
* * *
Find all things Tommy Oakley here & follow on TikTok & Instagram.