This week we caught up with the creative producers and founders behind We Ready Gear – we talk all things music and sport related, and how the two worlds collide to become something all the more immersive. Here's the conversation in full. 
* * *
Hey – thanks for the interview! What can you tell us about The Verce, about We Ready Gear, and the connection between the two?
The Verce: Well I am an electronic hip-hop artist named The Verce out of ATL Georgia. I am probably best known for my edm/hip-hop fusion song Another Round with Snoop Dogg. I am also 1/3 member of the underground hip-hop group called The Riot Squad. We Ready Gear is a brand for the rowdy fan. The passionate fan who doesn't sit down at games. We also have a new line of apparel non related to sports. It was create by Damond Farrar, Archie Eversole and myself for the Atlanta United fan base.
When did your passion for soccer begin?
The Verce: I honestly knew little about the sport until a fellow rap friend of mine named Noncents rolled with me to the first ever Atlanta United FC game. The scene was unreal at Bobby Dodd Stadium. My passion, knowledge and luv for the game increases every game of every season. Don't get it twisted – I know my sport. From the 4-4-2 to the 3-4-3. I am still trying to figure out if it is the team or the 17s that make it such a memorable experience.
Would you say your passion for music is equal to that for sport, or is one likely to take over the other in the future?
The Verce: I've always been into sports. I played multiple sports growing up and was fairly successful. Sports were the only things that kept us out the streets in my city. I would be locked up dead if it wasn't for sports. I can promise you that. I discovered my passion for music a little later growing up. Music and sports have always been a part of me. My passion is equal for both. I guess that's why I've made so many songs for teams and professional leagues.
How do you get started when crafting such a high octane track like One Night?
The Verce: It starts with the track for me. The track will speak to me and tell me the story of the song. Next I add the lyrics and the vibe. Finally I will pick the right artist to accompany me on the track and finalize the production and lyrics. It's pretty simple for me.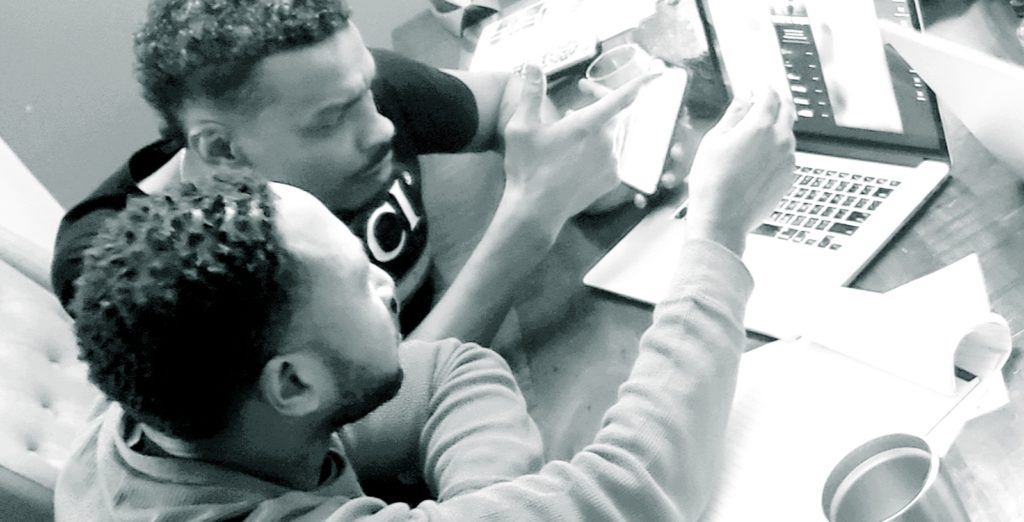 How did the three of you meet?
Archie Eversole: I was working on a new project and a friend of mine told me I needed to meet this dude name The Verce. We immediately hopped in the studio and made some incredible hit songs. After that we never looked back and continued to write and create. I met Damond through Verce. Damond owned a website development firm called Dfd3signs so naturally it made sence to invite him into my situation. The three of us had a meeting and created We Ready Gear.
What made you decide to start this company?
The Verce: Well Archie's classic hit song We Ready was getting traction again. Our Atlanta United Soccer team's supporter groups gravitated toward it and the song blew up again. The team approached Archie and he quickly became the voice of Atlanta United. After that his song was attached to any and everything sports related. I'm talking TV, radio etc. I watched the interaction from fan to fan when the song played and knew we needed to provide them with something visual to go with the song. So WeReadyGear.com was formed.
What does WeReadyGear.com have planned for the future?
The Verce: We started out small and noticed all of our products kept selling out the same day. We quickly expanded our selection to satisfy and keep up with our consumer needs. Now we are leveling up and partnering with a few commercial retailers. Look for us in a store near you soon.
What are the main values you want to represent going forwards?
Damond: Hard work pays off. Be fair to others and believe in yourself and your vision. It will pay off eventually. Also don't be afraid to take chances.
Is live performance a part of your plans?
The Verce: Yezzir. We are working on new material and plan on touring again. We are in negotiation with other known artists and putting this together.
Is there anything else we should know?
The Verce: Yes, be sure to visit the website and links below for We Ready Gear deals, tour dates and Archie's song United We Conquer. We ready, are you?
* * *
Stream the music on Spotify. Check out The Verce via his Website. Find out more about We Ready Gear here.