Creatively striking producer duo The Surgery recently welcomed a new member to their artistic outfit. Featuring Jonathan Shoesmith, Alistair Hall, and the newly initiated Keith 'Reptile' Thompson, The Surgery are based in Leeds and Manchester, UK, and their music speaks volumes on behalf of creative freedom and a sheer passion for music.
We caught an interview with the band to find out more about their sound, their journey so far, and their plans for the future. Here's how it went.
* * *
Hi guys, thanks for the interview. How has 2019 been treating you?
No thank you! 2019 has been great. We've reached a lot of people this year and got the chance to work with Prodigy stems which was a lot of fun (RIP Keith Flint). We've had a few hundred thousand listeners and been on about 2.5 million screens which is mad. Jon's addicted to his YouTube stats thingy right now.
What can you tell us about The Surgery, how would you describe your sound and style?
We're rooted in sound-system culture really. When dubstep blew up there were raves every weekend in pubs and clubs round our way, chucking sound-systems up and playing dubplates is a way of life there, everyone gets involved or owns part of the rig. We're kind of an extension of that. Most of the people we play with come from the same bubble. We started out making big beat and ravey breaks type stuff then moved into drum & bass, neurofunk and dubstep. The addition of Reptile this year has pushed us in new directions recently and we're currently exploring a darker more edgy sound.
Where and when did you first start the project, and where are things at currently?
The Surgery started at Blackburn college essentially, Jon and Al would spend their dinnertime digging in charity shops and running back to class 10 minutes late with a stash of breaks. We've built a big library of beats and sounds over the years, most of the drums are made out of parts of old records which helps keep them sounding natural. After a few years of hacking up breaks it kind of made sense to call ourselves The Surgery.
Did Twin Peaks have a big impact on your progression?
We've had that Nu sample for years but never did anything with it until that tune happened. Jon was watching it from the first season to get into Season 3 and any chords he played just sounded like that, so he added the piano and it turned into a cover. The lyrics worked really well but we were unsure whether it actually had anything to do with TP, then noticed it fits the narrative of Fire Walk With Me quite well, so we went with it. We've come on a fair bit since that one.
How do you create such unique, original soundscapes?
Jon got his head kicked in once and has been able to play the piano ever since! Haha joking. He's been doing it since he was a kid and we've got a huge library of sounds and equipment we've collected or inherited since we started. One of Jon's favourite synths is the Roland SH-32, which sounds amazing, that gets used a lot and we process a lot of stuff from Al's record collection.
We love the old BBC sound library and Radiophonic Workshop records, they're mad. Jon pretty much locked himself in his flat for a month when he wrote Lost In Space, that was done mostly on hardware. He likes to roll around on the floor surrounded by wires and 80's tech to get into the zone. He brought a Novation BassStation II in mid way to do the bassline, which unfortunately died in a champagne love explosion shortly after.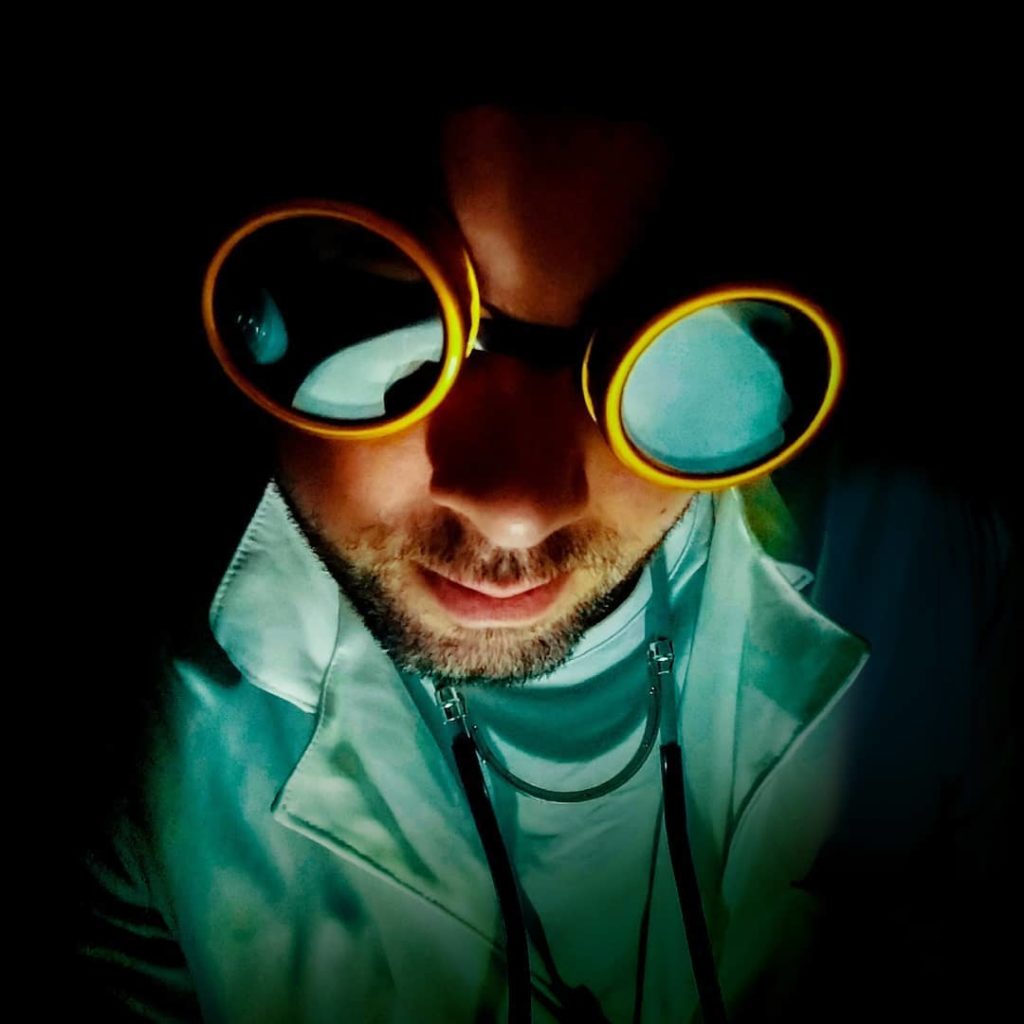 Jonathan, tell us about yourself!
My name is Jonathan Shoesmith and I'm the composer and producer for the band. I come from a pretty musical background, my dad was in a 60's chart act called The Magic Lanterns and I grew up around rockstars and bands as a kid so was thrown headfirst into it really. I mainly work in FL Studio and Cubase with a collection of keyboards and hardsynths but use anything that makes a cool sound really. I do all the graphics for the band too and like to make sci-fi art in my spare time.
What can you tell us about the track Labyrinth?
The sample in Labyrinth is from an old Orson Welles record called The Shadow – The Creeper. Ali dug it out and we chopped it up to sound like a load of teens have been sneaking out of their parent's houses to go to a rave in a disused underground tunnel and the cops are after shutting it down after finding an engineering map. It's a bit of a Frankenstein's monster really, a lot of the sounds were poached from older ideas that didn't quite work out and came together to make this.
How long has Alistair been collecting records? Can you give us an idea of how many he has collected over the years?
Ali started collecting in high school and it soon snowballed from a few hundred to a few thousand and so on. His bedroom floor was caved in from all the records back when he was about 15. Sample culture in music played a big part in his collecting and that unquenchable thirst for finding the perfect beat/sample to use or a lost or undiscovered song is like unearthing gold.
What is it about collecting records that appeals so much?
There is an abyss of music well under the surface of the mainstream, we're always on the lookout for good new/old music. Music is often released and forgotten so quickly and can be hard to keep up with but it instantly leaves behind a trail for those with a keen ear to discover/revisit if they're willing to delve in.
Excluding Al's shop stock, his personal collection must be well into the five figure amount, and having the shop hasn't cured him either, it's made him worse really! Ali does his own thing DJing around Manchester quite a lot.
Who is the mysterious vocalist Reptile that has recently joined the band; what can you tell us about him?
Jon has known Reptile since school, he's always loved being on stage and has his own custom clothing label so was just what we were missing really. We call him Reptile because he's covered in tattoos that kind of look like reptile skin, and the name stuck.
He was in a Nordic metal band before he came back to the UK and wanted to try some stuff out, so we threw him in at the deep end and gave him a mic at a gig we had in Manchester and he took to it naturally. It was the first time he'd mc'd live but he got up and raged on the mic and got everyone going. We've got a few tracks with him down now and are having fun shooting videos around the cities.
How important is live performance, and what's the live scene like where you are for this kind of music?
Jon and Reptile come from a very musical town, everybody we know is a musician or DJ and there's a blues festival every year over Jon's birthday weekend, lots of talented musicians come from all over to play there so we've grown up around a lot of music, it's why most of our tunes are in the blues scale.
Reptile has the most experience playing live really, he brought a voice and a connection with the audience to The Surgery. Jon and Al have DJ'd quite a bit around the country, we recently played Mission in Leeds which was fun and it was the first time we've had a fridge on stage.
What do you hope the future holds for The Surgery? Any forthcoming projects or a hint towards what you're currently working on / who you're working with?
We're working on some stuff with Zardonic at the moment. Reptile is designing some stage gear for him and we've started bouncing ideas around for tunes. Aside from that we're working on a dark neurofunk release with a new dnb label called Digital Assassins and thinking about a debut album.
Is there anything else we should know?
That it's OK not to be a pack animal – to be weird, a misfit, a freak, nerd, rebel and to be, see or do things differently. Some people are threatened by that and see it as an opportunity for a cheap dig to feel better about themselves. We like to call them the "dream police". We support independent thought. You don't have to live in fear and be taught how to think in school, to cut your hair, to wear the same shit as everyone else. You can do your own thing, form your own identity, worship your own god and have your own vision so you don't end up dreaming about washing the dishes every night.
Anyone that ever achieved anything cool was thinking the same way, was mocked, told they were wasting their time. Why? Think for yourself. Question everything. Forget what you were told and just do you. Dare to believe. 
* * *
Find & follow The Surgery on Facebook & Instagram or visit their Website.