Backed by a brand new EP and plenty of visuals, artwork and creative plans to match, Christian Alt-Rock outfit The Finite Beings kindly stopped by for an interview. Here's the conversation in full.
* * *
Hi guys – great to chat with you! To introduce things, how did you decide up The Finite Beings as a band name, and when did you first start making music together?
Mike – Donny and I thought it was a really cool name to describe our band because it is who we are. We are finite beings who serve an infinite God. We felt it captured our message and unique sound really well.
The initial stages of The Finite Beings started in 2010 when I met Donny through an, "Ask Any Question" Bible study that was run by our pastor. I shared some song lyrics and melodies with him, and he actually made a demo out of it that he shared with me the next day. We then started writing music together.
Huge congrats for the brand-new EP. What inspired the making of this project, why this title, and what theme or intention connects the songs within?
Mike – Thank you! This EP was actually a project over the course of 3 years. It features a new member in Hunter who plays guitar and produced the EP as well. It started out as just a collection of songs that were released as singles in The Virus, The Shade and Hope is Sleeping in Grace's Arms. With the addition of the two newest singles, Untamed and Time Slave, I thought it would be cool to combine these songs and make, A Shell Of What Could Be.
The title came about by me wanting to use a key lyric or phrase in one of the tracks. In discussing it with Donny, he recommended the lyric from The Shade, A Shell Of What Could Be. I instantly thought it would be a great title because it represents our Faith journey not only in life, but in our music as well.
Time Slave is fantastic – beautifully enchanting, with gripping visuals to match. What inspires this kind of juxtaposition between the self-aware poetic optimism and the perhaps more melancholic tune and arrangement?
Mike – Time Slave is a very unique track. I like to look at it as an optimistic lullaby in dark times. It's an encouragement to myself that my time is in God's hands, and He has a good plan for all this.
I have been through a lot of difficult and trying times in my life and as I have grown and matured in my Faith, I have learned that I can grow and learn in all seasons of life.
On the flip side, Untamed is a huge track – heavy and fast-paced, fiercely energising. How do you decide which direction to take a new song in, and what prompted the scornful lyrical approach of this one?
Mike – For this track I had a lyrical concept for spiritual warfare that I needed a really heavy riff for. I reached out to Hunter who started sending me over some riff ideas. I believe it was the third riff he sent to me that I thought, this is the one! I started molding my lyrics over the guitar and it actually all fell into place pretty quick.
Every song is different though. I try to let each song evolve and grow as it may. Its like putting the pieces together to a puzzle that has never been put together before. I feel that is how we really have the unique songs that we have.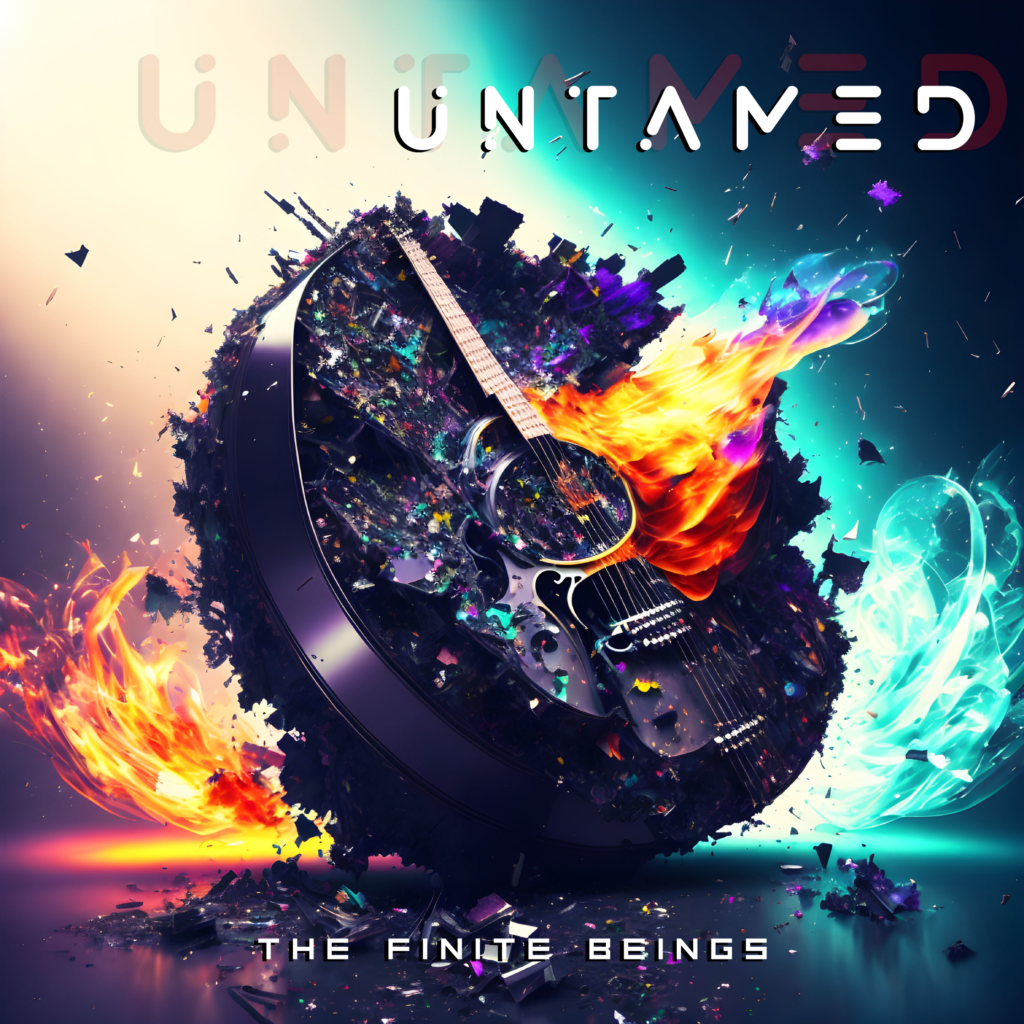 Where in the creative process does your Faith emerge – do you set out with a topic in mind, or just start jamming and see where the music takes you?
Mike – I incorporate a lot of my own experiences in my lyrics and am inspired constantly with topics and ideas. I simply let my Faith flow out of me and see where it takes me. I often will pray or meditate on scripture to guide me as well.
How did the artwork come to be?
Mike – The artwork was formed by using AI. It symbolizes infinite possibilities within a finite mind. My favorite aspect of the artwork is that the entire image conforms to what looks like a waterfall of light into the human image. Definitely some deep layers to it.
You note influences amidst the likes of Alice in Chains and Black Sabbath – do you still listen to these classic bands now, and are there any lesser-known indie gems you could recommend to modern fans?
Mike – Yes, I still listen to many of those bands that I grew up on as well as a lot of Christian music. A current artist I have been listening to a lot is Lacey Sturm formerly from the band Flyleaf. Really digging her new solo material.
What's the live scene like in New Jersey right now, and how easy is it to connect with audiences there?
Mike – We do have a lot of local clubs and venues here, however up to this point we haven't dived into the live scene because we are looking for additional members to fill out our band. For the time being, we are using social media, radio and word of mouth to get our music out there.
Do you find that most of your fans discover you for the Christian link or for the rock music first?
Mike – I think people discover and listen to our music for a variety of reasons. I just hope that they are connecting with it and find it thought provoking, as well as appreciate the music.
What would be your dream venue or event to perform at, and why?
Mike – I have always been a huge NY Knicks fan and have always loved going to Madison Square Garden. So to perform there to a packed audience would be awesome…
What's next for you?
Mike – Well we currently have a new demo in the works. We are going to continue pushing this EP and getting it out there, and we are looking for new members to help us complete this lineup and work on new music together.
* * *
Find The Finite Beings via their Website.