Prior to this weekend's event – the 6th annual New York Hot Jazz Festival – we caught an interview with musician and host Tatiana Eva-Marie to find out more about her involvement in the festival, what to look forward to, her creative background, her aspirations and her thoughts on the future of jazz. Here's the conversation in full. 
* * *
Hi Tatiana – thanks for your time, I know you must be busy this week. The festival is on Sunday – what can audiences expect from this year's event?
A decadent feast for the senses! We are taking over the McKittrick Hotel (home of the immersive show "Sleep No More") for twelve continuous hours of music from sixteen different bands on three stages. This year's festival theme is centered around a commemoration of the tricentennial of Crescent City, so you can expect to hear a lot of jazz from or inspired by New Orleans, including bands with a strong French influence. It's not like any other festival I've ever been to; it's more of a chimerical party in a time capsule. There will be lots of dancing and carousing, and the audience usually dresses up in their finest vintage frocks. It's your best opportunity to go wild and have fun in an old-fashioned way, listening to some of the best hot jazz bands you'll ever hear.
What are some of the main highlights to look forward to?
The lineup this year is stellar, with talents such as Evan Christopher, Blind Boy Paxton, Mwenso and the Shakes, but what makes this edition special is that the festival will be instituting its first "lifetime achievement award" to Vince Giordano for the incredible work he has done throughout the years to preserve hot jazz and inspire generations of young musicians, myself included. In recent years he has finally received the wider recognition he deserves, winning a Grammy for his work on Boardwalk Empire. He will be performing with his band, the Nighthawks, at 6pm. I've been a regular at his concerts for a few years now, and it's always such a thrill to listen to this century-old music come alive again the way it's supposed to be, with an explosion of joy and romance, not "old" at all, not a museum piece, but completely relatable for music-lovers of any age.
How did you first get involved in the festival?
Shortly after moving to New York, where I didn't know a single soul and had no idea where life was going to take me, I had the immense good fortune of attracting the attention of Michael Katsobashvili, who saw something in me that made him want to drag me to every strange and beautiful music-filled place in town. He initiated me to this wondrous parallel world that I can now call home, he inspired me to believe in myself, introduced me to so many talented musicians and artists who became my family, and eventually, when he created the New York Hot Jazz Festival, he asked me to be part of the first edition with my band, Avalon Jazz Band. Through the years we have become great friends and I am now very glad to be co-hosting the festival alongside him. I am so proud of what Michael has accomplished and thankful that the hot jazz community has such a strong voice to represent it and keep this music thriving in the New York City soundscape.
How will this year's event compare with the very first New York Jazz Fest – how have things evolved over time?
I'd say we've really come a long, glorious way (laughs). I would need about an hour to tell you everything that went wrong at the first festival, including lots of drama and a whole range of feelings, and maybe some tears on my part. But we all came out of it mostly unscathed and a lot wiser. It went from a very rowdy underground jazz party in the iconic Bulgarian nightclub Mehanata to a more official, more expansive and slightly more civilized version at the McKittrick Hotel. The greatest difference is that we've now gathered interest beyond our community; people of all different ages and backgrounds are flocking to this festival.
What's the New York Jazz Scene like in general right now?
Always full of new faces, new energies, new outlooks. Musicians seem to be mingling more and adventuring into each other's circles more than before. Learning from each other. The idea of jazz as music for old snooty intellectual types has been completely eradicated. It's a younger crowd now. Or at least a mixed crowd, which is even better. The most diverse audiences I have seen are at these jazz events. It's a type of music that really defies all age stereotypes and brings generations together. It's something I think we all need at this point in time, where people are so easily divided. This music, the musicians who play it, the audience… it all gives me hope for the future in general.
How long have you been making music, and what is it about this style of music that draws your affection?
I can't remember a time when I wasn't making music. Music was like air, it was around me all the time and it was a necessity, but I never really thought about it. Until it stopped, or until I realized that most people just don't have music as present in their lives. I guess I owe my specific attraction to jazz to my love for the cinema, encouraged by my father Louis Crelier who is a film composer. I was obsessed with movies from the 1940s and musicals from the early 50s, as well as old Disney films and anything by Woody Allen. My father, because of his work had the soundtracks to hundreds of movies in his office and I would spend my days lying on the carpet among books and sheet music, just listening to them. That's how I discovered George Gershwin, Duke Ellington, Cole Porter, Irving Berlin, etc. It's the mixture of romance, joy and melancholy that really inspired me. And the swing, the phrasing of swing.
What was it like growing up in such a creative household?
It was everything. Destabilizing, elating, exhausting, enlightening. My parents are both prone to high emotions, very outspoken and rebellious. They were violently allergic to conformism and taught me to always question things, push boundaries, push buttons, seek beauty and knowledge in a hedonistic way. It prepared me for the career I chose, that's certain, but it did not prepare me for the world. I think my parents viewed my upbringing as some sort of strange social experiment. We lived in such an artistic bubble, up to this day I have massive problems in certain social situations, relating to people or censoring my thoughts and feelings. It's a struggle adapting to the world around me. I have been feeling much better since I recently decided to stop trying and just embrace the fact that I've had such a different life experience growing up. I will always be an oddity. But I just don't care anymore, I feel free.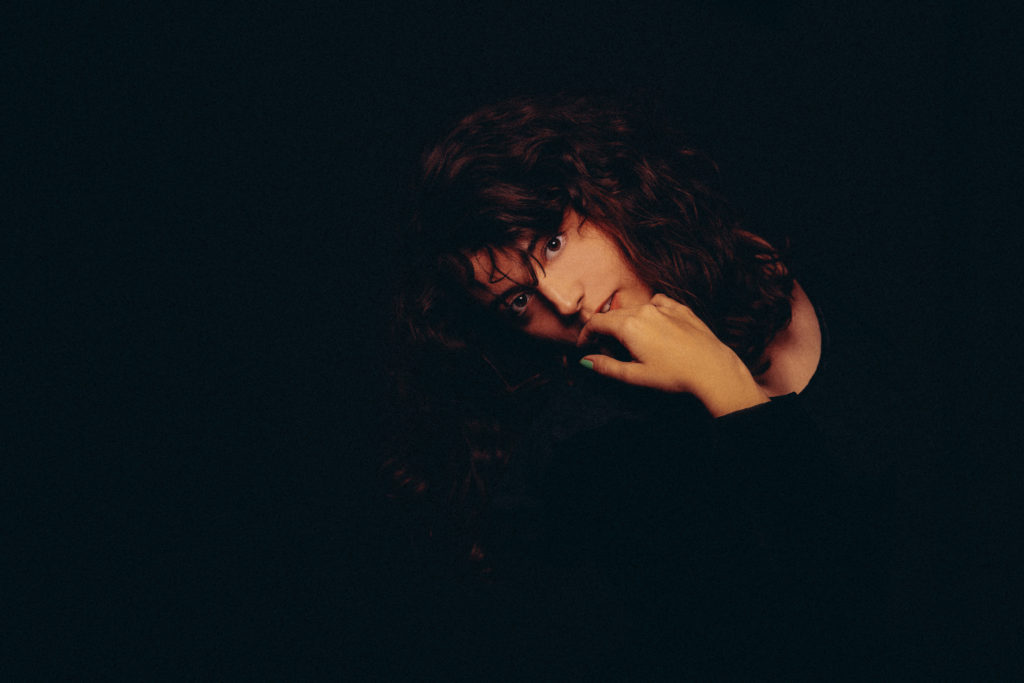 Photos by Christopher Lovenguth. 
Which artists would you say have inspired you the most, over time and more recently?
Marilyn Monroe for her luminosity, Frank Sinatra for his brazenness, Tommy Dorsey for his tone, Anita O'Day for her phrasing, Teddy Wilson for his elegance, Louis Prima for his irreverence, Blossom Dearie for her cool… and more recently the wonderful musicians I get to collaborate with, such as Veronica Swift, Sasha Masakowski, Patrick Bartley Jr., Vinny Raniolo, Gabe Terracciano… I could go on, I'm lucky, it's a long list.
If you could book any artist to play the event – past or present – who would you choose, and why?
I would bring back young Louis Primawith his New Orleans Gang, the band he had in the 1930s when he was at the beginning of his career. I am always surprised that jazz aficionados so rarely know about that band. It's some of my favorite music ever. I think the jazz scene could use such an emblematic figure of irreverence and joy. Their energy is so sincere, fresh and fun, it's infectious.
You've had a pretty eclectic career so far – what have been some of your most memorable experiences or achievements?
That's such a hard question. It's all been such a crazy ride, it's hard to go down memory lane and try to pick moments, they all come back to me in big bunches. The moments that are truly most memorable are not the big stages or the important concerts, it's more about moments of perfect harmony with the musicians around me, when we just know that we're all communicating intimately and getting a high from the swing in the same way, at the same time. One moment I can think of is playing at the New Orleans Jazz Festival earlier this year. I was surrounded by exactly the right people and we were all in a very magical mood and eager to experience everything around us, as giddy as schoolchildren on a spree.
What are your aspirations for the festival and for your own musical journey over the coming years?
Spreading the joy of this music to as many people as possible. Record more, play more, travel more, meet more people that I can share these musical treasures with. There are no limits, really. I would also like to write more music. I have so many lyrics in drawers that need to come alive.
What are your thoughts on (or hopes for) the future of jazz?
I think jazz should be taught in school, especially in the United States. It's such an important part of the American identity; young people need to know about it. Jazz is the epitome of youth. It's free, expressive and needs no filter. It's also a musical genre that defies categorization and brings all sorts of different people together. I really hope to encourage more parents to take their kids out to listen to jazz, far away from their iPads.
What advice could you give to aspiring jazz musicians who want to improve and get more involved in the scene?
Go out all the time. Seek out other musicians, talk, share your passion. Go to jam sessions and concerts, write down all the tunes you don't know. Research them, read the lyrics, find the first recorded versions. Listen to live music every chance you get, especially folk music of different countries. Read lots of books and watch lots of old movies. Go to museums. Educate yourselves as artists and not just jazz musicians. Love, fail, make yourselves vulnerable. Be scared, be brave. Scrape your knees, get hurt, do stupid things. Experience the world and experience your own emotions, so that you understand what it is you are doing when you are playing music.
Are tickets still available, and can people just turn up on the day?
Yes and yes. Come! My band plays at 9pm, but I'll be there all day. Come find me.
Is there anything else we should know?
I'll be at Symphony Space on October 18th and at the Bahrain Jazz Festival on October 25th. I have many concerts in interesting venues around town during the winter, check out the website for more information!
* * *
Get your tickets here. Find & follow Tatiana on Facebook & Instagram. Visit her Website for more information.