Following the release of his singles Touch and Sexy Girl Riddim, we caught an interview with artist Sam Xhri6 to find out more about his musical journey so far & his hopes for the future. Here's how it went.
* * *
Hey – thanks for the interview. How has 2019 been for you so far?
It is my pleasure and thank you for having me. Well, so far so good. Like a wave with highs and lows, 2019 has been such a thrilling year, can't complain. Big thanks to God for the gift of life and his blessings.
For those who don't know, how would you describe your sound and your approach to music?
My sound is filled with healing, relaxing and captivating melodies. I love R&B so I put an element of this in every genre I get to work on – it don't matter what it is, you're still gonna hear that R&B spark in there. My music is food to the soul and I'm always making sure it is heartfelt such that the listener is enticed and lovingly hits the repeat button.
What can you tell us about the song Touch – how did it come to be, and what do you hope people take away from it?
Touch is a song that merges R&B with Afro beats, all the sexiness in it enables you as a listener to draw closer to your partner or get yourself somebody if you don't have one.
Initially when I got the beat I started off writing that night, put down a couple things which I ended up not going with, of course that's the writing and editing process and this has always been the way I write my songs – plus I thought as my last single for the year, it has got to be something that stays on people's minds for as long as eternity, something they will absolutely love and adore, so I made it into what it eventually became, booked a studio session for the recording to take place and smashed it.
It was so much fun recording the song, had those who were present during my session leave the studio talking about it. The lyrics speak about love making, so what I'm expecting people to take from the song is this "they get closer to their partner, their bond becomes stronger, they make good love and more children to populate the world." #laughs
What are the main values you want to bring to the music world?
Well, the main values I want to bring to the music world are Originality, Transparency, Clarity and Class. You know, the ability to keep making and delivering something undiluted, music that doesn't sound like someone else's – standing out is the deal. That's what I wanna keep doing and hope the world sees, thereby showing others that you can do what you love without following a trend and still come out on top so dope.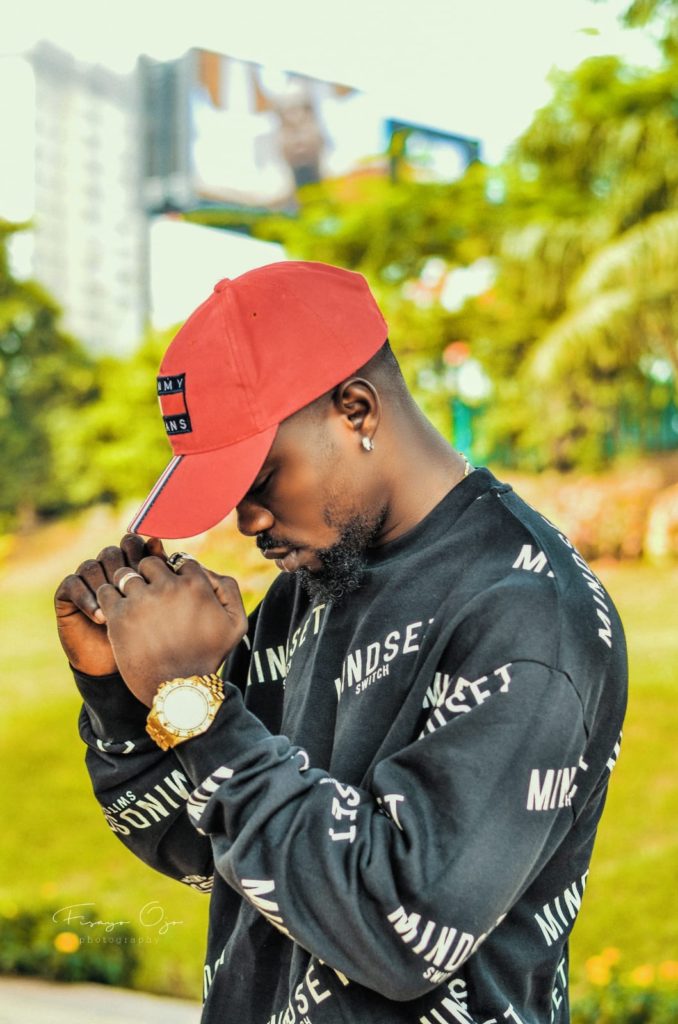 How have you honed your vocal style over time, and did it take a while to find your vibe, or did it come naturally?
Time makes us grow and growth will keep taking place as long as we breathe, so yes my vocal style has been cultured into what it is today as time has been one and such a great element in making it so – plus a bit of practice here and there. It actually did take years for me to find my vibe. Years I tried doing this, that and the other, then eventually came to a point where I realized this is my actual vibe and I'm staying on it.
Who produces your tracks?
Several music producers actually, I've got "VICTOR SONUS" who is a very talented UK based sound engineer. "OZ D'BEAT, MAC TONES" both guys based in Nigeria and well talented too. "SAMUEL G" is another very talented producer based in Accra Ghana. These guys I've mentioned are insanely good at what they do, they are the ones I'm working with at the moment.
What's the live scene like where you are, and how important is live performance to you?
Amazing! The live scene here is amazing. There's loads of concerts & festivals where live music is enjoyed. You get to see a lot of people coming out to have a good time. It's great, the people appreciate originality and honestly speaking live performance is so important to me, as a Singer and guitar player I love every moment I spend on stage expressing myself and entertaining lovers of good music.
Who is your main inspiration creatively, and if you had the chance to meet them and ask just one question – what would you ask?
John Mayer it is. If I get the chance to meet him and ask just one question, that will be "Can I get you on a song, John?" #laughs
How did you decide on the style in which to present Sexy Girl Riddim?
Not difficult, I had "Sexy girl (Rework)" done first and then had the vocals sent to my engineer (Sonus) in Manchester, we decided to go with a tropical vibe and he came with the fire but the original style of the song was decided when I first thought of making something upbeat for the summer, that's a song that can be played repeatedly in clubs, parties and people will dance good to.
What's next for you?
At the moment I'm focusing on getting my new single Touch around as best as possible, then I will begin to work on my debut EP, which I have no release date for yet but hoping to get it ready for release sometime next year.
Is there anything else we should know?
Soon there will be vinyls for my fans, exclusive merch and other things. I will encourage Music lovers to keep up with me by following my social media handles Facebook, Instagram & Twitter. And thank you for such an amazing interview.
Our pleasure – thanks for the time & insight!