Country songwriter and musician Rob Georg gifted us some time and insight regarding his latest releases and his journey so far as an independent artist. Here's the conversation in full. 
* * *
Hi Rob – great to be able to chat with you, thanks for your time! Where and when did your musical journey begin?
Thanks for having me. Well, my musical journey began at a really young age when I was about 6 years old. My parents had me learn to play the piano. Even though I liked to improvise on the piano, I would've rather learned to play the guitar instead.
Finally, after 6 long years, I convinced my parents to let me quit taking piano lessons and start learning to play the guitar. My first Guitar I bought back then was a Hoyer half-acoustic western guitar. Until 2018 I just played for family and friends. Vocal Coaching in Nashville has been on the top of my bucket list for many years. In March 2018 I flew to Nashville to scratch this off of my list and got some Vocal Coaching at the Studio of Kristin K. Smith. After playing and singing one of my originals in one of the lessons, she convinced me that my voice and that song should be on the radio. Today she is my producer and we recorded 10 songs in fall last year, which are released every 6 weeks during 2019.
How did you come to collaborate with the songwriters behind Dust, and what was it like working as a team for this?
Actually my wife, Mel Georg, wrote the first Version of the the Song Dust. We are married for almost 15 years now and all the years we sang together. As I came back from Nashville she didn't want to sing with me anymore, cause she thought I was too good now and she was not…
I knew she was wrong, but convincing a woman from the opposite is like….. !?
So I sent her to Nashville to work with Kristin K. Smith in September 2018 herself.
During their sessions they finalized the song Dust. They offered me to record it, I loved the song from the first time I saw the lyrics. During my stay in Nashville in November 2018 we finally recorded it.
What made you so keen to set things straight about the reality of life for a modern-day cowboy?
I spent my whole life in the saddle. My father bred horses, so I got into the horse stuff pretty early. My mother always tells me, I could ride before I could walk. Until 2015 I showed horses in the discipline of Cutting as professional equestrian athlete in the States and in Europe.
Together with my wife, I run a Ranch in Germany, breeding sheep, cattle, horses and Border Collies. So I am living that Cowboy life day in day out. During my life, I realized that most people are talking about Cowboy manner in a negative way. Someone had to break with this prejudice.
Do you also write songs yourself, and if so – how does the solo process compare to that of collaboration?
Yes, I came up with the ideas and drafts for all songs, Dust is the only exception so far. I love to collaborate and think it is good havin' different influences, this is why I have some Co-Writers in Nashville to give their input as well.
Kristin is not only my Vocal Coach and Producer, she has an awesome feel for lyrics, I really like her ideas in my songs. The other Co-Writer is Skot Bradley, a great guitar player who has a great feel for the melodies. In that constellation and sometimes with my wife as well, we work on each and every song that I come up with. In some songs, we have other writers joining us as well. One is the Nashville Legend and Hall of Fame Songwriter Pat Alger, who joined us on This Ain't My First Rodeo. Shane Bates, a newcomer in the songwriting scene, joined us on Ghost, which will drop 04/26/2019.
Do you personally prefer the full-band country rock setting or the more acoustic approach?
That is a good question. I spent my whole life singing and writing, 99% unplugged. I still love just getting one of my guitars off the wall and start playing. The first time I heard one of my songs in full-band Country Rock setting was in Nashville last October and I have to say, that was really kicking it. I was lucky Kristin arranged musicians with awesome skills. It was and still is an honor for me to have my songs played and recorded by and with these guys.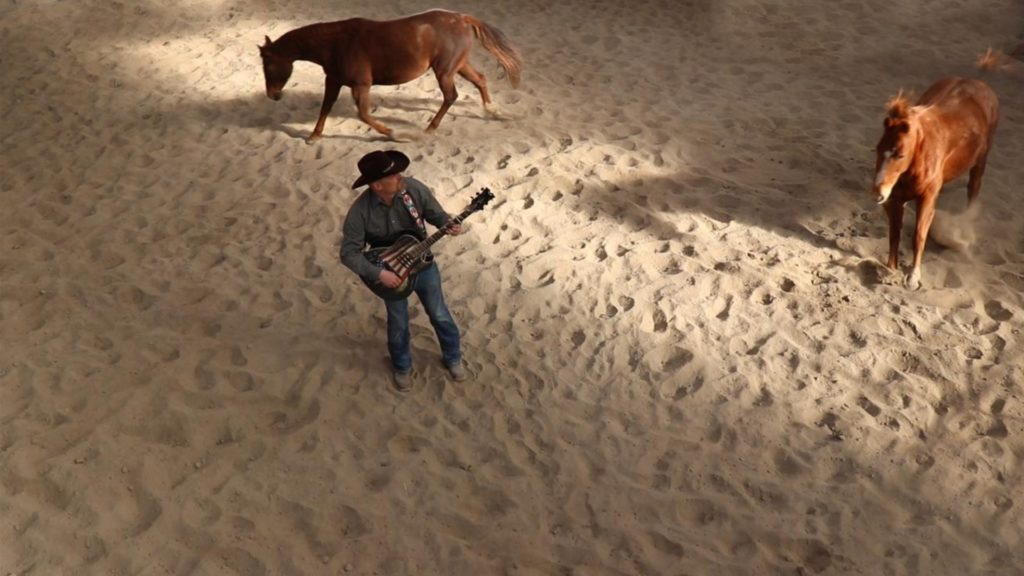 Is live performance an important part of what you do, and what's the live scene like where you are right now?
Since I spent the whole of last summer writing new songs to record them in fall and started publishing them last winter, I had no time for getting into live performances. I managed to play at a few Songwriter's Nights while I've been in Nashville, and did a few performances at weddings, birthdays and equine events, but that was it.
Since I have another recording session comin' up in Nashville in April/May this year, I am taking bookings for events from June on, even though there will be only a few open slots left in the second half of 2019. The first big live performance will be at the yearly Festival in the City I'm living in, together with the kids from the local children home, where I'm doing a music workshop once a week.
What are your main hopes or dreams going forward as a contemporary country artist?
That's a pretty hard question for me to answer. My debut single dropped June last year. Til today my songs were streamed in over 100 Countries, my single This Ain't My First Rodeo is played on commercial and non-commercial radios in different European Countries, in Australia, New Zealand, South Africa and in the US, where it is charting at the moment in the National Radio Hits Charts in the Top 20 and in the US Western Region Country Radio Charts in the Top 5, just to name a couple. My Social Media Channels grew over 50K followers within the last months and I got thousands of comments, e-mails and messages, giving me wonderful feedback on the songs that have been released meanwhile. And to be honest, to me it feels like I'm living my dream already, which I never thought was possible.
Who do you think are some of the most talented up and coming artists to look out for throughout 2019 and beyond?
There are some incredible talented Indie Artists I met in the last months! To me, it's unbelievable they are not signed yet. At the moment Calvin Rainwater's single Sinners & Saints is on top of my playlist. Also among my favorites are Kenneth Hall with Where Do We Go From Here, Wade Oliver with Poor Man's Prayer, Bryan Worth with Never Ment To Love You, Brian Keefe with Three Nails, Rob Cannillo with Catskill Mountains and last but not least Justin Carter with Wouldn't Know, who sadly passed away last month due to an accident on the video set for one of his new songs. If I look over the edge of my every day genre, I would place my bets on the band Pandora's Shadow with their song Friends Like These, Jessie Maddox with What Have I Done and Adam Ambrose with Grateful.
If you could sit down to lunch with anyone at all, who would you invite – and what would you ask them about?
It might sound funny or weird, but I'm thinking of Alice Peacock's Song: If I could talk to God, which says: "If I could talk to God – I'd have a million questions, if we could sit down face to face". I would really like to ask him, how he likes to spend his days and if he has any regrets about the world he created. Beside the beauty of the world, I also see hungry children, people getting hurt, abuse, war, avarice, etc. I would like to ask him, is it working? Does it really have to be this way? I don't know his answer, but like Alice I assume it could be something like: "Hey, it's really very simple, follow my example! It's not so hard living the right way! Learn to love and respect each other. You will only be on this earth for a limited time!! It's not as hard as you think to be nice!"
Is there anything else we should know?
I as a musician always strive for the best, cause that's what really makes the difference. The best lyrics, the best melody, the best co-writer, the best producer, the best musicians to play along with, the best recording, the best mix and the best master. There are so many great talents out there, that you won't have the slightest chance with anything less. Plus: stay humble, kind and grounded!
I would like to close with the words Michelle Obama once said:
"Success isn't about how much money you make, it's about the difference you make in people's lives."
* * *
Stream the music on Spotify or Soundcloud or download it via iTunes. Find & follow Rob Georg on Facebook, Twitter & Instagram or visit his Website.