Delivering some much-needed alternative vibes to the modern scene, artist and songwriter Paul Noir launches his debut effort with the superb single and video Odd Experiments.
We caught an interview with the long-time musician to find out more about his journey to this point, the new project, and his plans for the year ahead. Here's how it went.
* * *
Hi Paul – grateful for the opportunity, how has the New Year been treating you?
Thank you for having me. The New Year has been a tremendous new beginning. There's a quote I love by Meister Eckhart that says… "And suddenly you know: It's time to start something new and trust the magic of new beginnings." That's what it's felt like to begin putting music and art out into the world again.
It was somewhat bittersweet to see the world in disarray two days after the release of Odd Experiments. But art will always continue to be born and inspire during the darkest of times.
Congratulations for the debut single and video – a brilliant, captivating listen and watch. What's the story behind Odd Experiments – what prompted it, and what do you hope people take away from it?
Odd Experiments has a double meaning for me. It's definitely a nod to 19th and 20th century scientists who were changing modern medicine. But it's also an analogy to the unconventional music pieces I create.
I never felt quite at home writing standard pop and rock songs in past projects. I wanted to release this particular song and video first, so people would know that there may be some more odd materials coming out of this project.
I hope people can recognize my pop sensibility in the writing, but also discover something completely new and different in my style.
Do you think similar scientific error is happening right now, that we won't be able to reflect upon until years later?
It's funny, because I have considered how Odd Experiments could be thought of as pertinent to what's going on right now. I came up with the lyric and concept before the pandemic, so it's not directly related.
As far as scientific error goes, I'm not really one to speculate. It will be interesting to see how history looks back on this odd time in the world.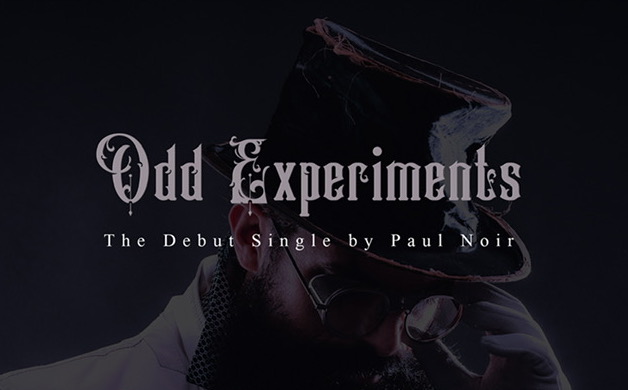 You seem quite clearly musically talented and lyrically experienced, even the performance is effortlessly hypnotic. What was your creative background leading up to this?
Well, first off, thank you. I appreciate the compliment. I actually do have quite an extensive background in writing for a new artist. Part of my story is a common one. Doing "big fish" things in a smaller market, trying to make it in the big leagues of the music industry, and getting lost in the mix like a lot of "small fish."
The rest of my story is very different and unusual. For example, prior to the pandemic, I was doing a lot of work helping other people succeed as stars and creators in music.
What can we anticipate from the upcoming single Near But Far?
I'm beyond thrilled to be releasing this song! It's probably the one I've been sitting on the longest. I never quite found the right spot for it until this project.
Near But Far is more of a ballad and love song of sorts. It's not as dark and cabaret as a lot of the other songs that will comprise the forthcoming album. But it adds a much-needed sexiness and broader appeal to the collection, without sacrificing my signature sound. It's also accompanied by a beautifully-designed animated video.
Your plan is to release something new each month – are these songs already written and recorded, or is it an ongoing process?
The whole album is written and recorded. My writing partner Nathan Elliott and I decided to start releasing one song each month with a corresponding video to build some buzz and excitement leading up to the album. We'll be holding many of the singles until after the album is released. There will be some surprises along the way as well, like a cover song with video, and more.
What's the aim with this approach – what's your greatest ambition as an artist?
I really just needed to get this music out into the world. I call it my passion project because it's really close to my heart. I've been building this collection of songs for years with my writing partner Elliot.
My real ambition would be to make enough money off music releases, to be able to continue to create and make albums every year. I have so many new song ideas already. I don't want to get ahead of myself, but I'm definitely already planning a second Paul Noir album after the first grouping of songs.
Is there anything else we should know?
I'm aware that there are much more important things going on in the world right now. I really appreciate Stereo Stickman taking the time for this interview. For those of you who enjoyed Odd Experiments, I think you'll really like my song and video releases in the coming months… Ciao! Ciao!
* * *
Visit Paul Noir's Website for more information or check him out on Facebook, Twitter, Bandcamp & Instagram.