Alternative artist and song-writer Pamela Hilton has recently released her video and EP under the title Hellraiser – a project that draws upon a unique array of influences but ultimately carves out a refreshing new pathway amidst creatively free music.
We caught up with Pamela to find out more about the sound, her intentions as an artist, and her plans for the future. Here's how it went.
* * *
Hi Pamela, congrats on the new single and video. For those who don't know, how would you define your style as an artist?
Hi, thank you! I would describe my style as dark and haunting yet very sensual. Sonically, it's cinematic and I try to make my music to go cohesively with the visual concept that I have in mind.
When I start working on a song, there's more than lyrics to it, I know how it should sound and what visuals it will eventually have – it's important for me to give the whole picture, full presence experience, so when people listen to my songs, they'd find themselves in Gotham City surrounded by poisonous exotic plants, for example.
What's the single Hellraiser about, and what prompted you to create it?
Originally, I wrote Hellraiser when I was reading all these articles about Paris Hilton and Britney Spears. Back in 2000s, they were portrayed as villains but now it's 2021 and people are realizing that they were antagonized by the media for no reason, when the problem was in the media itself. You know, when the girls are partying they are described as "bad role models" but when men do the same, they are described as "rockstars".
Then I came up with this character called "Hellraiser". She is a strong and powerful woman who is portrayed as a villain and demonized by society, so she's just living up to it.
I'm also obsessed with vintage comics and I'm just this kind of person who likes villains more than heroes, especially the female ones. I find them more interesting because all of them have their own different stories.
Your voice is uniquely haunting and expressive, does this manner of delivery come naturally to you, or is it something you've worked on as part of a persona?
Thank you! Actually, that's due to my stuttering. I was diagnosed with stuttering when I was two and I've been fighting with it my whole life.
When I had speech therapies, I was told how speaking while exhaling can help me to control my speech flow, so this is how I achieved my breathy voice. Then, I noticed how in old movies some singers had very low vocal range. I thought it was hypnotizing and magical. So I tried to sing like them and it just came naturally to me.
I really enjoy it. I must confess, I can't sing any other way.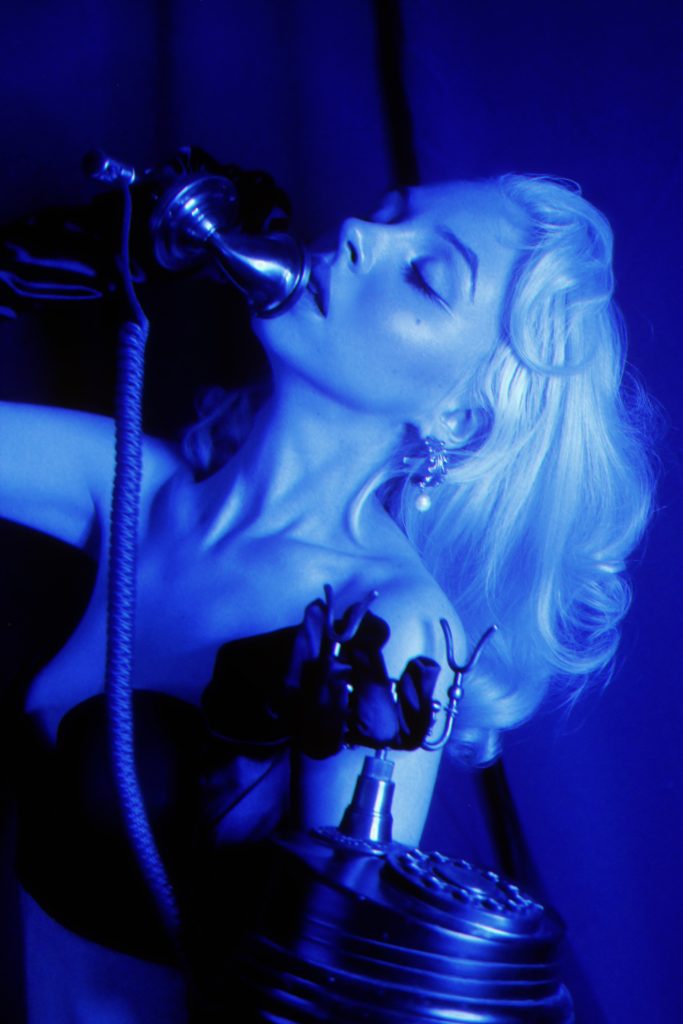 Given the strings and orchestral fullness of the soundscape, what would a live performance entail – purely digital or something with a live band arrangement?
That's a dream of mine, I would love to sing with a band, but I'm only getting started. For now it's gonna be digital but of course live arrangement is so much better.
For now, I don't have a management and I don't have a team behind me. It's just me and producer Choonshiki. We do everything together: from music to visuals. He plays the piano though, so we'll see about that.
You're openly inspired by past eras of glamour and Noir films – what comes to mind as a prime example of what influenced you, and what was it about this that ignited such passion in you?
It all started with collecting books with Marilyn Monroe. I really love reading books, especially when I was a kid, I would ask everyone to give me books for my Birthday. I never had any friends, kids at school would bully me for my stuttering. But I had books. I loved reading and I loved getting to know Marilyn Monroe because she was lonely, misunderstood but extremely talented and genius.
Through Marilyn, I found this whole new world of Old Hollywood glamour cinema. I was just fascinated with how different fashion and style looked back then. All these pretty dresses, luxurious hairstyles, art-deco interiors certainly made a huge impact on me visually. You know, visuals are very important to me. It's just something that makes me happy. But it's important to note, that I do love vintage style but I don't have vintage values.
How did you come to connect with producer choonshiki, and what do you think this collaboration ultimately brought to the release?
We've known each other for years and we've been working on a lot of projects before. I've been writing songs since my early teenage years and he had been studying music and piano. He's extremely talented, very hard-working and he knows me so well. I think that's the key to any project or collaboration – people must know and understand each other. He gets what I like and why, and that what makes it work.
What's next for you creatively?
More music! I can't wait to share more of my vision. I like that with music, you can tell any story, you can create any concept, any character, any world, anything! And when you put it all together, it's like a whole movie. I always want to give more than just songs. And I'm sharing my story as well. I'm very excited for the future.
Is there anything else we should know?
Yes, I want to thank everyone for the support. I really appreciate that. It makes me happy that someone listens to my music. If I inspire just one person, then it makes me happy. My new EP Hellraiser is available on all streaming platforms.
* * *
Check out Pamela Hilton on Twitter & Instagram.