Noah James Hittner is a long-time musician, songwriter and music blogger, whose latest album – the beautifully complex and genre-crossing Willing – showcases some stunning guitar work, gorgeously soulful vocals, and poignant lyrical depth.
We caught an in-depth interview with Noah to find out more about his journey, the new album, and his hopes for the future. Here's how it went.
* * *
Hi Noah – thanks for the interview, great to finally chat with you properly! How has 2019 been treating you so far?
Hi Rebecca! Nice to finally chat with you as well. For reasons we are sure to discuss, 2019 was both exhilarating and exhausting!
What can you tell us about Willing – how long has this project been in the making, and how does it feel to share it with the world?
Honestly, after my previous album, Flesh & Metal, I really wasn't sure if I would ever record a full album again—due to the rise of streaming and the overtake of the free-music culture. I have no problem with this phenomenon. That said, I simply wasn't sure if recording a full-length album was a logical or reasonable expectation to put on my already full plate.
However, as I'm sure you can understand, the songwriting doesn't simply—or conveniently—stop. And, after a few years had passed, I had enough songs written that the idea of recording a short EP simply wasn't going to be enough to fully represent the work.
All in all, between recording, mixing, remixing, mastering, manufacturing, and other production details (new website, 6 music videos, digital distribution, etc.), Willing took about 1 year to launch—which is actually about 2 months shy of my average.
It's always simultaneously a joyful and a terrifying experience to set the art free; exposing it to infinite interpretations and such, particularly on this album as I have ventured into new territory by recording two tracks in the Hip-Hop genre—for the first time ever.
What prompted you to go with the title Willing?
I always let my album titles sort of "show up" in an organic way during the course of my day-to-day life. This particular title, Willing, references a moment of clarity I had a few years back. I was contemplating my musical vocation up until that point, and was beginning to notice some of my self-imposed restrictions, not only musically, but personally and spiritually as well. It was becoming clear that if I was going to create the life that I had envisioned—a life of freedom and sovereignty—I may have to be "willing" to go places experientially (with my music and my life) that I had previously ruled out and judged to be "wrong" or "bad". It wasn't that I would absolutely have to do these uncomfortable things, it was simply that I knew that I had to at least be "willing" to do these things.
Musically, this meant fully expressing myself by making ALL of the musical styles that I love so much. Namely, in this case, Hip-Hop. I am a white man from Wisconsin with an acoustic guitar. I thought that I was "supposed" to be a Folk Singer-Songwriter. Prior to this point, my belief was that I didn't have any business making any other style of music—even though I longed to do so. With Willing, I've officially left those restrictive thoughts behind me. Game on.
If you had to choose just one, which song from the album would you recommend to new listeners, and why?
Because this is a multi-genre album which includes elements of Blues, Folk, Hip-Hop, R&B, and Electronica, I would first ask them what kind of music they like. That said, it would go something like this:
Blues lovers = A White Man's Blues.
Folk lovers = The Trickster.
Hip-Hop lovers = Porch Step.
R&B lovers = Don't Let Me Lose My Faith.
Electronica lovers = Listen To Your Home.
There are a fair few political undertones to the project, as well as some more personal insights. How do you decide what to write about, and do you ever second-guess yourself when being so open?
With each album, the inspirational source(s) for the songs depend on where & who I am at that moment in time. As the concept for Willing began to take shape, I was (and still am, I suppose) in a period of life where I'm not only seeing and clearing away restrictions to my freedom, but also learning how to integrate those new found increments of freedom back into my life on the ground where the rubber meets the road.
Because of this, songwriting has always been fairly reflexive and dare I say, "easy". However, with Willing, I found myself second-guessing the message here and there. This happened to such a degree that I wound up remixing the album after a first batch had already been manufactured. This was a costly lesson where I learned to slow down, breathe, and be a little more patient in order to record a more accurate representation of how I am feeling into the music.
Specifically, with the historically emotional content in A White Man's Blues, it seemed to me that there was always going to be the possibility of offending a listener. And so, what I decided at the end of the day, was that I would do my best to offer my own experience, and allow that intention to guide the writing. That said, nor did I want to sterilize the song! After all, it's supposed to be emotional. It's supposed to cause a feeling. It's supposed to have an effect.
How long have you been playing guitar?
I picked up the guitar in my mid 30's, about ten years ago now. Prior to that moment, I'd simply been procrastinating. Truth is, I barely remember my life before this instrument anymore.
What other instruments do you play?
Other than guitar, there are keys, drums, and bass on Willing. I play everything (I custom-programmed the drums) and I'm only good enough on keys to record in the studio. Live—not yet.
In what ways do you think being a music writer / reviewer has impacted your creative direction or your songwriting style?
I'm surprising myself as I write this, but my work with The Ark of Music LLC has had very little influence on my musical style. If it's affected anything, I would say that being in constant contact with new and amazing music has pushed and inspired me to simply keep creating my own music in general.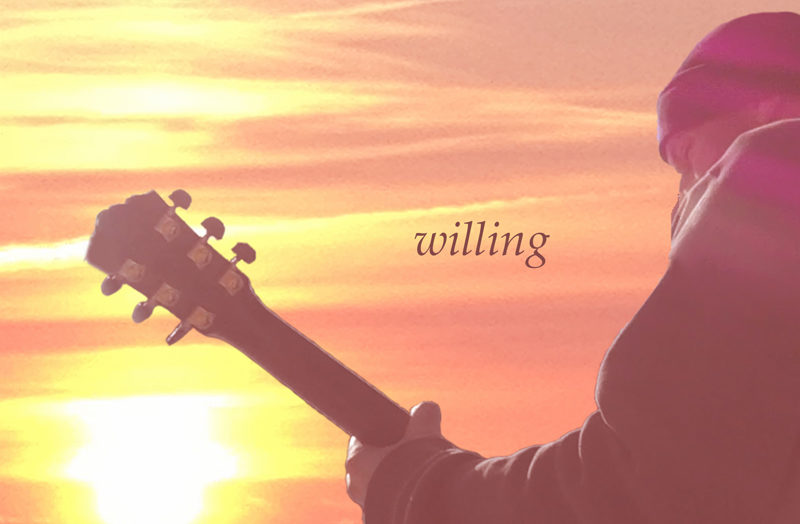 Is live performance an important part of your plans as an artist, and how does the live process compare to the writing and recording aspects?
Yes. Performing live is utterly crucial for several reasons…
First, with the onset of free streaming, live shows are now a great primary way to make some real income.
Second, the dream that is sold online is that all you need is a YouTube account and you can become a star. This, of course, is nonsense. For a vocation in music, one must be "willing" to share the work in front of others. One must be "willing" to connect in the real world, person-to-person. Fans who see an artist live have a deeper, more meaningful relationship with the music. It's just that simple.
Recording VS. Performing Live are, for me, polar opposites. This is because, from my perspective, a recorded song or album is a timeless representation of that piece of music. Because of this, I want it to be as flawless as possible so that it can best represent me once it is released into the world.
When I perform live, things are so much different. There is no time to contemplate mistakes. There is only the moment at hand. The music is constantly moving forward, and so I do my best to keep up and allow the mistakes to drift quickly into the past. Admittedly, this has been a most challenging—and essential—exercise for me. If you ever see one of my live shows, you'll likely chuckle at me closing my eyes, taking deep breaths, and looking down at the note I've left for myself on my looper pedal, which reads, "find the music". When performing live, I feel like I'm perpetually riding the fence between humiliation and exhilaration. It's just wild, man.
Will you be touring, and if so – will this be solo, or with a band?
With the exception of a slower gig-schedule in the winters, I really haven't stopped performing for a few years. Mostly, I tour throughout southeast Wisconsin. I do intend, however, to tour nationally, and hopefully overseas, in the not-so-distant future.
I always tour as a solo act. However, there has been some recent discussion of touring with a musical friend of mine.
What made you first kick off The Ark Of Music, and what do you like the most about being involved in the indie scene in such a way?
On the ABOUT page on TheArkofMusic.com, it reads:
"We love music. We love how music makes us feel inspired, how it can take us back in time, or how it can instantly change the mood of any situation. We believe music can change the world—even when no one is listening.
We are searching—endlessly—for music that does that…"
This is what music means to me. Several years ago, I wondered if there was a way I could make a living by listening to music. The Ark of Music LLC was the answer to that question. I am so grateful for all of the music and musicians I've encountered doing that work. It's incalculable, really.
What's your best piece of advice for individuals who want to get involved in music and build a lasting career?
A few thoughts come rushing in…
1) It matters not if it's music or pet-sitting. First, one must be completley honest with themselves about why they're doing this thing. If you're not honest, chances are you've got some reservations or judgments swirling around in your energy somewhere. This doesn't neccesarily mean that you shouldn't do it. It simply means that, until you can be honest, your actions will be vulnerable to attack, susceptible to outside forces, and easily knocked askew of your goal(s). Yes, I speak from experience. Get honest—immediately. Then, your art, your business, your whatever—-will be pure, and it just won't matter to you what happens next. Well, not as much, anyway.
2) As far as learning an instrument like the guitar, it's a simple equation: Time put in = proportionate quality out. Play and play and play. The more skilled I've gotten at my craft, the more fully-paid gigs I've booked. It's just that simple. (1+1=2)
3) Find a way to become simultaneously true to your own voice—and—open to the voices of others. (This one is especially tough for me.)
What are your main hopes for the future?
To die with an open heart, and an empty tank. (And to leave a bit of substance behind.)
What's something about you that most people don't know?
I'm a raw-foodie—meat and all. I've also written a few books on the topic of human consciousness, spirituality, and personal freedom. Currently, I'm working on my first novel, an epic journey tale of love and friendship. Hope to have a draft done in 2020.
Is there anything else you'd like to say?
Thank you for your support. What you may or may not be aware of is that every single "play", "like", "view", "share", and "subscriber" really helps to further push the music into the world. Everything helps. Thank you.
* * *
Download the music via iTunes or Amazon or stream it on Spotify & Soundcloud. Find & follow Noah James Hittner on Facebook, Twitter, Reverbnation, Instagram or visit his Website.