Following the release of her new single Good In Goodbye, we caught an interview with artist and songwriter Milly Mercury, to find out more about her creative choices, the meanings behind the song, and her dreams as an artist. Here's how it went.
* * *
Hi Milly – great to chat with you, thanks for the interview! Congratulations on the release of Good In Goodbye, a beautiful single. What does this title and concept mean to you, and what inspired you to write the song?
Thank you so much for having me for the interview. The title Good in Goodbye came from me wondering why goodbye has the word "good" in it when it could be so painful saying goodbye to someone you love.
Throughout the chorus I ask what the good in goodbye is, the song inspired by a breakup. I actually wrote the song the same day I was broken up with, and the emotion wrote itself through the lyrics and you can hear the melancholy through my singing, I recorded it the same day as I wrote it.
The intimate presentation is particularly refreshing at the moment, purely a voice and ukulele – fairly live sounding. Is this an intentional direction for you as an artist, or more reflective of the personal nature of the song?
The raw sound actually was because I recorded it live in my bedroom, after I wrote it down on tear stained paper, like a diary entry. The presentation is very intimate. I wanted to record it in a more professional manner after writing it, but I knew my voice wouldn't have conveyed the same heart aching emotion again, the way it did when the emotional wound was fresh and delicate.
While the release feels very intimate and related to a particular relationship, it also touches on ideas that seem more broadly relevant to topics like depression. What's the contempt you speak of, and do you think these are feelings shared by many right about now? What can we do to overcome heartbreak, or to lift ourselves up again?
This song is a break up song, melancholic with a futile perspective on ever seeing the optimism again. This song is for that fresh break up feeling, where crying and mourning the loss of a relationship on the first day of being dumped is therapeutic almost. The crying is definitely necessary and encouraged. So that after you release the salty tears you are ready to come out and see the sunshine again.
In perspective, there is good in goodbye. The good in goodbye is when you wake up the next day after all the tears were cried to realize that the beauty in goodbye is a chance to say hello to new and better days, full of sunshine and birds singing and music, happy music because that goodbye taught lessons for self love, and a post break up glow up.
What made you choose ukulele as your main instrument?
I love the ukulele, mine is a tenor sized one called a Harmonia with maple wood and F shaped sound holes. I chose the ukulele because it has a happier sound, I wanted to juxtapose the sad lyrics with a more balanced out happy sounding instrument.
Where are you currently based, and what was the acoustic music scene generally like there (before Covid)?
I live in sunny California. Honestly the acoustic music scene here doesn't involve many ukulele players.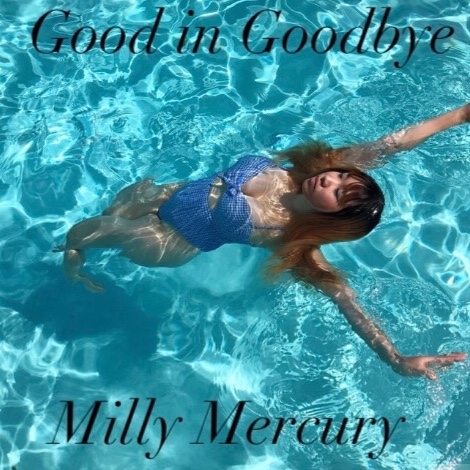 Who or what would you say first inspired you to write songs?
I took a class called interpretive speech where I wrote a poem inspired by
Shakespeare's sonnet 141 from The Taming of the Shrew, and after I wrote the poem I turned it into a song called Green Eyes. A lyric from Green Eyes goes "for the cause of my joy is the root of my demise" which was inspired by sonnet 141: "only my plague thus far I count my gain, that she that makes me sin awards me pain."
The single is extremely introspective, thoughtful and poetic all at once. Do you read much poetry or literature, and does your creativity manifest itself in any other ways?
I took a creative writing course where I read a lot of poetry. I am currently working on a project, I wrote a children's book that is almost ready to be published. My creativity also manifests through drawing, I drew the artwork for the single actually. It's a sketch I did of a young Adriana Lima, the drawing of her eyes have a look of longing in them that I felt depicted the single well.
I also love to express my creativity through dance and photography. My favorite music to dance to is 70s, there's a really fun club in West Hollywood called Good Times at Dave's Wayne's where you enter the venue through a refrigerator and it's like going through a time machine where you enter a house party in the 70s that only plays songs like Dancing Queen and Stayin' Alive all night.
In your view, what's the best thing that could happen for an independent artist – what's the dream?
My dream is to fulfil my creative potential, I want to release a lot of meaningful songs and create beautiful music videos. My dream is to sing Green Grass live with Tom Waits. I also have a dream of writing a modern musical. I would love to sing a jazz number live with a jazz band on stage wearing an elegant red dress sitting on a grand piano.
What's something about you that most people don't know?
I relate to the Pokémon Jiggly Puff because my favorite color is pink, and like how Jiggly Puff sings lullabies, I wrote a lullaby called Beautiful Baby Girl, that also has two other different versions, Beautiful Baby Boy and also Beautiful Baby Bear, that's included in the children's book I'm working on publishing.
Also other things that you probably wouldn't have guessed is that I love rapping, it's a new outlet that I think is like hip poetry, hip hop is hip poetry. Poetry is a philosophy, a way of life. You can be a poetic dresser, a poetic lover…poetry is not just words. You can live poetically, where you may not count the lines but out comes a wise haiku. That's a cool (and not at all pretentious) strive for a way to live…poetically.
Is there anything else you'd like to say?
The Good in Goodbye: saying goodbye is sometimes sad, but remember that not all people and situations are meant to last forever, each person in your life teaches a lesson, so the good in goodbye is knowing that if it's meant to be, you will get a Good Hello, but if it's not meant to be, then Good Riddance.
* * *
Download the music via Apple. Check out Milly Mercury on Instagram.