Following the release of his brand new short film Falling Sky, we were blessed with the opportunity to interview artist, actor and director Mike Anthony to find out more about the project and what's driving him to create in such a way. Here's the conversation in full.
* * *
Hi Mike – thanks for the interview, and congrats on the new release. What can you tell us about Falling Sky?
Thanks Rebecca, Falling Sky is an idea I came up with after filming the trailer for The Englishman. I was at the studio recording voice overs and I decided on a whim to record the song. After the Englishman came out I decided to make Falling Sky and never looked back.
How did you come to be involved in this project, and what do you hope people take away from it?
Well as you know it was inspired by Hotel Chevalier, Wes Anderson's short film. I remember watching it and falling in love with the concept. I also drew inspiration from Edie Sedgwick's screen test for Andy Warhol which is why the film is mostly in black and white. I hope that people are inspired to create, and experiment with crazy ideas like Warhol and Anderson or to try to do as many genres as they can like me.
How did you come up with the concept for the video?
Watching Hotel Chevalier for the first time, I realized that the song Where do you go to my lovely by Peter Sarstedt played a major role in the film. I actually muted the film and played my song in the background and realized that it worked so much that I ran with it. We filmed the entire movie in 5 hours with Lucas Miller and I having only a few video chats and Pagie Wilson and I having a few hours of rehearsal the day before. Fun fact Pagie Wilson actually came up with the name Falling Sky during pre production.
How long have you been acting and creating for, and what would you say are your biggest inspirations?
Wow, since I was a kid. I mean my first role was at the age of five, I was doing a drama class play of Romeo and Juliet. I played Romeo. It was a disaster because I couldn't remember my lines so the director had a much older kid feed me my lines the whole play. I was five then so it was okay.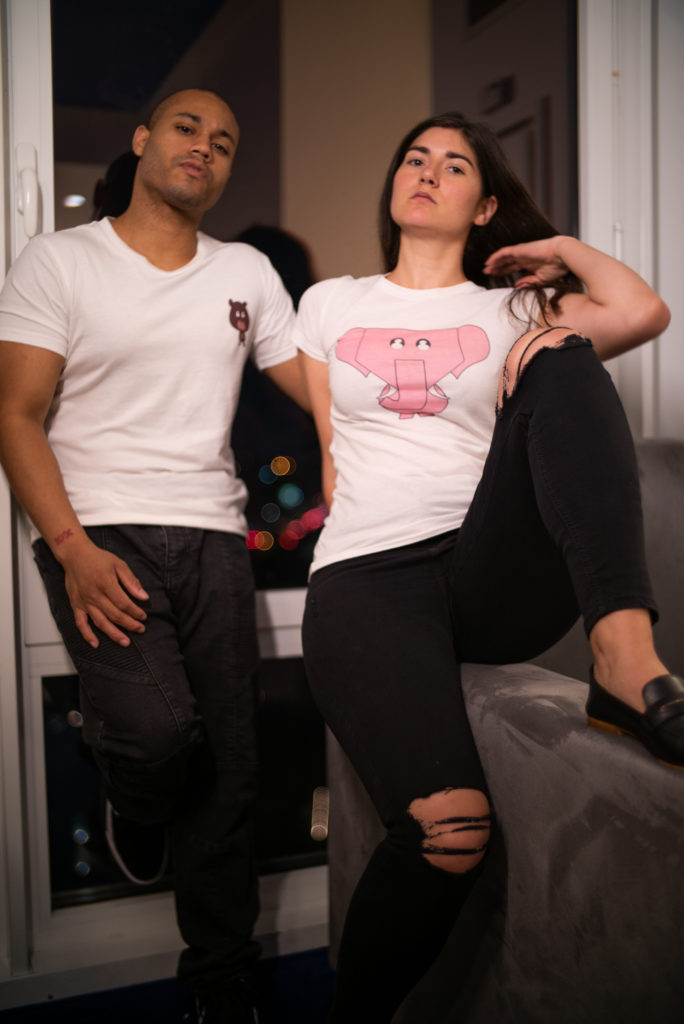 How would you describe yourself and your approach as an artist?
That's a great question. I like to think that I'm unique but so does everyone else right? So I'll say that I'm passionate, diligent, and hard working. I feel that there are stories that need to be told way beyond this film and I have ideas that I believe will change the world.
What's the bigger picture – what are your aspirations, and where do you hope to take things next?
Festivals. I want to win, and get some bigger things under my name. I'm really just starting out as a director. So this is really what I consider my first film. I'm constantly learning and I'm grateful I have such amazing and wonderful people to work with that can put up with my peculiar style of film making . The entire crew Veronica Mercado, Lucas Miller and the amazing Pagie Wilson were all very passionate, caring, and understanding. I'm honestly grateful I was able to work with them. They helped to make this film a reality.
What are the main values you want to represent going forward?
I want people to someday say the words "Is there anything he can't do?" Because I have been Director, Fight Choreographer, Writer, Co-Producer, Singer/Songwriter and the list goes on. I do this for many reasons but honestly I wouldn't have it any other way. It's a beautiful learning experience. Spike Lee once said he was the director, assistant director, and D.P all at once in some of his earlier films, while also playing a supporting role.
What's something about you that most people don't know?
Well, I was homeless for a few years off and on in New York. I lived in a homeless shelter in Wards Island for a year straight before turning 21. It was rough but it inspired me to push myself and accomplish my goals. I have since collaborated with different organizations in helping to feed and clothe those in need. Which is a very rewarding experience.
If you could collaborate with anyone at all, who would you choose, and why?
Off the top of my head I would say Quentin Tarantino, Paul Thomas Anderson, or Ryan Coogler, They are all amazing, but really there are way too many people I'd love to collaborate with to mention.
Is there anything else we should know?
Yes, expect more from me. This is only the beginning.
* * *
Find & follow Mike Anthony on Facebook & Instagram.