Having recently released her superb new album Where Wild Hearts Beat, we caught up with singer and artist Lisa Nicole to find out more about the songs on the project, her journey as a musician, and her plans moving forwards. Here's the conversation in full.
* * *
Hi Lisa, hope all's well with you – thank you so much for the interview. What a beautiful album – congratulations on the release! Having heard a few of the singles it was a genuine pleasure to delve in and listen in full.

Oh thank you so much! I really appreciate it! And an interview is always a pleasure.
What can you tell us about Where Wild Hearts Beat – how did the title come to be, and why these seven songs?
It took a few years to finalize these songs. I wrote two of the songs – Sunday Funday and Gypsy Girl – around 5 years ago. The rest of the album was mostly written in Nashville. In the end, the songs that made the album were the songs that felt right. And when we were looking for one more, we wrote Do Your Thang and it turned out to be the fun dance, sing-a-long song I was looking for.

The album title came from lyrics in Gypsy Girl. I went through each song and pulled out one liners, and words I liked, and narrowed it down to "go with the flow where the wild hearts beat" – hence Where Wild Hearts Beat was born!
Did you write the songs for the project yourself, and was there a thread connecting each track?
I would say Do Your Thang was the only song I wrote specifically for the album, since I was looking for that fun, feel good, danceable track. All of the other songs were written in the moment during their respective writing sessions, and they represent how I felt at the time. It's just what came to me.
I co-wrote all of them along with some amazing writers in Canada and in Nashville – like Tenille Arts, Mallory Johnson, Beth Marie Anderson, Phil Barton, Brian White, Dave Pahanish, and my longtime guitar player, Jason Thomas. By the end, it was a matter of choosing which ones to record.

Overall, you could say a few of the songs are connected, and that the whole album is fairly "feel good" in nature. Even the slower sad songs are about hope.
Your vocals are faultless, regardless of the style or pace of each song. Are you vocally trained, or is this something you've simply honed through passion and practice?
Such a nice compliment. Thank you! I've had some training over the years. In 2011, I went to music school and sang a lot of jazz and Italian songs for training. I also spent a couple years working with Judith Rabinovitch in Vancouver – she's been my favourite vocal coach of all time! Those years of training helped me understand and learn the tools to use my voice safely and not to try to sound like anyone else, but me.
A lot of practice is involved. When I lived in Nashville, I really honed in on my sound. When I recorded Where Wild Hearts Beat you can really hear the difference from my last two EPs.
What can you tell us about the story of Dear Mama – why was it important for you to include this and to be so open about those experiences?
I wrote this song on Vancouver Island with Beth Marie Anderson. We had been writing for years, and we had even written a few other songs that were very personal to me, so I knew that she would be the person to write this song with. At that time, my Mom had been struggling with alcohol abuse, depression and physical and mental abuse from a relationship. She had been in a very hard and dark place for many years. We went through some scary moments throughout this time.
This song ended up being my voice of hope for her, so she knew I was never giving up on her. When I recorded the song, she was still in that place… but now, by the time of the release, my Mom is now 1.5 years sober and in an amazing place in her life. It's like I prophesied her changing her life with this song.
There's a strong balance between upbeat and mellow, reflective songs on the project – was this intentional, and in either case, were there any songs that came close to being included but just didn't feel right in the end?
Yes! I had one song on the album about a heartbreak from a past relationship. And then I thought, "nah, this doesn't really need to be on this album. That's what my last EP was all about." Since I'm in such a different place in my life, the intention behind this album was to be happier, hopeful, and fun! I think it shows a lot of my personality.
Which song is your favourite to perform, and why?
 I love performing Do Your Thang – I end up dancing around the stage when I perform this one! Wait On Me is a favourite as well, I love singing that song.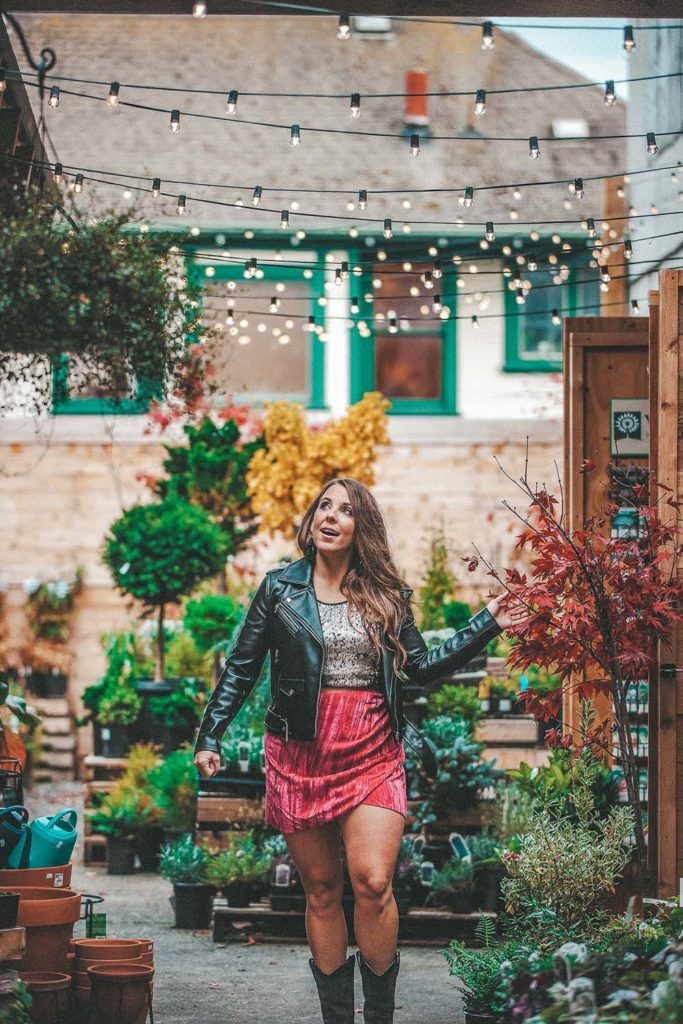 Will there be a tour to follow this release, and if so – will that be solo or with a band?
Well, when touring opens up in Canada again, I'd love to get back out there! There's a few one off shows happening, but it's not easy to plan out full tours right now.

Usually I tour as a duo act. My music partner, Jason Thomas, who also co-wrote Wait On Me, Do Your Thang and Sunday Funday, has toured with me multiple times across the country! He's an incredible acoustic player, and adds beautiful harmonies. I honestly love touring that way!
What else do you have planned in the coming months?
In the downtime of the pandemic, I studied real estate! I'm now a licensed REALTOR® with Century 21. Most artists have some kind of side hustle to fund their career, and I'm excited for this! I've often done social media or worked in restaurants alongside my music career. This has been a fun change!

Other than that, promoting the album and playing a live show whenever I can! I really miss playing live.
What's the best piece of advice you were ever given?
I've heard many, many times to "be your authentic self". And it took me a few years to really embrace that. The other advice is to always treat everyone with kindness. You never know how down the road you might need someone's help or how that person could have an impact on your career.
Is there anything else we should know?

I've got a podcast called Wild Hearts! Another creative outlet for me that I've really loved doing. It's a mix of solo podcasts and interviews of people telling their stories. It's available on the usual platforms, Apple and Spotify podcasts!

I also love connecting with people on my Instagram @lisanicolemusic.
Thanks so much for the interview!
* * *
Check out Lisa Nicole on Spotify, Facebook, Insta & Twitter or visit her Website.