Jon Magnusson is a fantastic musician & blogger whom we stumbled upon thanks to his article Tips For Independent Artists (a really useful resource, well written & well worth checking out if you're hoping to reach a wider audience with your music). We reached out to Jon for an interview to dig a little deeper into his thoughts & expertise, and he very kindly obliged. Here's how it went. 
 * * *
Jon – it's such a pleasure to chat with you, thank you! How long have you been making music now?
Hi and right back at you! I'm really glad to be a part of this blog. I've been making music since I was 16-17 and have recorded music at home since then. But it wasn't until a year ago I decided to do it seriously and my development the last year has been amazing.
When did you start blogging, and why?
It was just after I released my first songs earlier 2017. I then started taking part in the independent music community and I realized how much great music that's out there that never gets the attention it deserves. So I decided I wanted to do what I can to spread some great music. And it's also a good way to connect with other artists, bloggers, radio etc. It's also a great way to show support for the people supporting you, therefore I always mention the radio stations/blogs etc. in my blog.
What made you start compiling information and advice to share with other independent artists?
I got a lot of help from people sharing their experience with me for free, so I wanted to do the same and especially from an artist perspective. I don't wanna tell people exactly what to do though since everyone needs to find their own way of working. Also I link to the stations and blogs without giving out direct contact information to teach people how to research, which I believe will benefit them in the long run.
In what way has networking helped you grow as an artist and performer?
Oh, I could write a whole article about this (I might do that in the future). Of course it has grown my fan base a lot and today I got a solid listening on Spotify and other platforms and I also have some really dedicated listeners that I can interact with 1 on 1 via my Messenger Channel.
Also with all the cool music I discovered I got inspirations to new songs and it also makes me really humble and I realize that great music isn't enough to make it in today's business since there is so much great music out there. Networking is a necessity to reach out to new listeners and fellow artists.
If you could offer three big tips, three snippets of advice to someone who wants to reach a wider audience with their music and start crafting a lasting career – what would they be?
1. Be genuine. If you contact a blogger or radio station, do at least some research so you can say something honestly about it. If you wanna get on a playlist, at least check out some of the songs that are on it.
2. Get to know other artists, and not only in your own genre. I've been so inspired of people doing, for example, electronica and metal – music that I don't make myself. But it really widens your understanding of music, making you a much better song writer.
3. Reciprocate. If a radio station plays your song, make sure to tweet about it and share it on Facebook and so forth. If you have a blog, write a few lines about it and put out a link to the station. That's highly appreciated.
Would you say that the internet / social media has enabled you to expand your reach?
Definitely. I wouldn't be where I am without internet. I'm not that in to going around playing live shows (even though I think it has its charm). Via social media I can interact with a lot of people in a more direct way and I actually made friends that when we finally met in real life, felt like we'd known each other for ever.
What are some of the best tools online in your experience for connecting with fans?
Twitter is amazing for getting to know new fans and then I use Facebook Messenger to keep in touch. Messenger is amazing since it both allows me to send out bulk updates and interact directly with my fans at the same time.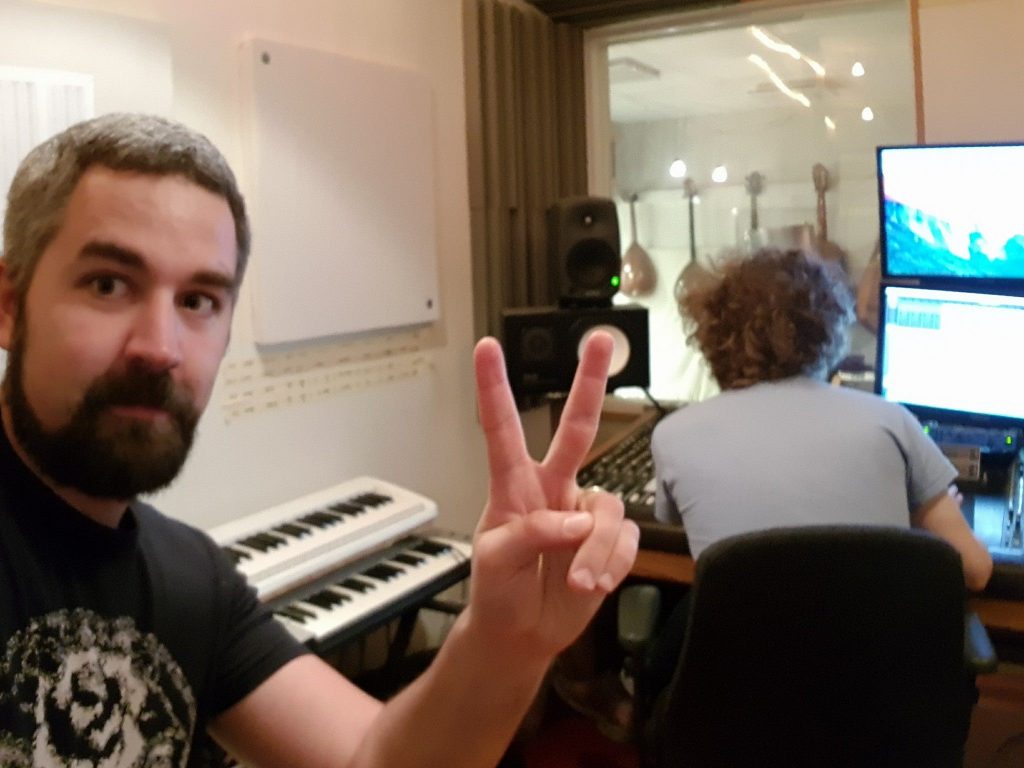 What's the best decision you made regarding your own music over the last couple of years?
To really give it a go and stopped being scared what people would think about it. And not be scared to try new things out.
What mistakes have you made, if any, and what did you learn from those experiences?
In the beginning I did what a lot of people do. I sent out generic e-mails to all blogs and radio stations I could find and that was really inefficient and quite boring. When I started to work on connecting with people in a genuine way it both became a lot more fun and much more rewarding since people started paying attention to my work.
How often do you write new music, and how does the process generally begin?
That differs a lot. Sometimes I write two songs in a week and then it takes two months until the next song. Often I just come up with a sentence and a melody in my head and build the whole song around that. Two of the songs from my upcoming EP were written in the car on my way to work.
What are some of the topics you've written about so far, and do you find that writing songs about certain issues is therapeutic?
I started to write a bit about mental health and also using my own experience from mental illness as an inspiration when I write songs. And that is really therapeutic and I also hope it can help with diminishing the stigma that still surrounds mental illness.
I also like to write songs about the everyday struggle of people, without it being too specific to make it possible for anyone to identify with.
What should people listen to if they only have time for one of your songs right now?
I would say Your Dreams from my latest EP.
Who inspired you to get into music, and who do you listen to when you're relaxing or when you need to get geared up for something?
The most important band for me was Ebba Grön, the biggest Swedish punk band and I actually had a cover band with their songs in middle school.
How important is live music to you, and what can people expect from a live show?
It's more fun than important since I work mostly with building my presence and fan base online. But I do like playing live every now and then and people can expect a little different interpretations of my songs since I do them alone with only acoustic guitar. I also try to interact with the audience using some humour to make it an even bigger experience.
What's been your greatest achievement in music so far?
I got a crazy idea this summer and actually went on a week's tour in the UK meeting a lot of the people I gotten to know via social media. That was a hell of a lot of fun and I hope to do that again soon.
What do you have planned for throughout 2018, and what's the bigger picture?
I'm actually having a kid in January so probably I wont have that much time for music as I've had in 2017. But I'm releasing a new EP in January that's gonna be my best work so far. And then I'm gonna work on building my fan base online, making some Facebook live concerts and so forth.
My goal in 3-5 years time is to actually be able to live from my music, at least be able to work less with my day-job spending more time creating music and networking with fans and other artists.
Is there anything else you'd like to say?
I genuinely love to get in touch with people, no matter if you're a fan or a fellow artist. So don't hesitate to send me a message or a tweet. And also, turn off your mainstream radio and start exploring the independent music scene, you will be amazed on how much great music there is out there. And have a fantastic year to come.
And try new things out, if you're an indie folk artist as myself, why not do a hip hop collaboration as I did with the Brazilian rapper Brunosmoky.
* * *
A huge thank you to Jon Magnusson for his time and a massive congratulations on the upcoming new arrival in the family. Stream his EP Psalms For Sinners on Spotify. Find & follow Jon Magnusson on Facebook, Twitter, Instagram & Soundcloud. Sign up to his messenger list or visit his Website for more info & blog updates.