Following the release of a powerful new album and a hugely successful tour, The John Spignesi Band kindly stopped by to talk all things live performance and songwriting in the modern world. Here's the conversation in full.
* * *
Hi John, great to catch up – huge congrats for the recent tour! After many years on the scene, this was your biggest tour to date; how did that change the way you approached things or prepared for each set?
Great to talk again! Thanks for the kind words. It sure was our biggest tour to date, and definitely the most fun.
I think one of the highlights was in early Spring when the three of us sat down and said "Wow. We have an epic Summer coming up." Every show was an adventure and we were so fortunate to meet some of the kindest people along the way. What a great time.
You covered sixteen dates across seven different states – how did you narrow things down in the end, and do you hope to add any particular missed locations for your next tour?
We wanted to return to some familiar markets where we had success but also wanted to branch out and try some new places. We hadn't played New Hampshire since Pre-COVID so to return there and to find that some people were anxiously awaiting our return was a great feeling. Maine was also a market that we had only played Pre-COVID too, but the festival we were able to be a part of turned out to be a true highlight of the Summer season.
I think in the future we just want to keep expanding our reach. Joe and I are fortunate enough to be teachers for our day jobs so when Summer comes we have complete freedom to travel and explore this beautiful country. We'll see where next year takes us.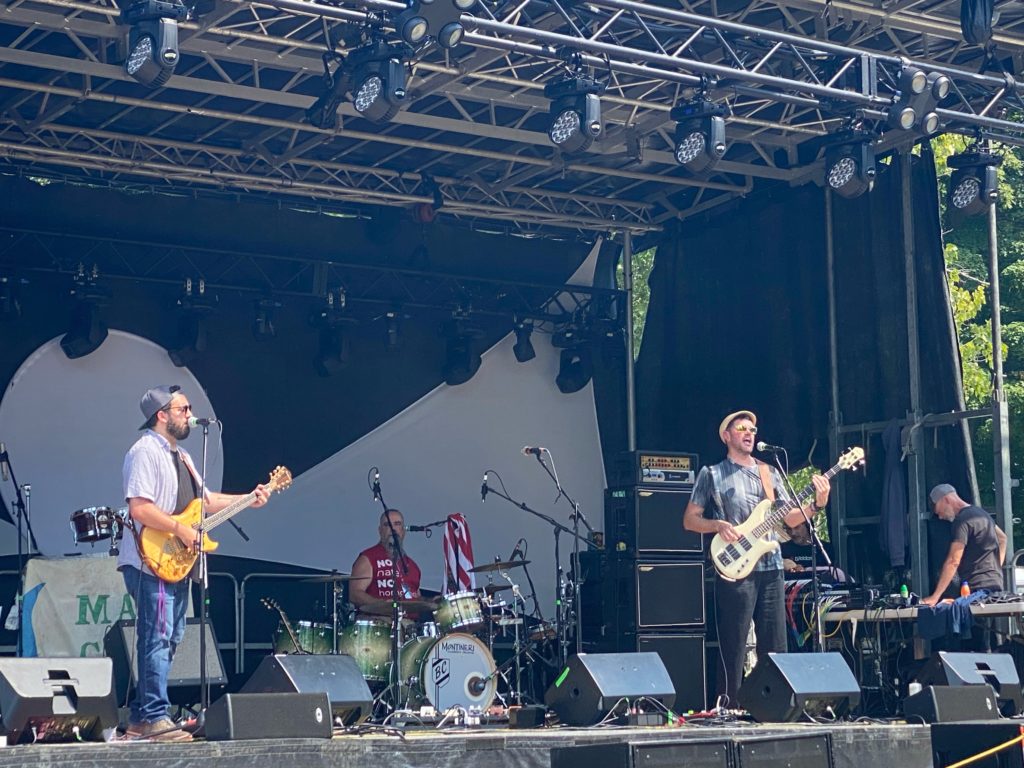 The album came out in March – what's the reception been like, and how did it feel to perform these songs and delve into these themes with a live audience?
The reception we received was nothing short of amazing. We played a small performing arts center the night the album released and we were all a bit nervous to say the least. Some of the themes of Roots are a bit heavy and I guess I was wondering how people would react. I try to take people away from the chaos of the world, so I guess I was worried I was being a bit hypocritical.
But I don't think I was, and I don't think I am. The themes on Roots are pretty straight forward: Be your own hero, be proud of where you're from, be kind, and help those in need. I don't think that's anything far-fetched and unattainable. Do you?
But in terms of the music, and as I've said before in our conversations, acoustic and electric music are not the same. Not even close. It's an entirely different set of chops.
Personally, I think I learned how to put myself out there more as a singer with this record and in turn it has made me more confident on stage no matter what type of music we're performing. I'm excited to continue writing and hopefully record the next electric record soon.
What's the live scene like at the moment, in terms of crowd energy and overall experience, prior to the lock-downs and isolated years of COVID?
It is crackling with energy. 2020 was a wash, 2021 was a bit of uncertainty and now things are back and people want to get out there and we want to play. We're ready to keep the fire burning.
What comes to mind as your most memorable moment from all of the shows combined?
I think just meeting and connecting with the people that make all these events run smoothly. I have some great friends who work in the festival scene and those guys work their tails off from sun up to way after sun down to ensure that everyone else can have a good time. It's incredibly selfless and inspiring to watch.
"As a performer, I try to be easy to work with and so I'm always checking in with my buddies working to see if there's anything I can do as an artist to make their lives a bit easier. It's a two-way street for sure."
Tell us about your closing date at Camp Creek – what does this festival represent for you, and what was it like to use a festival show as your final performance?
Camp was GREAT this year! Was totally a blast and to top it off it was the 30 year anniversary of the longest running jam festival in the Northeast. The guys from Max Creek as well as Rider Productions who make this festival happen are some of the hardest working folks in the game and to be invited to their event was truly an honor. Scott (Max Creek Guitarist) joined us on Guitar for two songs too and that was really special.
How does a festival set compare to a show booked entirely for your band?
Creating a festival set is interesting. It's like, "how can I create something that accurately showcases what we do in 45 mins – 1 hour, while also playing both originals and covers that will hold people's attention?" It's still a mystery to me, but luckily I have Joe (Bass) & Matt (Drums) to bounce ideas off of. Those two are great at keeping it honest.
When it's just one of our gigs where we have 2-3 hours anything goes! But we also have so many songs at this point so it's easy to rotate things in and out if we're not feeling something or if we're itching to bust out an "oldie-but-goodie."
Did you keep things focused on the album or include some oldies or cover versions in your shows?
Anything goes. Old and new. Gotta keep it fresh for the audience, and to ourselves for that matter.
You still have some shows left in the coming days – where can people catch you?
Fall Tour just got announced actually! Not too many gigs as the three of us have some much needed time to spend with our respective families but we've got a few things happening this fall with some minor travel. Joe and I will embark on our annual "Brewery Duo Tour" too this Winter so there's that.

Do you think about your next moves during a tour, or write any new material, or is it all about living entirely in the moment when on the road?
I'm always writing and always have something new to play and show the guys, but we've been really focusing on developing as a trio and making our sound as good as it can possibly be. Matt told Joe and I recently that this is the tightest band he's ever been in, and that's coming from someone who's been playing music with tons of musicians in the last 40+ years. It was great to hear and only inspires me more.
When we last spoke, you stated – "if we can take you out of the chaos of the world for even a brief moment, we've done our job." I imagine music fans have been craving precisely that escapism after the madness of late. How did that intention pan out – did you get a strong sense of having achieved it across these recent live shows?
The intention has and will remain the same. We as a band are just trying yo provide a sense of relief for a few hours. We could all use it. The message from JSB is pretty simple: "We're all human. Be a good person and right the ship."
Is there anything else we should know?
As we conclude every show, I leave you all with this: Be safe, be well, and be good to each other.
* * *
Check out the John Spignesi Band on Facebook & Instagram or visit their Website.