Renowned guitarist and creator James Robinson has released a plethora of original projects in recent years, not least of all the sublime and energising Electric Project.
We were blessed with the opportunity to interview James, to dig a little deeper into his journey as a musician, the stories behind the music, and what his hopes are for the future. Here's the conversation in full.
* * *
Hi James, what a pleasure – thanks for the interview! For those who don't know, how would you define your approach to making music?
Thank you for having me! My approach to making music is greatly varied. Each approach is rooted in the fundamentals of the three things that make up music; rhythm, harmony and melody. Generally, a piece of music emphasises one of these aspects more so as to not detract from the impetus of the tune.
Huge congrats for the explosive and brilliant 'Electric Project'. Aptly-titled for sure. What's the story behind this collection, and what's your composing process like (or is it more about jamming it out?)
Thank you! The story behind The Electric Project is to give a glimpse into my love of playing over blues, rock, Latin and jazz fusion with loud guitars, driving bass and drums. It is so interesting that the word driving is the descriptive word, as I like to listen to blues rock music literally while driving. As the sun goes down, I generally listen to more jazz and classical.
We recorded the bass and drums live in a little studio in Berkeley (East Bay Recorders) with Michael Rosen (Grammy) engineering. My son James Eric Robinson on bass, Celso Alberti on drums and Timo Gutierrez on hand percussion. I meant to put out the album, had the concert booked and ready to go, then COVID hit, and I went back and recrafted and fine-tuned the album to what you hear today.
A bit of Electric Project is power trio with strip down production, and other tracks like Vista de la Montana, Red Sky, and Sapphire are multilayered. Stratus I reworked to have two very different guitar approaches. Funky Blues and Trading Lines have less production and are more close to the original live in the studio tracks. The extra time really gave me the opportunity to make the album exactly the way I wanted it to sound.
The switch from the electric tone to the acoustic fast-fingers on the likes of Blues for My Brother Pedro is impressive. How do you decide which direction to take a new track in?
The track Blues for My Brother Pedro was inspired by my childhood memories of my brother Peter (nicknamed Pedro) who would play stinging blues on an old acoustic guitar. I am going for the vibe that my Brother passed on to me.
Sometimes I have a very clear vision, like writing Hummingbird for my girlfriend, where I was thinking directly to write about her, and other times I will let the music to come to me as though out of the ether.
I can always craft music, but I think really great music doesn't come from craft alone, there is a tapping into something beyond the intellect of craft that makes for true art.
Which guitarists or musicians were the very first to grab your attention, and who do you still listen to today?
I would say the first guitarist to grab my attention was Andres Segovia. I think that was my earliest memory of guitar outside of my brothers playing. Several of my brothers (Mark, Michael, Richard, Peter, Danny and David) all played guitar.
We had a record player in the living room with hundreds of records of every style. There were multiple copies of Zeppelin, one and two Hendrix smash hits etc. I would put these records on to be gobsmacked. It was amazing! Then when I was like 11 or 12, that was when I heard Jimmy Page.
The guitarists I love are Jimmy Page, Hendrix, Stevie Ray Vaughn, BB King, Allan Holdsworth, Larry Carlton, Pat Metheny, Jeff Beck, Bill Frisell, Steve Vai, Santana, Julian Bream, John Williams, etc. Al Dimeola, and Paco de Lucia, John McLaughlin. I'm missing some people but that is a good list.
"Every imaginable guitar was available in the house so I really got a taste for so many sounds."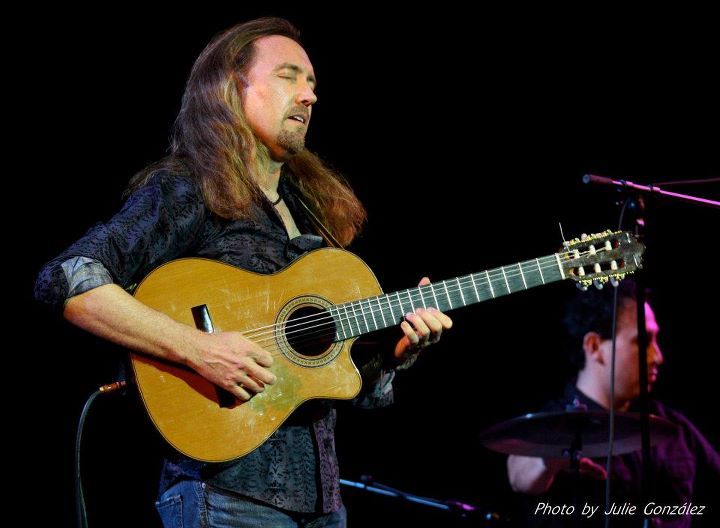 What's a live show like from you – full band set-up, acoustic and electric on hand, or do you opt for stripped-back organic sometimes?
The live show is varied from power trio blues rock, Latin quartet quintet, solo Classical. This is a good question as I feel recording and live playing can be very different sides of the same coin. I feel I do each of these very well.
Live playing has an immediacy, a sense of being switched on – very focused, pushing the boundaries, yet feeling an unwavering joy. Recording relies on getting the live take, sometimes in a much shorter span of time, and often out of order more like a film actor that may do scenes out of order.
I'm really an improvisational player, and can always rely on reading the energy of an audience and bringing it up and stripping it down.
What's the San Francisco live scene like for this genre, and what's your favourite venue or event to grace there?
In the Bay Area I had an amazing 15 year residency at Cascal in Mountain View. This multicultural hub had dancing with people in really close proximity which made the energy amazing. This afforded a great deal of improvisation of sound and music, playing songs for people from around the world.
We did a lot of Latin World Jazz with dance grooves, and people bringing forms of dancing from all around the world. I've played at the Livermore Center for Performing arts several times to amazing audiences during the Guitar Player Live festivals. The Kuumbwa Jazz Center in Santa Cruz CA is great venue to play. The Fox Theatre in Redwood City is great for eclectic guitar shows, the Carmel Baroque guitar festival, there are so many wonderful venues, the Palace of Fine Arts in SF was fun too. The Bing Theatre at Stanford was exciting. Lots of great musical influences in the Bay Area.
You're also partly based in Colorado by the look of IG. How do the two states compare in terms of live music and the indie scenes?
The confluence of my son moving out of the Bay Area to continue his schooling at Cal Poly Humboldt in NorCAl, and our house lease in Los Gatos hills coming due, we decided to move to the Denver area. It is liberating to shake things up every now and then as things become too comfortable. We have found the people of Denver to be so warm and hospitable, it is wonderful to carry on conversations in the grocery store lines, coffee shops etc.
The music scene in Denver is inviting and alive. It feels very inspiring to be in a new environment and find new inspirations.
I first heard your music through Azul Sky – beautiful, still a personal favourite. What can you tell us about this track?
I wrote Azul Sky to play at Cascal. The tune really came about from the melody. I feel that it is the hook that drives that tune.
We recorded the bass and drums live in the studio without a click track to let it breathe. In my home studio, I put on the rhythm, melody, and solo guitars, and decided it needed another colour, so then I added mandolin.
You come from a mighty family of thirteen children – how do you think this impacted you as a musician and performer; does it help with confidence and focus, maybe even the competitive side?
The fact that I came from a large musical family afforded me a great advantage, before I ever studied piano or picked up a guitar or thought of how to interpret music I was already immersed in the various techniques and forms of music.
My older brothers had a successful band called Blues Team. My brothers and sisters playing classical piano while drifting off to sleep. The house was always awash with music. My brother Mark always spoke of tremendous commitment was necessary to make great music, and I took those things to heart.
Every imaginable guitar was available in the house so I really got a taste for so many sounds.
If you could only perform one original piece for a new listener, which would you choose, and why?
I can't think of just one piece. I did All blues with all these different guitars, because I can't pick just one. Bronze from my album New Beginnings has several different sounds and influences melded together. If I HAD to pick one original piece, it would be that. Bronze starts out with a Latin groove and I play my jazz guitar, and I play a distorted Paul Reed Smith through a cranked Lonestar Mesa Boogie.
Do you still take time to learn new styles or cover songs, and if so – what's the latest skill you've been working on?
I'm always learning, picking up a Flamenco book, classical book, etc. I teach guitar so I am always working on new tunes with my students. I'm coming out with a classical album of contemplative pieces, mostly contemplative guitar. At the same time, I'm putting out a Texas blues EP that we recorded during COVID lockdown live In the studio with my son on bass and Bryant Mills on drums.
At the moment, I'm working on recording a bluegrass album, and an early 16th century Spanish vihuela & guitar pieces. I am always working on various sounds and styles. I create backing tracks for my students and have a whole sound cloud playlist of backing tracks that I created available on my Patreon. I try to put out 4-5 new tracks a month.
What's something about you that most people don't realise?
I'm an avid pick up soccer player and you can find me on the pitch rain, sleet, or snow.
What do you have planned for the summer and beyond?
I plan to take over the world! (Pinky and the Brain reference) Putting out the new albums (classical and blues rock) are my main plans for the summer 2022, and playing lots of fun shows.
Is there anything else we should know?
Check me out on the socials to keep up with all the latest releases, and Patreon has some cool content (ad free playlist, backing tracks for jamming and practising guitar).
* * *
Check out James Robinson via Facebook, Instagram, YouTube & his Website.