Eric Ryan is an established and dedicated country music singer and songwriter based in the US. His music offers audiences a captivating array of heartfelt stories from various viewpoints, always beautifully written and performed. This past week we were fortunate enough to catch an interview with him. Here's how it went. 
* * *
A big thank you for your time today, it's a pleasure to get the chance to talk with you about your music.
You're very welcome! Thank you very much for having me.
The song To Be Loved Like That is based on the story of a couple who stayed strong through years of difficulties elsewhere in life. How did you first come to hear about this story, and do you think true and lasting love like that is out there for everyone, even in today's ever changing, fast-paced world?
To be Loved Like That © came from a story line I was fortunate enough to witness. The narrative in this song circles the lives of my Great Grandparents Wilburn and Lillian Kirkland. They were two of the finest people I have ever known. In my youth I spent many summers on their hay farm outside of Dade City, Florida.
The hook for To be Loved Like That © came from an encounter in Nashville. I saw two elderly tourists outside Bobby's Idle Hour off Music Row kissing each other and had a simple thought. 'Man, I wanna be loved like that.' The moment I said it I thought of Nanny & Pop (my Great Grandparents).
I believe that finding love, real love, requires a wildly different approach for each person who seeks it out… and make no mistake, love must be sought out and worked at consistently. I also believe it depends highly upon a person's past and the events in it. People need the ability to communicate effectively in an effort to find compromise. I believe the world and its pace have little to do with matters of the heart. The world is nothing but circumstance, after all, and circumstance is merely a catalyst for choice. We always have a choice.
Do you tend to write songs about other people or events that interest you, rather than about your own personal experiences?
For the most part my songs are comprised of various events that have taken place in my life and my own perspectives on them. In some cases songs are born from stories I hear, or things I have witnessed. I Move On © for instance is based on three separate threads from three separate people: A friend's love loss, a story I was told about a man that lost his wife to cancer, and my own ever present need to push on and move forward. I Move On © tells a story about a man that lost everything when cancer took the life of his wife. He blamed God for this because who but God could endure such pain and rage.
"I have to find a way lyrically and vocally to reach that person(s) out there that needs those words the most. It's never enough to just sing a song." – Eric Ryan.
How do you know when you've hit the mark with a song; do you sense a connection during the writing process, or do things not fully come to light until you perform it live or somebody listens in full?
Have you ever awoken from a dream and struggled to put your finger on just what it was you had seen and heard in that dream? It's a bit like that when I write. I can feel something there, but I can't yet get a good grip on it. I will typically finish a song and then play it over and over again in private until I believe it has progressed to the point where I'm ready for a live crack at it. Very few people will hear the song before 'live trials', as I call them.
After that it's simply a matter of playing the song numerous times to a full range of people. I believe a song has infinite power. They can help people recall a smell, taste, touch, even a memory or an emotion long since buried and forgotten by time. That is the target I aim for and trust me, there is no mistaking it when you hit it.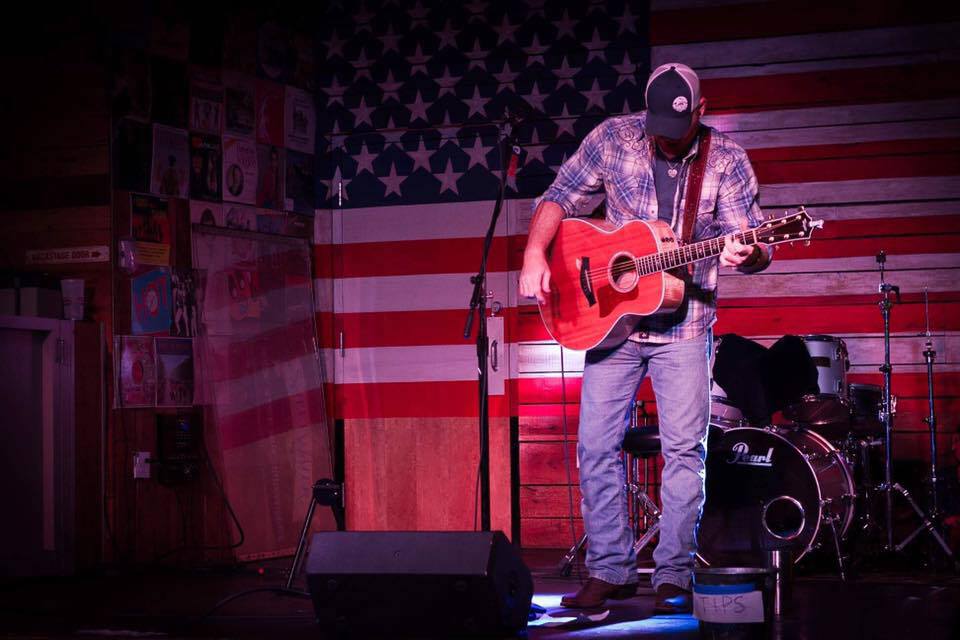 Country Sound has a great vibe to it, a really cool and addictive sound and melody. You tell a great story. Do you plan what to write about before you sit down with the guitar, or do you find yourself jotting down certain lines or imagery ideas arbitrarily throughout your day – as and when they come to you?
Thank you very much! That's extremely kind of you to say.
Most of the time when I actually sit down to write I already have some small piece of the puzzle on the table. True, there are times when lyrics seem to slap me across the face out of nowhere, but these occasions are rare. Generally speaking when I get an idea or melody in my head I will do a quick refinement and then record it onto a voice app or digital recorder for a later time.
Lyrics always seem to pop in to my head at very inconvenient times, lol. In the middle of February I was in Nashville at the Bluebird Cafe doing a songwriter's night. Earlier that night security mentioned how cool it was when Garth Brooks came in to film a promotional video there. Afterwards I was sitting at the table listening to other writers perform and suddenly I got an idea for a verse to a song I had been previously struggling with. I remembered a time from my youth when we used to drive out to the beach listening to Garth Brooks and I incorporated that memory in to the second verse of the song. I jumped up and hurried to a server standing at the register in back and asked her for a piece of paper and a pen. I did this in a giant hurry and when I realized this, I made an apology for rushing her. She chuckled to herself, and said, 'Happens all the time.'
Long story short, I found a great line for my song. Songs come together in the weirdest ways sometimes, but always how they were meant to.
How important is live music to you as an artist? Do you think the acoustic music scene has changed much in recent years, with the evolution of the internet, the online world?
To me Live Music is essentially developing an artist's entertainment chops, otherwise known as 'paying your dues'. Doing so refines his/her ability to tell a story and do so effectively from the stage. There must always be power and passion behind what it is I choose to sing, otherwise what's the point? I'm embarrassed to say my knowledge of the 'acoustic music scene' is rather limited except to say that I see most acoustic artists employ looping/harmony pedals in their sets. That is something I don't do. I don't play too much lead guitar and, truth be told, I believe it takes too much attention off the people in front of me and they are my sole concern.
As for social media and the internet, the simple truth is there for all to see: online marketing is vastly important and extends the artist's reach far beyond what we alone are capable of achieving in person. Thank you so much to all those that follow me or watch and share my videos. I truly believe a performer is nothing without their fans. How could he/she be? To perform, someone must first watch. All my love to you guys!
Do you prefer to play small, intimate gigs, where you can really connect with people up close and personal, or does the bigger stage, arena, festival-style scene excite you more?
I love it all. Every stage has something new to offer. Smaller stages are more intimate and there is much to be said for that. I will never be done learning and venue is no exception. I learn so much from every stage I play no matter its size, but as a general rule I try to always push further and higher. When the time comes and I stand on stages in front of 25,000 people, I will always seek to do smaller shows from time to time as a reminder of where I come from and those that put me there.
What's the best live experience you've had so far, and what made it so memorable?
About a month after I first began to perform and write again (July 2016) there was a showcase a friend had asked me to play in South Florida at a venue I was previously unfamiliar with. It had a capacity of roughly 120 people and though I didn't know it yet, that night I was performing at an R&B/Hip Hop club. I was a bit edgy about it and so I approached my friend (though I already knew her response) and asked, 'You know I'm a Country Music singer, right?'. She smiled at me as if to reassure me and only said 'trust me'.
I walked on stage with a bowling ball in my guts that night. I stood there alone, the only white guy in the place. My stomach was in my throat and yet the only thing I can remember is that I wanted very much for the audience to enjoy my set, but for some reason was sure that they most probably would not. I played three original tunes that night and as I hit the last note my heart was racing. The chord rang out for what seemed an eternity… and then it happened.
That night 120 people acted in direct opposition to everything I thought I knew; a roar so loud, it shattered every imaginary line drawn out by genre. It radically redefined what 'music' means to me. The applause was deafening and though I should have been thrilled the only thing I felt was shame. I left the venue that night with a very different approach on who I would become as an artist and more than that, who I wanted to become as a man.
What do you have planned for the coming months, for the summer – any exciting gigs, releases or collaborations we can look out for?
I am devoting all my efforts in the coming months into two main areas of concentration: Recording an EP and the Live Show. The live show being the far easier as that at least rests on familiar ground. I have no earthly idea yet how I am going to find the resources necessary to record, but somehow I know God will open the doors. I know this because he has done so at every turn and helped me over every hurtle put in my path. I am of course, always focused on songwriting and exposure as well.
Thank you all at Stereo Stickman for having me once again. It has been a privilege! Best wishes to you all.
* * *
Find and follow Eric Ryan on Facebook, Twitter & Instagram. Visit his Website for more information.