Devin Kennedy's brand new single No Worries has been rightfully making waves online lately. His laid-back sound and heartfelt approach to writing and performance are capturing hearts far and wide. We were fortunate enough to bag an interview with the songwriter and artist, to find out more about his journey so far and his hopes for the future. Here's how it went.
* * *
Hi Devin, thanks for the interview – how does it feel to share No Worries with the world, and how has the reception to the song been so far?
Anytime! Thanks for having me. It feels great to share No Worries with everyone. I think it's the perfect summer jam, everyone seems to be really digging it so far.
What inspired you to write this one?
I think I tend to get caught up in the day-to-day a lot. I have a tendency to focus too much on money, time…career oriented stuff, and lose out on time with the people I love. This song is my reminder to not sweat the small things, and that spending time with the people you care about is priority #1.
What sort of impact did studying music at Berklee have on your approach as an artist?
Berklee taught me so much. I studied production and business, and both disciplines are beyond helpful in my artistry. Over anything, Berklee taught me how to collaborate and how to keep an open mind when creating. Berklee is the best.
What steps did you take to achieve successes such as radio play and features in Apple playlists?
I've been really lucky to have the support of awesome fans and friends/collaborators that are in the industry. It's all about making friends and being good to the people who take care of you.
Is there a longer project on the way?
Yes. Can't wait to show everyone. Lot's of music coming before the end of the year.
When did you first realise you had a passion and talent for singing?
I was actually scared to sing in front of people for a long time. I loved music, loved playing drums/guitar growing up, and played shows with random bands all the time as a teenager, but didn't sing at all until high school. As friends/bandmates went off to college to study business, communications etc….I just wanted to keep doing music. I knew the only way I could truly make this into a career was to do my own solo thing, sing and produce.
How have you honed your voice and writing style over time?
In every way. I'm never not working. I try to get better, or try new things every day. The real growth comes from writing/producing with really talented people that you can learn from. I've been lucky to work with some amazing people the last few years.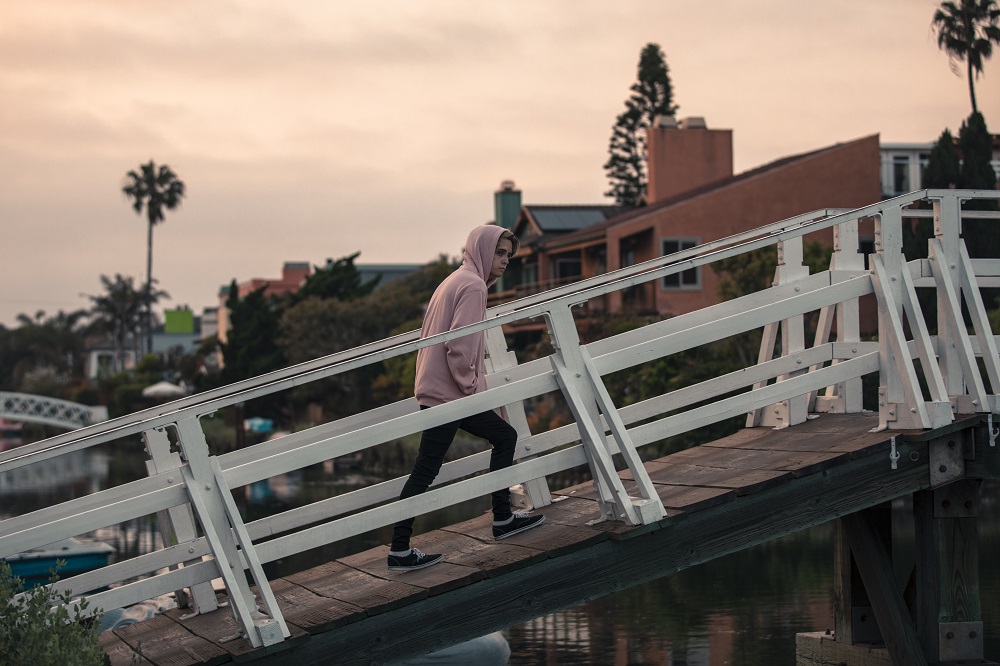 Who would be your dream collaboration?
John Mayer, always. He's been producing records for other people a lot more recently (At least it feels like it), so it would be a dream to co-write/co-produce/and feature on a track with him. Maybe one day.
What can fans expect from a live show in the near future?
Every song has a "moment". That's my live approach. The hope is that everyone walks away with a truly memorable experience. You can expect me to play a few different instruments throughout the set, there will be some cool features/covers, and some really dope musicians who I'm lucky to have playing live with me.
What are your thoughts on mainstream music verses indie, and your hopes going forward as an artist?
Every artist has a lane. Sometimes that's more mainstream, sometimes that's more indie. There are huge audiences for both and both are necessary in the music industry. That being said, the divide between "indie" and "mainstream" has been shrinking the last few years with "indie" bands truly breaking on pop radio and more "mainstream" acts like MGK, Bazzi incorporating real drums, guitars etc. It's an exciting time for music because a lot of the people who are writing mainstream songs grew up in the warped tour/rock world, and the fact that we're finding ways to bring that back into mainstream pop is really awesome.
What are the main values you want to bring to the scene?
I want people to find truth in my music, and find a way to relate it so themselves. Music is so powerful and so emotional. I'd like to be able to push "passive" music listeners to find a better understanding of the emotional benefits that music offers, among other things.
If you could sit down for a chat with anyone at all, who would you invite, and what would you ask them about?
I'd like to sit down with Guy Fieri and learn how to become a legend like him. Also I'd like to hang with Will Ferrel and just crack jokes. I feel like we'd be best friends, probably.
What's your greatest or biggest aspiration at the moment?
My family and friends always. On a creative level, all the people I write with inspire me. Talent inspires me.
What's something about you that most people don't know?
My full name is Devin Joseph Kennedy-Pavelock but I go by Devin Kennedy because it's easier.
What would you say to bedroom artists and producers who are struggling to find their confidence or get started in the music world?
Trust your gut. Write what you want to write. Find people you love hanging/writing with and grow together.
Is there anything else we need to know?
New music coming very very soon.
* * *
Stream the music on Spotify. Find & follow Devin Kennedy on Facebook, Twitter & Instagram or visit his Website. Photos by Matthew Peters.