String sensation Daisy Jopling is set to release her eighth album The Awakening early next year. Throughout her career Daisy has performed and toured with some of the world's leading musicians, in a multitude of genres, including Akon, The Blind Boys of Alabama, and Ky-Mani Marley – to name just a few. We were fortunate enough to catch an interview with the artist prior to the release of her new project.
* * *
Hi Daisy. Thank you so much for your time today, it's a pleasure to have the opportunity to talk with you about your music and the upcoming album. The Awakening is your eighth album release. What would you say is different about this one, and what inspired the title – is there a collective concept for the project relating to this?
This is the first album of solely my own original music, so it is very close to my heart. I feel it is the most deeply personal and honest work of mine to date.
It is called Awakening because I feel that what is happening inside me is a microcosm of the whole of humanity. The concept behind Awakening is the idea that in our deepest darkness is the opportunity for our greatest light. We are each being asked to choose between the light, which is forgiveness, surrendering and letting go, and the darkness, which is holding on to old patterns through fear.
It is an incredibly poignant and pivotal time for the whole of humanity, and each track on my album maps out the steps of my inner journey, which I have noticed my audiences also relate to.
How did you first get into classical music, and how easy was it as a young classical musician in the UK to find opportunities to play and grow as an artist?
My parents loved classical music, having learnt musical instruments as children themselves, and felt that it would be a good educational grounding for me and my siblings to learn stringed instruments, and particularly classical music, which they feel stimulates the brain on many levels. My grandmother on my father's side was a professional classical music singer, and her mother was a professional painter, so the arts run in my family.
All the local schools I attended where I grew up outside London had wonderful music programs, so my life was full of opportunities to play and grow as an artist.
Who are some of the musicians that first inspired you to play and to create music?
My very dear aunt Louise, who is also my Godmother, was a professional violinist, and my mother tells me that at the age of 3 I was adamant about learning the violin so I could be like auntie Louise. My parents adored great classical musicians, and would send us children to sleep with records of Fritz Kreisler, Arthur Rubinstein, Jascha Heifetz, and Maria Callas, to name a few. These musicians will always hold a very sacred place in my heart.
When I was 12 years old, my father took me to hear the violinist Nigel Kennedy play live, and that was a life-changing experience for me. At that age I was not yet considering writing my own music, but I felt Nigel's boundless energy and free spirit, and I was very inspired by that. But it was when I moved away from our home in the countryside, to London at age 17 to attend the Royal College of Music, that I became aware of different styles of music from around the world.
I was fascinated, and fell in love with the raw emotions, rhythms and cutting edge creativity of many sounds I was hearing. I started to play new techniques on the violin, and finally when I moved to Vienna Austria, and then NY, I felt an urgent desire to create my own voice.
You've performed alongside and toured with some renowned musicians over the past few years. What are some of your best musical experiences so far?
I adored performing with Omara Portuondo from the Cuban Buena Vista Social Club, her spirit is so abundantly generous and beautiful. We were also performing for 30,000 people, and the energy of a crowd like that is uplifting beyond words.
I will never forget the time I was performing with Bobby McFerrin, and he made a mistake on stage. I was terrified, not knowing what to play next, and he literally burst out laughing in the middle of the piece. I was acutely aware of how differently we both reacted to the same situation, and how much more fun life would be if I chose his reaction over mine!
There are more women than ever taking up classical music nowadays, but this hasn't always been the case. Have you ever found it difficult to pave your way in a male dominated industry, and have you ever felt like certain opportunities were not available to you in the classical world?
I have always created my own musical world, and I feel very blessed to say that I have not knowingly been subjected to any kind of discrimination. This is a result of great work done by so many incredible women before me – for example, my great grandmother was the first woman to have her art shown in the English National Portrait Gallery.
What has taken me a long time is to accept that I need to be a leader. It is very easy for me to support, but that is not challenging for me at all, and therefore not rewarding. Like so many people in every walk of life, I am working on allowing myself to create the experiences I most cherish here on earth, and to shine my greatest light.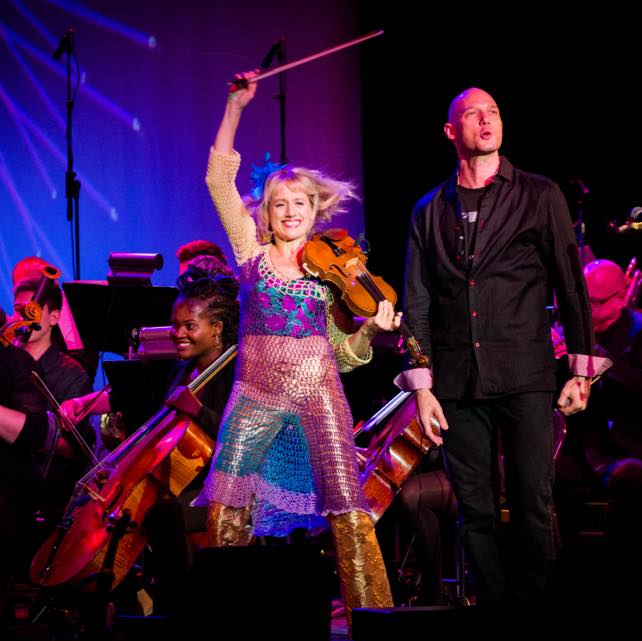 You made a pretty life changing decision to move from the UK to the US, Upstate New York no less – how did you find this experience; did you manage to settle into things easily?
In some ways I was simply so excited to be here, that things flowed easily. But in other ways I was tremendously challenged by the changes I needed to make to be open to and understand the new business model I now found myself in, and also the new cultural beliefs. I faced many obstacles which seemed insurmountable at the time, but I am still here and loving it, so somehow I came thru!
What helped me the most was letting go of prejudice, and letting go of the feeling that something outside of me was at fault and causing the problems in the world and in myself. The more I deeply understand that I am part of the power creating the whole universe, that I am responsible for my life, the more I give myself the power to create whatever I want.
Will there be a tour with the new album, and if so, where will you be visiting?
We are planning a show at the David Geffen Hall in Lincoln Center in the summer of 2017, and I have a long tour of 20 – 30 concerts along the East Coast of China, as well as concerts in Mexico and the UK. I also have concert invitations to France, Austria, Germany and Norway.
What are your personal favourite compositions from the new album?
Plastic Day, which describes the moment when we notice paradigm shifts in our understanding, has a special place in my heart. It is musically influenced by Folk Music from Ireland, where I went on holiday every single year of my childhood. I especially love Prayer, which is a moment of surrender.
I also love Country Hope, who's title came from my musical collaborator Michael Feigenbaum simply because the song started as a country music song, and the lyrics are hopeful. Now the song has influences from Gospel music which I adore, and I feel the deeper implications of the title and lyrics, thinking of our country and of our whole, beautiful earth.
How easy did you find it to transfer your classical sound and experience over into the world of pop music and song writing?
It took me years to be able to play in time! Classical music is not based on the repeating rhythmic patterns that most other music is based on, and I ended up spending 2 ½ months in Ghana, West Africa, to learn drumming, so I could immerse myself in groove.
It also took me years, and I will always be learning, to understand about writing songs. How can I express my deepest emotions in just 1 hook phrase? How can we as artists be as honest as possible? Only our deepest truths are going to be what really touch other people, as these are universal truths.
There was one pivotal moment in my song-writing growth which changed my life: I was innerly battling with having grown up surrounded by and idolizing classical music composers from hundreds of years ago, and feeling that nothing can surpass their greatness. Then I met a woman at a party who said to me "Whatever inspirations are coming through you are the voice of God, and how dare you judge that?"
Looking at it that way, I was able to hold sacred my musical ideas, form a team around me of great compositional arrangers, and together we have created the music on this album. We have also orchestrated all of this music, and we will be performing it with orchestras worldwide.
Do you see yourself exploring any other genres or styles in the near future? 
Yes! My band & I just performed a concert with the amazing Plattsburgh State Gospel Choir, and it was incredible learning all of that music. It has touched my soul. We will also be performing some great Chinese music in Lincoln Center next year with one of China's greatest conductors Xue Yan Yao, conductor of the main Beijing Opera House.
Is there anything else you'd like readers and listeners to know about you, your music, or your plans for the coming months?
There are some fabulous young singers on this album from the Hendrick Hudson High School Treble Makers Choir in NY. who I am so proud of; and collaborating with guest artists Rob Evan, lead singer of the Trans-Siberian Orchestra, and rhythm specialist Michael Feigenbaum, has been a great joy!
Thank you for your wonderful questions, and I hope you enjoy the album!
* * *
The new album The Awakening will be available February 3rd, 2017 on Fleur De Son Classics label – a first 'crossover' signing on the classical music roster. Find and follow Daisy Jopling on Facebook and Twitter for updates. Visit her Website for more information.