Ukrainian musician and songwriter Constantine was recently left with no choice but to leave his home indefinitely and start up a new life and career in another country. His latest single Home explores the feelings and effects of war upon his life and creativity.
Prior to a highly-anticipated live show at London's The Camden Club, we were blessed with the chance to interview Constantine, to find out more about his journey as an artist, and what the future may hold. Here's the conversation in full.
* * *
Hi Constantine – it's a real pleasure to talk, thanks so much for your time. To introduce things, how long have you been making music, and who or what first inspired you to start?
Hi Rebecca, thank you for inviting me, and nice talking to you. I focus solely on my English repertoire now as my role models and musical icons who I profoundly admire are Luther Vandross, The Isley Brothers, Anita Baker, Whitney Houston, Tina Turner and Michael Jackson.
In my early childhood, I was singing the songs I heard on radio or TV – songs by Whitney Houston, by Michael Jackson. I used to copy everything I heard, I was singing in bird's English of course, well, I didn't know English when I was a child, I just repeated syllables, and my grandmother said to me that I had a perfect pitch. She took me to the music school to study violin.
I wanted to sing, but the violin class teacher noticed my tone precision, so I entered the music school in the violin class, graduated from the violin class, and even entered the conservatory to continue study violin.
Tell me about the single Home – where were you when you wrote this, and how difficult was it to delve into this genuine pain of missing a home that may never be the same again?
"On February 24th, 2022, I was returning back from a tour in France when my airplane was turned back because the Ukrainian airspace shut down."
I felt lost, I felt despair for a while, though we believed it will take a few days or weeks for the war to end, so we will get back to our homes. It didn't happen, and I had to make a decision where to re-build my life, so I moved to the UK.
As sorely missing my home city Kyiv, I recorded this acoustic version of my song where I immerse listeners into a mellow piano keeping space for my soul vocals and vocal improvisations ranging from baritone to alt.
Here I wrote a harmony based on classical elements when melody softly ties into chords bridging tones of old-school soul sound and older school (alike Chopin) piano motions.
Your vocals are stunning here, do you think it makes it easier to put everything into a performance when it means something so real to a singer?
So, the question is, if I understand correctly, about own lived experience? Like if the songwriter dealt with it, is it easier, to bring it into music, right?
Yes, that's exactly what I meant!
Of course, if I overcame similar situations in the past, it's easier for me to translate them into a song. Just like in acting, it takes seconds to get memories from, let's call it a library, of emotions and feelings, depths of experience, and share it with the audience.
Not even easier, I would say it's a kind of a therapy to share, be frank with the audience, it heals mentally, gives me the special energy, revitalises me, especially when I see that people understand me musically.
On that note, you've also posted some interesting covers online – from Shawn Mendes to Madonna – what is it about certain songs that makes them connect with you?
When I heard Shawn Mendes' and Madonna's songs, they resonated with me last year. These songs somehow translated my emotional state, the feeling of parting, and I wanted to sing them. I felt something similar to what was talked about in those songs. The cover songs and my own songs written then became a kind of therapy for me.
Are you musically trained as a pianist and guitarist, or self-taught, and how often do you practice or play?
I was trained in a music school as a violinist. I started to sing when I was 18, so I re-entered the conservatory as a vocal department student. Thanks to my grandmother, my gift was noticed when I was a child, and the violin helped me to develop my pitch and musicality.
I think there is something unusual in this. The fact that I studied the violin and developed a unique ear for music, my musicality – thanks to this my melodies are not trivial. I play the piano as well, and I tend to practice daily.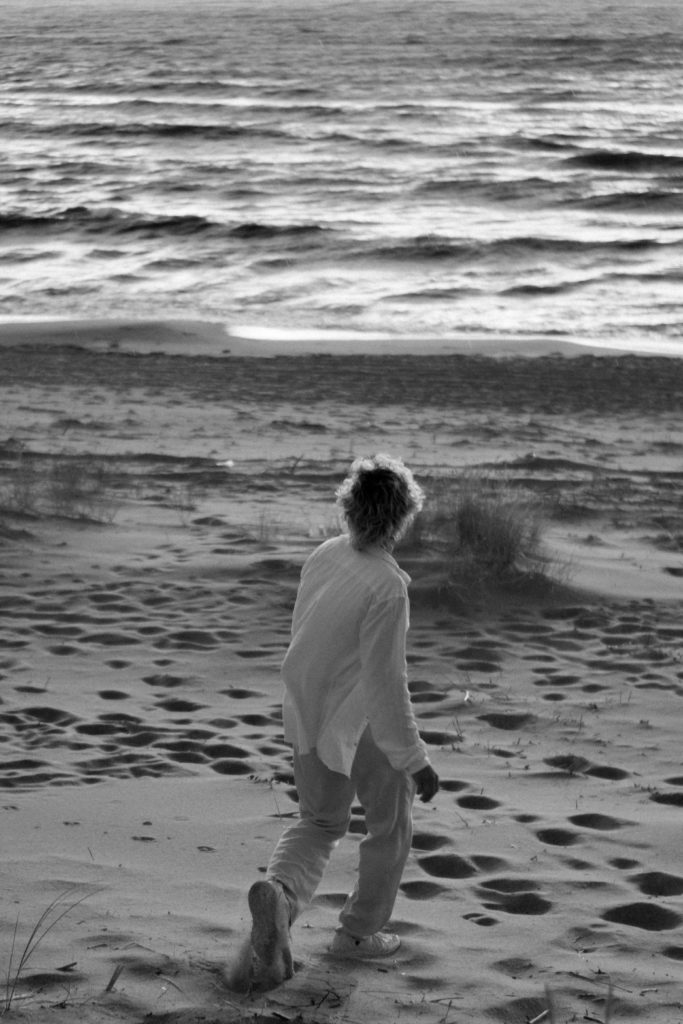 What was life like for you as an artist and musician in Kyiv before the war, how was the music scene and community there?
Kyiv has a large diverse musical and creative community. Kyiv not only is an actual capital of Ukraine but a musical capital of Ukraine. The capital of modern intellectual tasteful progressive Ukrainian music, I would say. However, as most recent Ukrainian melodies shifted to folk motives, I felt a little bit outgrown in the local scene.
If I look from the other side, rethinking my artistic life in Kyiv, it was happy, recharging and giving. I was trying to discover new musical ways, trying to reach new highs. I was surrounded by my friends, colleagues and family in the city I grew up. This was giving me the strength and support I needed.
I love London, my dream city, though it will take some time for me to get accustomed and feel comfortable in the way I felt in my beloved Kyiv.
London is very different to Kyiv, it's like another planet, I must say, and sometimes it makes me feel lonely. Nevertheless, I have new London friends, new musicians in my band, new connections.
In terms of my music, I feel more accepted here in the UK, than I ever felt in my home city of Kyiv, and I would like to thank the audience for being so open and welcoming to me. It warms my heart.
Tell us about the upcoming show in London's The Camden Club – what can attendees expect, and what are you looking forward to the most about it?
I welcome everyone to my second concert in London at The Camden Club. This is a special evening to me as Tony Moore, the curator of The Bedford, invited me to sing with my friends after my first London show at the legendary The Bedford was sold out. It was a delight for me as I know that a lot of my fans missed out on The Bedford show.
"Since I have the British fans now, I noticed how the British audience is responsive and feels me. You cry and laugh with me. You dance and mourn, and then you smile again. An unspeakable, quenchless connection."
This coming Friday everyone will have a chance to hear my intimate songs that I am willing to share just once.
Splash of emotions for you: tears, joy, longing, laughter and celebration! I must say that I'm quite a versatile artist, that's exactly what you see at my shows. I have a working title of my concert – "two sides of the coin", right? That is "the two sides of my coin": the first part of my concert is quite lyrical, intimate, calm, sincere, spiritual, and the second part is festive, fun, humorous and easy-listening. Both sides of me, of my character, to be shown to the audience.
That's why I would like to make a song together, kind of a dance, fun, catchy gig with… Dua Lipa! She's at the first place – my dream! At the same time, I would like to do something vocal, lyrical with Michael Kiwanuka or Celeste. Don't miss my show!
You've built an impressive following on social and streaming sites. What do you think are the key aspects separating you from so many other singer-songwriters, and what would be your best advice to new starters?
I like to give myself out to the flow completely, I don't control it. If a melody comes as it is, I allow it to be just like that, this is it. I don't correct melodies by overthinking or frame them as if I needed to write a particular tune or a catchy hit. I just let the higher power to give me these melodies, and that's all.
Yes, because when I force myself into writing, I personally can't do anything, it doesn't work out, and I don't enjoy it. Therefore, I do not block creative process with my brain – melodies simply come and go out into the world through me. This is how it works for me.
"I would advise the new starters to trust the divine in them, and give themselves a chance."
What's your biggest aspiration at the moment, and how do you maintain and nurture the optimism and passion to continue creating new music and performing?
Ah, I take time for myself, a peace of mind. I'm not in a rush, I'm not chasing someone to get me noticed. The most important thing for me now is to live happily, live with the flow that develops its own way, so let's see. Letting go of all my dream plans, my ambitions, just live.
Have an experience at a farm, at a stable? Why not? I love being connected, I love horses, the unity with nature is a perfection, that harmony draws me, too.
Is there anything else you'd like to say?
I would advise my fans to appreciate every moment, every second of their lives, to thank their ear buds, so to speak, be grateful to music, as it's a gift – to hear music, to see the beauty around you, to notice the little things, to enjoy these little things, not to forget about the moment here and now because exactly this moment, exactly here and now, shapes your emotions, your future and thoughts.
"That's why it's very important, and I often repeat it to myself. We only realized this when war came to our homes…"
* * *
Catch Constantine performing live at London's The Camden Club on July 21st – grab tickets. Find Constantine on Apple, Instagram, Mixcloud & Soundcloud.