Backed by decades of experience as a touring musician and drummer for the band Rock Kills Kid, singer and songwriter Chris Poulson grips the solo scene with a plethora of independent releases; not least of all his powerful rock EP Fall Into Pieces.
We were blessed with the opportunity to interview Chris, to find out more about the latest project, his unique journey in music, and his dreams for the days ahead. Here's the conversation in full.
* * *
Hi Chris – thanks so much for the chat, a real honour! For those who don't know, how would you describe the music you make?
First off, thank you for the opportunity! The music I make and/or have made in my music career varies from rock, pop, and alternative with a little country vocal inflection every now and again. I grew up listening to Country music. So, I guess you can say, even though I play and write mostly rock music, that bit of Country influence still finds its way into my songs.
I tend to write from the heart and I believe it translates when listening to my music. Which ranges anywhere from good ol' fashioned heartbreak, to feeling isolated and alone, and living life to the fullest at any given moment.
Tell us about the release Fall Into Pieces – a brilliant project, nostalgic rock with huge choruses and plenty of heart. How did these songs come to be, and what do you hope listeners take away from them?
Fall Into Pieces came about from a previous project I was the lead singer and songwriter for. The band had a good stint, however, was not able to stay together long enough for my new writing style to take form. I continued writing the EP, which led to recording the tracks with a producer I met in Los Angeles from a mutual friend. The producer helped shape the idea I had for the
Fall Into Pieces EP. Starting off with then title track, Fall Into Pieces. That song came to life during a long-term relationship I was in, that ended quite abruptly after 7 years. In a sense the song is about how I felt in the relationship from beginning to end.
The next track, Break Free, is a song about meeting someone while out and about in a party setting. Being hypnotized by this person's presence, knowing deep down this was something I should not entertain. I did it anyway. Therefore, ending up in a toxic relationship that I needed to find my way out of.
The third song, Joyride was co-written by me and my producer. This was a song that we just wanted to have fun with. It wasn't about anyone in particular. Just a song about "having fun," a one night stand, if you will. So, that's basically the elucidation behind the Fall Into Pieces EP.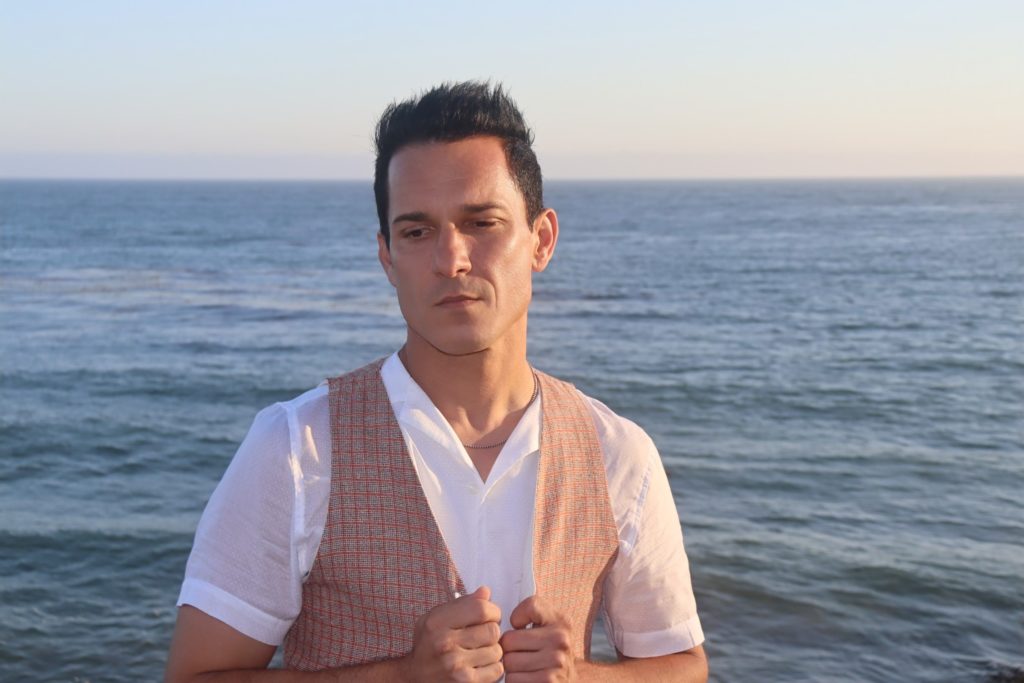 How did your days with Rock Kills Kid help shape who you are as a solo artist?
Being a part of Rock Kills Kid was the best thing that could've happened to me as an aspiring musical artist. That band not only shaped me as a drummer, but that band taught me discipline and song writing skills that I never knew I had.
I also learned a lot of the ins and outs of the music business. The good, the bad, and the ugly. Upon my departure from Rock Kills Kid, I knew immediately that I wanted to front a rock band of my own. And, from there, I would take everything I learned being a part of that band and would utilize that as a solo artist.
What was it like transitioning from drummer to front-man and vocalist, were there any challenges to that?
It actually was not a hard transition whatsoever going from drummer to front-man/vocalist. In high school I was the drummer for a pop punk group that I started with a guy I met in Spanish class. He and I would share the lead vocal parts in several of our songs. So, essentially I was already a front-man, but behind the drums.
The only challenge/s I would say I had to overcome was to now be comfortable with just You in front of an audience. There was no more "hiding behind the drums" at this point. It's now all eyes on you. I had to figure out and learn the art of not only being personable on stage, but to look natural and like a rockstar.
You have an impressive background as a live performer. What was one of your most memorable or impactful experiences while playing a show?
Thank you very much. I've had the pleasure of touring, opening up and sharing the stage with some very well known and loved artists. This gave me the exposure needed to obtain endorsement deals, music placement in films, and collaborating with some fantastic artists.
One show I remember in particular was in Hollywood at The Viper Room, playing to a near sold out show with some huge music big-wigs in the audience, including Steven Tyler of Aerosmith.
"Hollywood used to be packed at the local rock clubs on any given night. I think it's become a little more tame than what I'm used to. But, if you bring great music, people will show up!"
Do you currently get to play live much, and if so – what's your set-up on stage, and what's the rock scene like where you're based?
To be honest, I haven't played live in several years, even prior to the pandemic. However, in 2022 that is all going to change. I will be set to play live shows come mid August of '22.
My set-up on stage is pretty standard – drummer, bassist, lead guitarist, maybe even a pianist or keyboardist if needed, and myself singing and occasionally playing rhythm guitar.
The rock scene is still thriving from what I see. However, I can tell it's not like how it used to be. Hollywood used to be packed at the local rock clubs on any given night. I think it's become a little more tame than what I'm used to. But, if you bring great music, people will show up!
Do you have a dream venue or event in mind for the future?
I have always loved playing The Viper Room in Hollywood. I have had some amazing nights there! However, if there was a dream venue to play, or at least on my bucket list, would be the Ventura Theater in Ventura, California. It was at this venue where I saw Blink-182 for the first time, while standing on stage in the wings.
Given your extensive journey within the ever-evolving music industry – what's been the biggest change in how you approach making new music now compared to when you first started out a couple of decades back?
In my early days, I tended to "play it safe" and stick to what was most comfortable. However, the older I got, the more I realized that without risk, there is no reward. So, now, I am very open minded musically, and try not to never pigeon-hole myself to one style or genre. I try to be as versatile as possible.
What keeps you so passionate about writing and performing?
Music! Without music I believe I would be completely lost in life.
It's what drives me to be ME. To express myself in a way where words sometimes fall short. Which is funny coming from a songwriter! Haha.
But, there's nothing like being on stage, doing what you love to do, and especially watching people's reactions to what it is you do.
What's the best piece of advice you were ever given?
The music world isn't exactly all sunshine and rainbows. It can be pretty tricky and have some surprises that can come out of nowhere. However, you just have to be aware, expect the unexpected and do your job and do it well to the best of your ability. And, no-one can deprive you of that.
Being Happy and Enjoying what you do is key. However, sometimes the freedom to do what you want and play what you want isn't always an option. But, as long as you're able to express yourself and be the Real YOU, then happiness is bound to carry through your musical journey.
"Without music I believe I would be completely lost in life."
What do you have planned for the months ahead?
Well, it has already been a pretty busy couple of months. I recorded a new single a few weeks ago, called, Can't Let Go. Which is set to release late July/early August. I'm also shooting a music video for the single in about a week, so that should be pretty fun! The video will be released around the same time as the single. After that, I'm looking to book shows in and around Hollywood, and The Valley (Burbank, Toluca Lake, Van Nuys, etc.), or wherever someone will have me.
Is there anything else we should know?
I'm most proud of how I have stayed in music for as long as I have. Maybe it's because I know I am born to do this, and I would feel lost without it.
What sets me apart from others is my persistence to never give up, regardless of what others say or think. I create my own destiny, and I'm in it till I can no longer do it.
* * *
Check out Chris Poulson on Instagram, Apple & Soundcloud.