Breakthrough artists Ashni and Mr. Z have recently joined forces to take the music industry by storm. Having amassed a number of achievements individually so far in the music world, we caught up with the duo to find out more about the collaborative process and their plans for the future. Here's the conversation in full. 
* * *
Hi guys – thanks for the interview, congrats on the recent successes you've both been experiencing! What has 2019 meant for you as artists so far?
Mr. Z: Thank you for including us on your amazing platform. 2019 has been great so far. Personally for me producing and writing tracks has been a new venue where I tapped in 4 years ago, as I always wanted to produce beats that I like and give it my own grove and swing.
As I used to be a drummer I approach beats and writing very rhythmic, so 2019 is truly a blessing so far, our first collab CRAZY THINGS started of this year, my very first production!! That was the first highlight of 2019.
Ashni: Thank you for having us it's so amazing to be a part of this Interview! As an artist 2019 has been incredible year so far! Feel so blessed that since I have met the great artist Mr. Z, and we first start to collaborate, we really hit it off!
As a solo artist I had my share of success but when we start our collab, the songs were almost writing itself, and the experiences after that, have been amazing so far! 2019 brought me to a point where I released my very first Dancehall/Pop song this year CRAZY THINGS!
Your latest single follows a string of impressive achievements, including number 1 hits for both of you in Europe – what have been some of your most memorable or life-changing moments?
Mr. Z: Wow, traveling some beautiful places because of music, is always life changing – to put a smile on people's faces while you're on stage, I am still trying to find words for that, to describe that feeling, I think that is such an high, it's almost divine. People singing your songs, and sometimes in countries where they don't speak the language. And today in this digital world people can respond from all over the globe to your tracks.
Ashni: They say some incredible feelings you have had, you will never ever forget! Well for me it was definitely the day I woke up and I saw the newspaper with my picture on it saying: "Ashni hit number 1 in Poland!". It was kind of a life changing moment for me personally, because it really felt like the Universe said to me: Yes Ashni this is your path in life, don't you ever give up! And all of the moments after that I will never forget, but it also made me so much more determined, to keep pushing myself, work much, much harder! It felt (and still feel), that I have to raise the standard higher, with every song I create, and that's a good thing!
How did you first come to collaborate with one another, what's the story there? 
Mr. Z: I met Ashni in 2013, we were both performing on a Caribbean festival, were she performed as a dancer and I performed with my band. She expressed to me that she wanted to sing and we start talking about it and exchanged numbers, did a studio session and I knew that she was special, I heard a very unique voice and an extremely driven spirit, determined to entertain the world. And so we worked on a few demo's and her single HEAT got signed in the USA, a track that I wrote and I've been working with her ever since, up to the point that I asked her if she wanted to do a few songs together, and that chemistry really comes across in the tracks, I can tell you that we have some great tracks in the works.
Ashni: I started my career as a dancer. My dream was always to combine singing & dancing. But as you all know, life has its own agenda 😉 and timing is everything! So I was booked to do a show in the Summer of 2013, and I had, "as it was meant to be" MR. Z's dressing room ;-). He came into my room looking for his sunglasses and we immediately hit it off! It was as if I saw myself in him. Serious, driven with also an iron discipline! I was right then and there convinced that the world would hear about us!
What's your connection with Universal Flow Records, and what difference has it made for you teaming up with a label?
Mr. Z: Teaming up with Universal Flow Records has been a blessing and they have knowledge for artists (as we currently live in a world where DJs are taking over as artists), it's not often that label and artist have the same vision, and their whole team is working so hard with us to get us to a global audience. And teaming up with a label is a better way to go for me, because when releasing yourself you get to be a manager, a bookings agent, a publisher, a label, a radio promoter, doing tour logistics etc. Those components will affect your artistry, it's very important that I can focus on writing producing and hitting that stage, and let someone else handle the rest. But this is of course my experience with releasing tracks by yourself, than with an label.
Ashni: The music industry has drastically changed over the passed few years! That meant for me as an artist that it would be incredibly hard to stand out! It was such an amazing blessing that Universal Flow Records had found me, had found us! They understand the fast changing music business like no other. And they give me as an artist a lot of confidence that all will be good, and taken care of! UFR goes the extra mile for their artists! They really give you the attention, and so much more you need. Their approach is fantastic and like chess, they are always ten steps ahead!
What role does genre play, if any, in the creative process?
Mr. Z: Well I am from Caribbean descent, a mix of Suriname/Guyana and Trinidad & Tobago, so my creative mindset into every production is with a Soca/Dancehall mind. Caribbean music was always around me as I grew up, from Bob Marley, Supercat, Machel Montano, Sean Paul, Shaggy, Mr.Vegas, Shabba Ranks, Red Rat, Beenie Man, just to name a few, I was always gravitated to those rhythms and vocals. But right here in 2019 I think that the lines of genres are fading, LIGHT UP THE PLACE is a mix of Soca/EDM/Pop, which we just felt like doing, so the fusion of these styles is the power of this track!
Ashni: For me it was at first very Pop oriented. My idols, like Madonna, J.Lo, were the girls I thought I wanted to match my singing with. But due to other influences, like House, EDM, I started to create a whole other sound then only Pop music. Which for me, was a good thing because I needed to get out my comford zone ;-). After my introduction with MR. Z I saw that the sky was not even the limit! He introduced me to Soca dance, and Caribbean music! I fell immediately in love with this genre! Artists like Anitta (from Brazil), for example, they are so amazing! LIGHT UP THE PLACE is definitely born from these influences!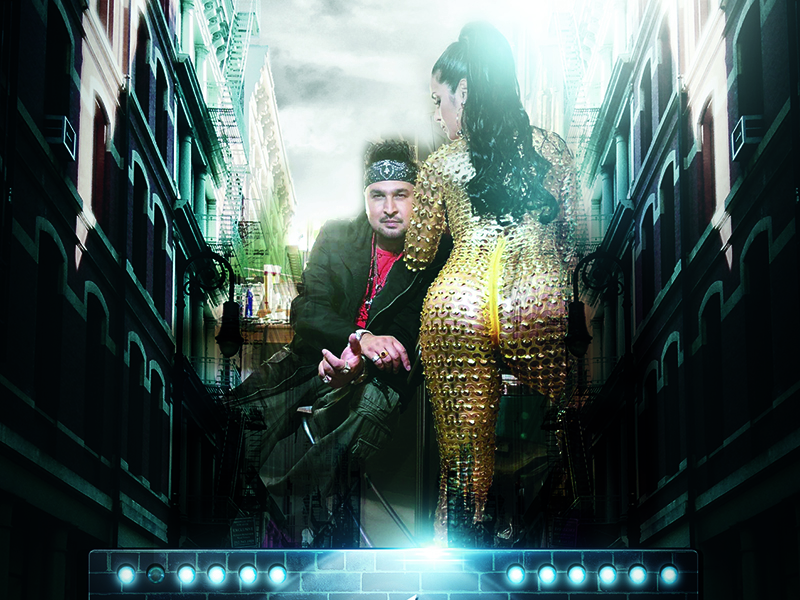 What can you tell us about the new single LIGHT UP THE PLACE – how does it differ from your previous work as solo artists, and what do you hope people take away from it?
Mr. Z: LIGHT UP THE PLACE is that hybrid track, something we just discussed in the previous question, the melange of ingredients on this disc makes it a hot plate! The track is uplifting, party vibes make you wanna dance, I hope that people laugh and have fun with the track, and that they take away the love message from it, something this world needs today. LIGHT UP THE PLACE with love.
Ashni: LIGHT UP THE PLACE is an great example of two genres colliding into one! EDM meets Caribbean music. Honestly my goal is not to divide music as much as I can, I love to mix, match and take everything from every place. The purity in music from all places is very important to me, because it can bring people together. It can bring countries together. And that is what I hope to achieve, less division and more unity in music and the world!
What steps will you be taking to get the track heard globally by as many music fans as possible?
Mr. Z: Well right here right now talking to you STEREO STICKMAN, is just one of the steps to take it globally, we just shot the music video for LIGHT UP THE PLACE, which will be on digital platforms, doing interviews, doing shows, we just going to do this step by step, or how I would say it, city by city ;-). Universal Flow Records Team is our other half that will get us heard across the globe!
Ashni: For me, step one is this amazing interview with you, STEREO STICKMAN, very thankful for this opportunity! As we go along, LIGHT UP THE PLACE will be introduced by the digital market throughout the world. As an artist it is my pleasure and my job to take LIGHT UP THE PLACE to the next level, meaning together with Mr. Z and the strong hand of Universal Flow Records, we can move mountains, we certainly are not alone in this! We can count on the incredible support of our record label!
What are your thoughts on the mainstream music world at present, and how have you found the climb in reaching a wider audience so far?
Mr. Z: From the physical times to the digital times, I think if you can connect with your fans, they will spread it around to reach new fans. Mainstream music is music you suppose to hear, with heavy rotation on radio and TV, even if the track is not that strong or they all sound the same, you still have to listen to it when it hits radio or TV.
If a song is terrible, it could be so terrible that it can generate a million views quick, for me its important that we just do a good job and deliver some quality tracks, that will reach a wider audience and get people to love a variety of genres.
Ashni: Mainstream music is, in my opinion, music that will get the most airplay on all the radio stations. Nothing wrong with that, but in my opinion, you cannot monopolize a few artists and give other artists not a chance to be on the radio!
In this digital music business where we at, it is my belief that, when you use the digital and/all social media platforms in a good way, you really can benefit from that. Because of social media, the world has become a smaller place. You can reach millions of fans on the other side of the world for example, and in your own country, no one will recognize you ;-). The main thing for me is, as long as I am one hundred percent true about my music (it comes straight from the heart), I will reach someone! And like a wrinkle in the water, it creates a wave and that wave will grow bigger and bigger and so on, so the fan base can keep expanding!
Is live performance an important part of your plans with this new music?
Mr. Z: That is the most important part for us, direct contact with the audience, bringing them a great show – you can wake me up in the middle of the night to do a show.
Ashni: Live shows are everything. It's almost the reason why I exist as an artist! 😉 Cause the interaction with the audience, the energy, the positive (vibes), the message you want to express to them, the crowd, this is the way to do it, live and live only!
What's the best piece of advice you could give to new-starting artists who are looking to get a foot in the door?
Mr. Z: Study your craft, watch the masters at work and give it your own input. Once you do that get feedback from your surrounding circle, and listen to all the comments, but never lose your believe, and always do what makes you happy. And the biggest advice is, study patience.
Ashni: Dare to be you (when you know who you are of course). Don't let anyone change you into someone you are not as an artist! And be willing to work, very, very, very hard. Your music must be your number one love, passion in life! You will need an iron discipline/will! Be honest with yourself and always try to improve yourself. Pay very close attention to those who walked before you in the music industry and try to learn something every single day for the rest of your life! And last but not least, never stop believing in yourself, that 's the golden rule!
What are your main aspirations over the coming months and years? 
Mr. Z: Producing and writing more great tracks, and continue to tour and do shows and grow an army of fans, unite the world.
Ashni: Making more and more great music straight from the heart! Going on tour, as many countries as possible, to spread the music, love and unity! If I can reach one person who can believe in themself because of me and my music, I reached my goals!
What's something about this collaboration that gives it a little edge or makes it unusual? 
Mr. Z: It has been created from scratch, that means we don't use reference artists or a template to create, I don't watch the charts and start copying the hits. I think that is unusual, cause working with labels they always want you to be as their previous success or hit, they want it to sound like this and that, and that's the great part of Universal Flow Records, they just want us to make our music!
Ashni: I think the edginess is in the genre, EDM meets Soca. We are two artists with very different backgrounds and honestly, you can hear it back in LIGHT UP THE PLACE. We both bring our own unique flavour in this collaboration, and it melted into a very hot song!
Will the two of you be releasing more music together?
Mr. Z: Ya man, we have 8 tracks ready to go and 12 in demo stages, we are musical partners in crime and we have a lot of fun creating them, and there is something about our chemistry which is the drive in this collaboration.
Ashni: No doubt! The chemistry, artistically is amazing between us! I think it 's fair to say for both of us, that we are hungry for more and more (great) tracks! We are working on some new stuff, as we speak, so this collab is just getting started!
What's the best thing listeners can do to support you?
Mr. Z: Just share it, stream it, buy it, request it on the radio, talk about it, pump up the volume and dance to it.
Ashni:  Love, buy, share the music! Use all (social and music) platforms to do so and really spread the word around! Try to request the song as often as you can on the radio!
Is there anything else we should know?
Mr.Z: Yes, STEREO STICKMAN rocksssssssss!!
Ashni: Yessssssss, STEREO STICKMAN is theeee best!! The only way is up!
Stay tuned for LIGHT UP THE PLACE official release!
Beatport (Pre-Order): Jul 22, 2019
Beatport (Exclusive): Aug 5, 2019
All Other Platforms: Aug 19, 2019
Booking and additional information are available at https://universal-flow-records.com
* * *
A huge thank you for the love & the insight! Find & follow on IG: Ashni, Mr. Z & Universal Flow Records.