Singer and songwriter ARBAAZ SHARIF has recently created waves online with his poignantly honest reflection of panic attacks that is the upbeat and catchy single Something I Need To Hear.
Prior to the release of the full-length album to follow, we caught an interview with the rising artist to find out more about the music, his journey as a singer and musician, and his hopes for the future. Here's the conversation in full.
* * *
Hi Arbaaz – thank you for your time! Congrats on the new release. For those who don't know, how would you describe the music you make?
Hey! The pleasure is all mine, and thank you! Hmm… you know, I haven't really stuck to one specific vibe as such, rather very… exploratory in that bucket.
Something I Need To Hear is definitely very indie-pop and upbeat. But that isn't necessarily what the rest of my songs are like, especially in my future album.
A lot of my songs have a dark vibe while some are light, hopeful, and feel-good types. I'd like to say I'm very experimental and I want to see what works best with my listeners.
But all in all, I make songs that reflect on who I was as a person and how I'm evolving. The challenges I face and how I've overcome them. You won't get the answer in one song. But you'll definitely understand me after hearing the whole album, and where I was coming from.
What inspired you to write Something I Need To Hear, and to be so open with your experiences?
My past love and the beginning of my corporate life. When both of these merged, I was overwhelmed. It's like, when you're in deep shit, more problems seem to be unravelling themselves, and those were the times my panic attacks would knock on the door.
I realized later, the hard way, that I couldn't keep living in the past. I had been doing that for the longest time, and it did NOT help.
But primarily, the inspiration for my song came from an experience I've had at work. It was on my office terrace, I went there for a breather after an attack, and put my fingers to the chest to count my BPM. And there it was, and I looked back on those moments while writing it. And how in those moments I thought about it all…the pain, the suffering, the self-mental torture. I wanted to address it. So, what better way than to address it in a song?
What's the best advice you could give to someone who struggles with anxiety or panic attacks?
Personally…I'd say breathe. I'd take the deepest breath possible, try to be blank for a while. I often remember telling myself things like, "Okay, there are problems on my plate, but I can work around them and come to solutions". And thereafter I attempt to address the problem, analyze it to its root, find the cause and then act on fixing it.
I made sure to do it all step by step. We can't overwhelm ourselves with too many things at once, or else you'll never identify or eradicate your issues. I'd say, once you follow those steps, one by one, it just gets SO much easier to tackle it, understand, and come to a solution. Things eventually get better from there.
What can you tell us about the criticism you received back in 2015, and the impact of this on you as an aspiring artist?
Oh, it was hell. I'd have people telling me to just stick to the guitar. I shared a dancing video on Instagram this one time, and someone told me to change my passion from singing to this.
I didn't want to hear such things. No one really believed in me. There were days I'd just spend crying because my voice wouldn't come out the way I wanted, the way I wanted to sound.
I've been told that I can't make a career out of singing. Another time, I had posted a singing video on Instagram, and I got replies advising me to take it down as I didn't sound good.
It all hurt. Pinched really bad. But it's also what fuelled me to carry on. I told myself I won't give up, and one day, the same people will end up complimenting me. And you know what? It happened. I've finally come to that point.
Do you think criticism is always valuable?
Personally, it's been a blessing. I honestly think, if you want to get somewhere in life, grow, you need people to be as blunt as possible with you. You NEED to be criticized in life. It helps you consider things, understand different perspectives, use it to push you into implementing certain things.
We can train ourselves to see the mistakes, but certain things will be invisible to our eyes which others can see. Allow them to point it out and perfect your skill by being mature about it.
Criticism doesn't always have to be looked down on. If someone has something to say, ask them further questions, find out what they feel is an issue and why. Then sit back, think critically, assess if it's valid, and then figure out how you can solve that issue step by step. The best way of accomplishing anything is by not giving up and being consistent.
Criticism is a blessing in my own opinion, and I don't hold any grudges towards anyone who has brought it up. I thank them.
Have you been back to those who were critical since improving your sound, and if so – how did they react this time around?
They reacted in a way I'd always want them to. And it made me so happy. As I said, I don't hold any grudges towards anyone who has criticized me. I didn't like what they'd say, but they weren't ALL wrong. I DID sound horrible before hahah.
I've appreciated anyone who's shared feedback and for being honest. Some people who didn't think I had it in me have now openly said they are quite proud of how far I've come, so that's good right? That's it. I now enjoy the feedback I receive.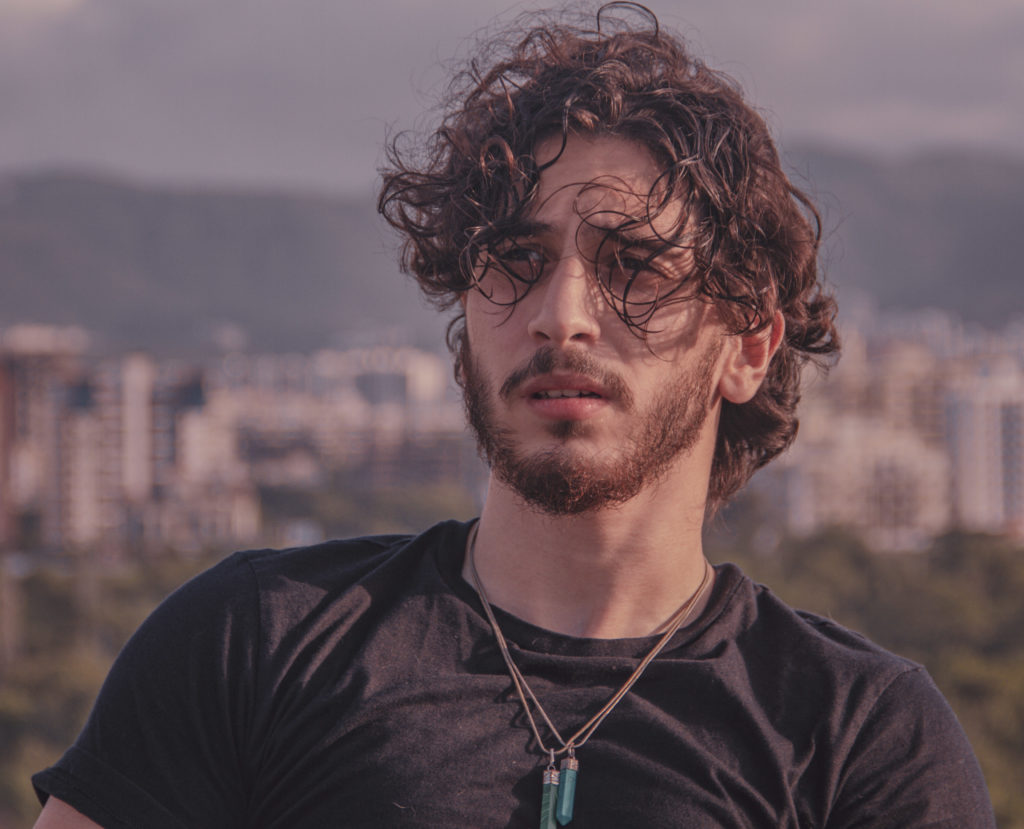 You're primarily a guitar player – what would a live show be like, solo acoustic or a full band?
Ooo. That's a nice question. I would love for my show to have a band to be honest. I've daydreamed about having the most energetic performance. Of being able to feel the passionate energy, both within me and from around me, being able to display all of it on the stage, engage with my listeners, and join in with the crowd, to have them sing along to the parts they enjoy.
I want to feel the adrenaline, I want to feel the rush. With a band behind me, I can achieve that. All those feelings supplementing each other…it'd be fantastic. And it's bound to happen soon.
What can we look forward to from the upcoming album – what sort of themes and performances can we expect?
Dark, mysterious, passionate, energetic, sorrowful. These words with their vibes sticking true to it.
The album is largely about my experiences, and journey. Trying to figure out who I really am. How expressing through music is The Only Way To Find Myself. At least one of the ways haha. But I found myself being so honest in my songs. The kind I haven't been able to confide in with anyone else BUT my music. I found that quite appealing. Quite intriguing. And I hope my listeners can resonate with it, and perhaps even let these songs act as a voice for their own experiences.
The album title is self-explanatory, but, it was a journey that had a lot of emotions in it while trying to find myself. Those emotions are what led me to this place. Who I am now, and I'm proud of it. So the words above, resonate with this album and its themes.
You've already amassed an impressive level of interest and reaction to the new single – what are your main ambitions as an artist, and how far would you like to take things?
I'd say it's not over just yet. I could NOT be happier by seeing the response. I've never felt so validated, even after telling myself I don't want to chase validation. And that I'd like to also do things for myself than for people.
But, it's been beautiful to wake up to great messages and seeing people enjoy the song.
My ambition now is to be consistent. I never want to stop improving. So, I plan to keep on practicing, continue to analyze my work, better myself, and work hard at putting the best out there for my listeners. I want to invest in my music, share it with the world, and do my best at shows to reach more people who'd enjoy it.
And for the moment, I want to focus on finding new ways for my song to reach more people and get their feedback and reactions.
Is there anything else we should know?
Hmmm. Quite open-ended, well, I would like to end it positively and put across that I'm proud of myself. I'm nowhere close to where I want to be, but I also know I've come a long way. It's just the beginning, and I'm working hard. And that's something I'll never give up on and keep pursuing.
I knew I always had melodies in my head that I could improve and put out there. And one by one, I will. I'd just love a steady stream of support, feedback, and reactions from my listeners. It's through them, I've come so far and will go much further. So for people reading this, thank you, and please continue supporting me in this journey. And I promise to listen and continue to bring all of this and more into my music.
That's it. Thank you so much for having me! This was real fun! Cheers!
Thank you, a real pleasure – all the best with the album launch!
* * *
Check out ARBAAZ SHARIF on Facebook & Instagram.