Flying high after the release of his brilliant new single Medusa, London-based artist Angelo V took some time out of his day to take part in an interview with us. We talk songwriting, live performance, Woodstock, Hendrix, John Mayer, connecting with strangers, how to find your sound, dried mangoes, and a whole lot more. Here's the conversation in full. 
* * *
Hi Angelo, congratulations on Medusa – brilliant song! And thank you for the interview. For those who don't know, how would you describe yourself as an artist?
Thank you so much. Honestly it feels good to get it out there! I've had this song as an idea and a concept in my head for so long I'm over the moon to release out it into the universe.
I'm very much an experimental artist who is open to anything musically be it style or otherwise. The most suffocating thing you can do as an artist and indeed as a person is to limit yourself to one way of doing things. It can get boring fast but more importantly you'll never get the chance to grow or at best your growth will be extremely limited. If I get on a groove, no matter if it's reggae, jazz or death metal I'll go with it. You just have to connect with it and allow it to resonate with you for it to be and feel authentic to you and the listener; essentially connecting with it is what makes it believable. In years gone by I never connected with what I was writing; I wrote what I thought I should be writing and the music was lifeless. I've never connected more with my music than I do now, which hopefully makes you want to come along for the ride and see where I'm taking you. I tell a story every time I sing.
How does Medusa differ from other songs you've written, and do you remember how and when you came up with it? 
I remember it clearly; it was written in 2009 when I still lived in Exeter in a big party house I was living in, just before I moved back to London, and I had this concept of eye contact and tension between two people in a crowded room. I found this bass-line groove on my guitar and the melody just came to me. If I remember correctly the trill part on the high strings came later out of pure curiosity. I remember getting so into it I was dreaming about it at night.
Medusa was a very important song for me, not only because of the lyrics or the melody but it marked the beginning of me finding my own style. Until that point I was always worried and frustrated because I felt that I didn't have my own sound, that my music sounded the same and, as with all things in life, when I stopped trying and just played, Medusa was born and so was my own style.
How important is live performance for you, and what can people expect from a live show?
As important as breathing, absolutely. One cannot underestimate the importance of playing live and connecting with your crowd. It's one thing hearing a song on a record where it has been fine polished and enhanced but it's completely another thing to hear it in its rawest form right in front of you. It's the difference between getting bored of a song and connecting with it in a whole new way all over again. As an artist it's so humbling to put yourself in such a vulnerable position pouring your heart out and giving a piece of yourself to people you might not even know, and as a fan or a listener you get to understand a bit more about that person by connecting with their vulnerability and realising they're no different to you. They're just expressing their pain or joy in musical form. The icing on the cake is the energy of the person who created what you dig.
So you can expect all of the above with a big dose of emotion and a ten tablespoons of energy.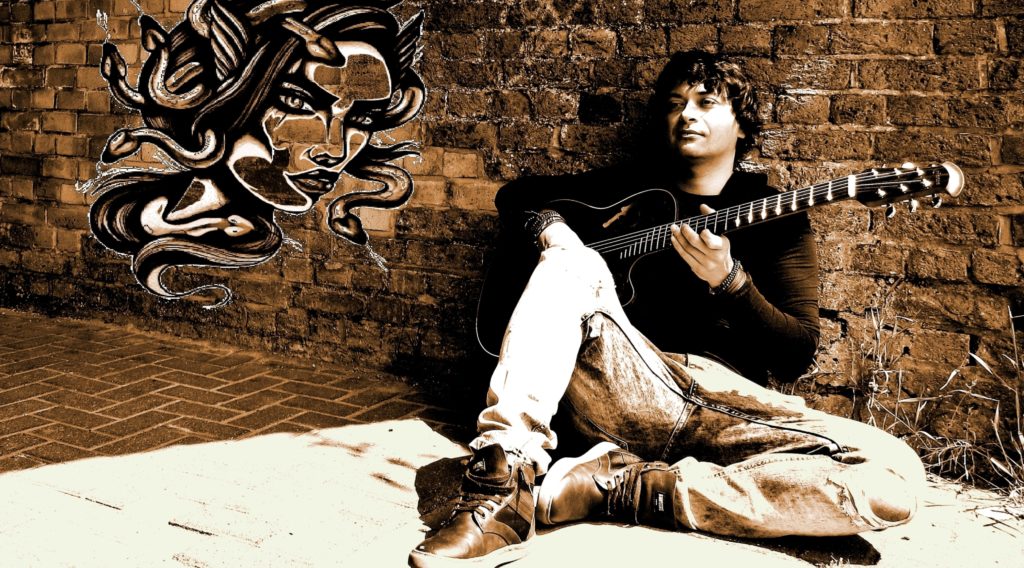 Where can we catch you playing live over the coming months?
I am doing an acoustic set with my trio bassist Zar Upstairs at the Ritzy in Brixton for Live Expressions on the 28th July.
In the meantime, I will be doing more than a handful of gigs around London for Busk in London which should be huge fun, details of which will be up on my site once they are confirmed.
In between all that you will find me doing acoustic sets all over London as and when they pop up!
If you could perform at any venue or event in the world, past or present, which would it be, and why?
It would have to be without a doubt Woodstock in '69 on the same bill as Jimi Hendrix (not that I'm putting myself in the same caliber as Jimi). The culture, the atmosphere, the music must have been like no other place at any other time in history. The beautiful carnage strangely appeals to my hippy side. I have the Fender Stratocaster tribute to Jimi Hendrix for that same reason. I don't think there has ever been a time when music sounded so raw and that was heard through recordings for those of us who weren't even born then. It must have been such a magical time musically and humanly.
Who inspires you the most to get out there and make and share your music?
The last few have been Dave Matthews Band and John Mayer. Before that Fat Freddys Drop but basically anyone who is an ass kicker. Everyone I watch live teaches me something new and reignites the fire I have inside. Live performances by the greats are like lessons wrapped in melodies. I have learned so much just from being in their energy and watching them do their thing.
What's next for you – what are your hopes over the coming months and years?
I shall be heading into the studio which feels like home to record the next single with the trio and aiming to release that for September time. There's the acoustic EP Other Side Of Fear I've just recorded, after which I want to release an album and start touring. I want to do this thing 24 hours a day. I can't think of anything more rewarding than doing something you love that fulfills you every day. Everything you want is there if you give it everything you've got.
For me, it's about legacy. Leaving something behind to say I came this way.
What's the best way people who like your music can support you right now?
You can buy my song of course, but it's not even about that. Just show me some love in the social world, be social, hit me up and say hi; let me know you're connecting with my music. That would mean more to me than anything else. I don't think there's anything more powerful than someone I don't know connecting with me on something I've created. So spread the music. Then if you feel daring, come and watch me play. After that we can live happily ever after.
Is there anything else we should know?
I like the smell of hoovers and can't stop eating dried mangoes.
* * *
Find & follow Angelo V on Facebook, Twitter & Instagram. Visit his Website for more information.